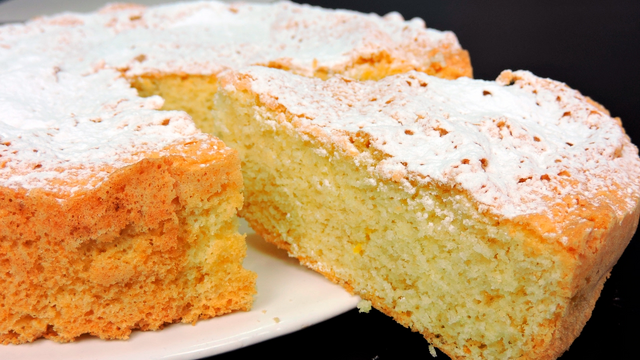 Source
Hello friends I hope you are well, I know that there are people who do not have an oven at home or are those like me who I fear to turn on the oven so I thought I practiced this recipe, having a pan of those that does not stick with its lid we can prepare this sponge cake.
I like easy-to-prepare recipes to give us that taste of a piece of cake with a good cup of coffee, a gift for our palate, in the kitchen there are no limits so I invite you to prepare your delicious sponge cake in a frying pan.
These ingredients are for a 20 cm pan
2 large eggs
120 gr of sugar
1 teaspoon vanilla or cinnamon essence dessert, lemon zest ...
75 ml of whole milk
2 tablespoons of mild oil
120 gr of common flour
2 teaspoons of baking powder or baking powder
Butter to grease the mold
Sugar glass to decorate (optional)
Preparation:
To prepare this cake sponge easy and spongy start as a normal sponge cake; we beat the eggs together with the sugar until they are very spongy; It will take us a while; that double the volume. Beat the eggs very well the sponge cake will be more spongy.
Then we add the essence of vanilla, or if you prefer a bit of lemon or orange zest, or a pinch of cinnamon, so that we have a bit of flavor and not so simple. We continue with the liquids, oil and milk and carefully mix with enveloping movements so that the mixture does not get much lower.
On the other hand we mix the flour and the yeast and we sift it; We passed it through a fine sieve; over the previous mixture. In the same way as before; with enveloping movements; Mix until the flour is fully integrated.
Let's now prepare the pan; we need a non-stick and with lid that fits perfectly. Grease the pan with a little butter or oil instead and heat over low heat without the butter to get burned; This is very important. We put the mixture of the sponge cake in the pan when it is hot and cover with the lid and at minimum heat leave about 10 minutes. We have to watch the cake so that it does not burn, that's why it has to be at the minimum; After 10 minutes we check how it is, that it has not been stuck and that it is not very toasted, if so we put out the fire and cover again leaving 5 more minutes.
We puncture with a toothpick to check that the cake is done, if the toothpick comes out clean is that it is and we can turn it over; but we leave a little more to the fire; Do not forget that it is at minimum fire so that it does not burn. We turn it around with the help of a plate, as if it were an omelet; put back to the minimum and covered fire, and leave 5 more minutes for it to finish making and brown a little on the other side. We check again that this echo with the toothpick and if it is golden we remove it. We let it cool down before eating and ready. The decoration is left to your liking.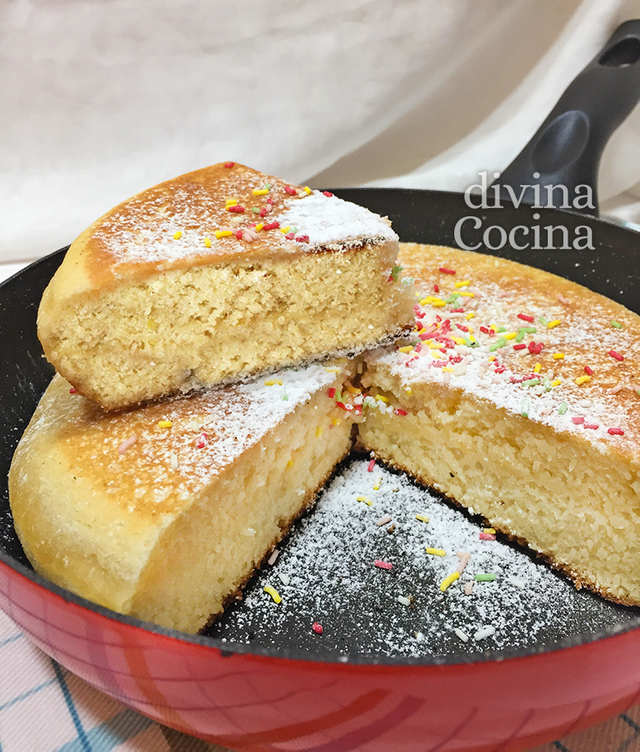 Source