Hello friends I hope you are well, after several hours without Steemit watching the news this was general not only in Venezuela, for us it is not uncommon for many of us to think that it was the internet since here the basic services are chaos, luckily it was Steemit and it seems that after this come good things so we have to wait.
This recipe today is one of those super easy what I like is that it does not go to the oven but to the freezer, I have to emphasize that in Venezuela it is very difficult sometimes to get or buy all the ingredients for a recipe that we would like to prepare, but we always we managed it
Ingredients:
2 envelopes Multiflow Gelatin (or lemon, optional)
1/2 liter Water
1 lemon Juice of 1 lemon
1 can of 800 grs. Peach in syrup
1 small can condensed milk
Butter to grease the mold
Cherries in syrup to decorate (optional)
** Preparation:**
Boil the water and add the gelatin, stir. Add to this mixture, the lemon juice, condensed milk and all the juice of the peach can, in the blender beat all the ingredients for 2 minutes. Cut peaches into squares in syrup, leaving 2 halves for decoration, and add them to the previous mixture. Grease a mold with butter, pour everything in it and leave it in the fridge until it settles, better to leave it overnight, but in about 6 hours it will already be set. Unmold and decorate with the 2 reserved halves of peach, cut and some cherry in syrup.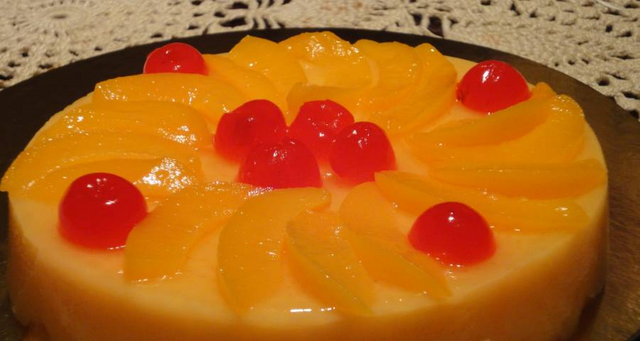 Source