Hello friends, I hope you are well, sometimes we want to leave the kitchen quickly but at the same time we want to enjoy a delicious dish prepared in a few minutes, so these potatoes with ham and cheese is the perfect choice for those days that we do not want to spend much time in the kitchen.
This dish belongs to the Traditional cuisine dishes, It is usually consumed mainly throughout the year, and is usually served as a first course, the best thing is that you can do it very quickly in the microwave, this is a very complete recipe and nutritious
To these potatoes you can add the ingredients that you like the most, you can use corn grains, tuna, minced meat, onion, to accompany this succulent dish it is advisable to take salad or vegetable, and thus assure adequate fiber intake.
Ingredients:
4 medium potatoes
100 gr. of ham of your preference
100 gr. of melting cheese
1 fresh tomato (optional)
Preparation:
We roast the unpeeled potatoes in the microwave for 15 minutes at medium power. After this time, cut them in half and empty them with the help of a spoon, chop the tomato and cut the ham into strips, mix the cheese with the ham and the chopped tomato. Fill this mixture with each half of the potato and introduce it in the microwave for 3 minutes, at medium power, until the cheese is well melted.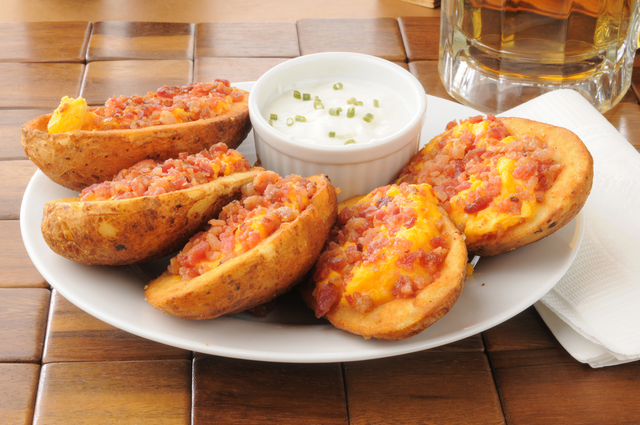 Source