Hello friends of Steemit I hope you are well, who does not like a dessert, especially a piece of cake but sometimes so much sugar makes us sick, so placing lemon in our cake recipe will give you that special touch with that lemon acid that surely would like a lot because acid and sweet is an explosive combination.
Lemon sandwiches are an excellent choice they are easy to make, quick and do not require a lot of work to offer a good image when closing a good dinner with friends, unexpected invitations or children's snack.
Ingredients:
Wheat flour, 225 grams
Butter, 150 grams
Lemon juice, 180 milliliters
Sugar, 60 grams
3 medium eggs
Lemon grating to taste
White chocolate pastry, 180 grams
Black sugar, 65 grams
Preparation:
First we preheat the oven to 180 degrees and greased a square mold with 24 centimeters on the side, in a bowl we are going to mix the flour, the black sugar and the butter cut in dice we are going to go making crumbs with the fingers and crush at the base of the mold but without protruding from the sides, this base is going to bake 15 minutes and then let it cool. The lemon cream will be made with melted white chocolate, in a microwave oven it can be obtained with just one and a half minutes at 500 W of power, it is very important to pay attention so that the chocolate does not burn. Then we mix the eggs, the sugar and the lemon juice with the zest. We can add food coloring if we want to give it a stronger yellow. In a saucepan heat this mixture while stirring and remove when it begins to boil and the cream has thickened slightly. Then we mix the cream with the melted white chocolate and use a spatula to give it a smooth cream shape. We finish the preparation of the lemon sandwiches pouring the cream on the baked base and moving the mold slightly so that it is level. We let temperate and then to the refrigerator for three hours, minimum, so that it hardens. Finally cut with a sharp knife into small bites of the desired size.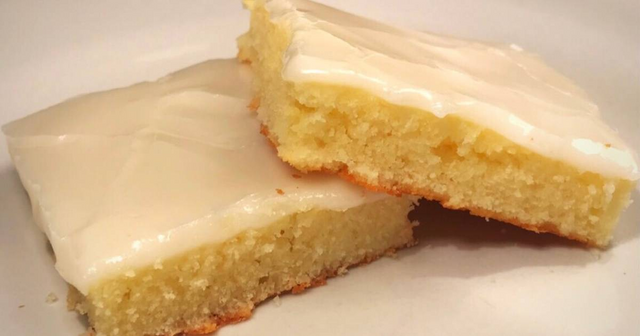 Source