Nothing for me more rewarding than drinking a cup of coffee very early every morning, for many coffee is harmful but that depends on the amount you consume daily, which seems to mix the caffeine that is so powerful and in one gulp activates us In the morning, add chocolate, for me it is a perfect combination in a dessert.
Reading a little about this combination some claim to be a perfect combination, consuming coffee and chocolate together stimulates attention, cognition and tasks are performed more effectively. In addition, chocolate reduces the effects of anxiety in coffee, so do not hesitate to combine these two delights in a good cup of coffee moka, or a cake of chocolate and coffee.
I can not leave without leaving you a very easy recipe to enjoy this weekend, if you had a heavy week, do not hesitate to prepare a dessert as this relaxes you, when you enjoy it, forget for a moment the worries and enjoy of pleasure in your mouth.
ingredients for the chocolate mousse:
5 eggs
220 grams of dark chocolate
50 grams of butter
2 teaspoons of dessert, of soluble coffee (optional)
Ingredients for chocolate cake and coffee without oven:
a pack and a half of cookies maría
a glass of coffee
The chocolate mousse
Preparation:
Make the chocolate mousse first, separate the whites from the yolks, and mount the egg whites until stiff, in a saucepan in the bain-marie, melt the butter with the chocolate, when it is melted, mix well to mix the butter and get a cream. Once the cream is tempered, add the yolks and beat well, sometimes it seems to be lumpy, as if it had been cut but nothing happens, then adding the whites mounted, it is fixed. Now, with the warm cream, add a third of the whites, and mix well with a pastry tongue, once integrated, add the rest twice, and mix with the tongue and with patience so you do not lose the air they have the clear ones mounted. Line your mold with baking paper, and the sides with acetate, if you wish, pour a small amount of cream into the base, see dipping the cookies in the cold coffee, and go placing them by the mold, go making layers of cookies and the chocolate mousse, until the top is well covered with cream. Cover with mold paper, and refrigerate at least one night, it is also very well frozen.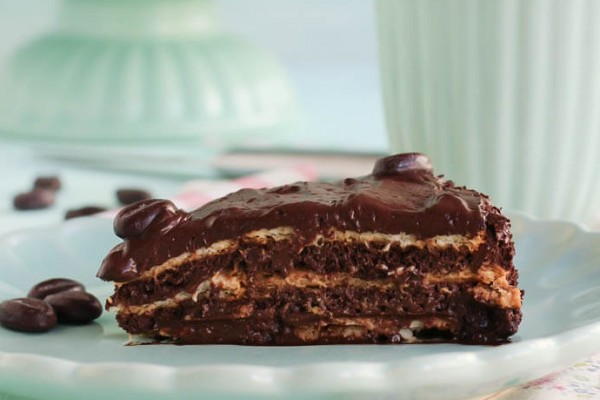 Source