This sweet easter bread is rich with tradition, symbolism, and treasured ingredients, Easter breads figure prominently in many cultures' celebrations. From Russia to Spain, these yeast-risen breads are full of eggs, butter, sugar, fruits, nuts, and spices – a small reward following the period of Lent leading up to Easter Sunday.  This recipe makes 2 huge Paska Breads.   

In many European countries, there are various traditions surrounding the use of bread during the Easter holidays. Traditionally the practice of eating Easter bread or sweetened "communion" bread traces its origin back to Byzantium and the Orthodox Christian church. 

The recipe for sweetened or "honey-leavened" bread may date back as far as the Homeric Greek period based on anecdotal evidence from classical texts that mention this type of special food. It is also widely known that sweetened bread desserts similar to panettone were a Roman favourite.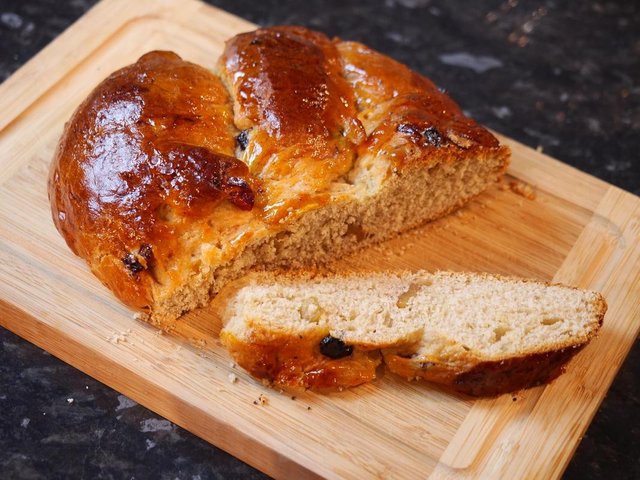 Ingredients :   
• 230 gr OR 1 cup of dry cottage cheese/farmers cheese or ricotta cheese 
 • 2 sachets of dry yeast ( 14 gr)
  • 4 tbsp squeeze of honey  
• 250 gr OR 2 sticks of unsalted butter 
 • 2 tsp. vanilla 
 • 5 eggs  
• 225 gr OR 1 cup sugar  
• 150 gr OR 1 cup golden raisins, cranberries, large raisins ( whichever dry fruit you prefer) 
125 gr OR 1 cup of walnuts 
1 tbsp of cinnamon  
 • 1 tsp. salt 
 • 650 gr OR (5 cups of flour to start) add more as needed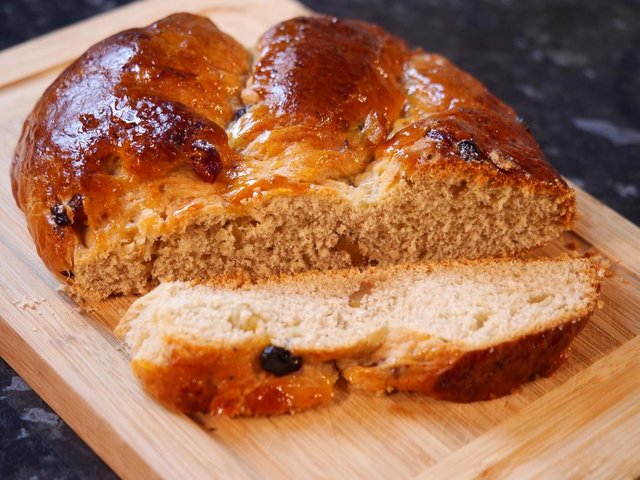 Directions:   
Step 1 : Dissolve yeast in 1 cup of warm water with squeeze of honey. 
Step 2 : In a stand mixer, add your yeast mixture. Add sugar and vanilla. Beat eggs, add melted butter. 
Step 3 : Add cottage cheese and raisins, dry fruit and walnuts. 
Step 4 : Start mixing in 5 cups of flour and add flour as needed until wetness is gone. Place dough in a bowl sprayed with oil; turn dough over so the oiled side is up; cover with a towel and place in a warm place for an hour.  
Step 5 : Let rise; punch down; rework the dough into a ball and cover to rise again for another 30 minutes. 
Step 6 : Punch down the dough and divide dough into 6 balls. 
Step 7 : Take three of the balls and make long rolls of each of them by rolling in between your hands. 
Step 8 : Make a braided loaf and let rise for another 20 minutes. 
Step 9 : Brush with an egg wash. Step 10 : Bake at 180 C / 350 F for about 30 minutes or until the loaf is golden brown and sounds hollow when tapped on.
Hope you enjoy this recipe!!! Alla ! xxx