Blackberry pie
Greetings to all the steemians again !!!.
A delicious dessert when sharing with the family.
For today we make a default.
Well to prepare this blackberry cake we will need the following materials and ingredients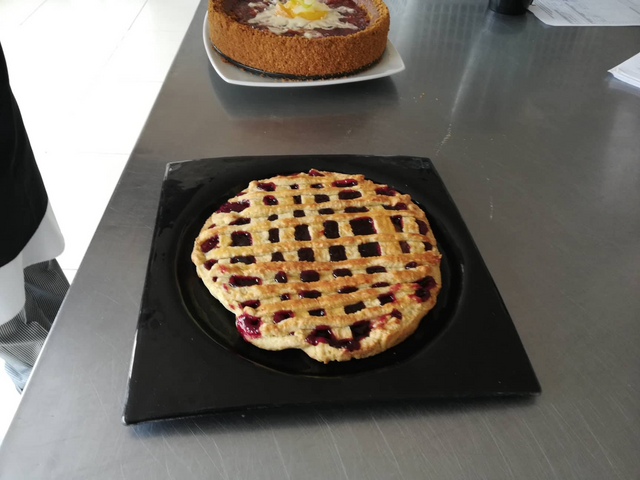 Own source
Ingredients
► MASS
300g All-purpose wheat flour (no added yeast)
30g of Sugar
1/4 Cdta of salt
100g Cold Salt Butter
1 Egg L
30 ml of cold water.
► FILLING OF MORAS
700g of blackberries.
30g Corn starch (Corn)
120g of white sugar
1/2 Cdta de Canela
1/4 Cdta Ginger
1/4 Nutmeg
1 tsp lemon juice
Orange grated (to taste)
15g Butter in cubes
► OTHER INTREDIENTS
1 Egg to brush
1 cDa of milk
White sugar to sprinkle.
Procedure
For the mass:
1.- Sift the flour and add the sugar and the salt of salt in a
Bowl and stir with a hand bar for a moment.
2.- After adding the butter and the egg coldly and mix with a mixer at low speed for about 10 minutes and finally add the water and let beat for about 30 seconds.
3.- For a few moments, knead the mixture until there is a ball and wrap it in a paper so that it reaches the refrigerator for about 30 minutes.
To make the filling:
1.- In a large bowl we put the sugar, the corn formula and the spices and a hand bar removes a little and we reserve for later.
2.-In another bowl add the blackberries and orange zest and lemon juice.
3.- Mix the two plates of ingredients and stir and mix everything.
4.- In a glass mold of 26 cm. In diameter, with butter we spread the mold.
5.- With the firm mass, we will enhance the table and the roller to stretch and adapt the mold, of course we must cut the excess mass.
6.- With melted butter we brush all the inside of the dough before putting the filling and take it to the refrigerator for 15 minutes.
7.- Add the filling of the cake and with some dough strips place those above the filling vertically and horizontally.
8.- Mix a spoonful of milk with egg, beat all that and a cake with pie dough finally sprinkle sugar on the surface.
9.- With a little butter we add pieces of butter on the blackberries
10.- When the oven is preheated to 190ºC it was incorporated into the oven for about 50 minutes and we took it out after that time and to enjoy friends