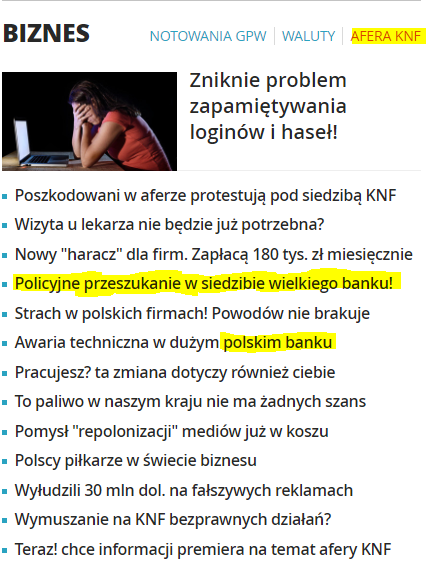 Bardzo to solidny portal, który wcale to, a wcale, nie robi nagłówków z premedytacją.
Dział BIZNES
U góry po prawej możecie państwo być na bieżąco z aferą Komisji Nadzoru Finansowego. Słusznie! I mówię to bez ironii, bardzo dobrze jest zajmować się sprawą tak ogromnej wagi. KNF, każdy wie o co i o jaki kraj chodzi.
Z nagłówka zaznaczonego na żółto, pierwszego od dołu, możemy się dowiedzieć, że jakiś POLSKI bank miał awarię techniczną.
Wisienka na torcie:
"Policyjne przeszukanie w siedzibie wielkiego banku!"
Czyżby znów coś się stało?
Owszem, ale nie w Polsce, tylko w Niemczech, a wielkim bankiem jest sztandarowy bank Niemiec: "Deutsche Bank".
Interia uznała, że w tym przypadku takie szczególiki nie są warte umieszczenia w nagłówku.
Chciałbym Was pożegnać przestrogą a'la Leszek Balcerowicz:
"Kapitał nie ma narodowości!"