Hołownia zażądał nakazu udzielania Komunii Świętej na rękę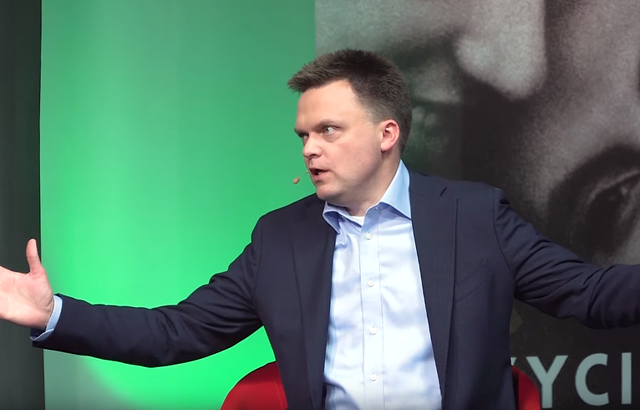 Kandydat na prezydenta Szymon Hołownia, za pośrednictwem portalu społecznościowego Twitter, zażądał od polskich Biskupów wydania nakazu udzielania Komunii Świętej na rękę.
Hołownia w swoim wczorajszym internetowym wpisie usiłował wywrzeć presję na polski episkopat by ten wprowadził proponowany przez niego nakaz. Argumentował to walką z szalejącą epidemią ,Korona wirusa SARS-CoV-2, twierdząc że Komunia na rękę jest bardziej higieniczna i przyczyni się do zmniejszenia wzrostu ilości zarażonych w śród wiernych. Oznacza to także że wymaga od księży by ci wzieli na siebie odpowiedzialność za ewentualną profanację Najświętszego Sakramentu.
https://twitter.com/szymon_holownia/status/1237737163413913603
Warto także wspomnieć że Szymon Hołownia jest za całkowitym rozdziałem państwa od kościoła, a taka interwencja w sprawy kościelne jest zaprzeczeniem wiarygodności tego postulatu . Na wpis kandydata odpowiedział także ksiądz Mateusz Markiewicz, który zwrócił uwagę na to iż komunia do ust jest o wiele bardziej higieniczna od komunii na rękę, ze względu na to iż kontakt z Najświętszym Sakramentem ma tylko ksiądz, który w razie dotknięcia ust wiernego może zdezynfekować dłonie i wrócić do wydawania komunii. Wierny natomiast przyjmujący komunię na rękę może spowodować przeniesienie się zarazków z rąk do ust.
https://twitter.com/mateuszmwroc/status/1237786197554073602
Źródła: Twitter, pch24.pl


Tekst opublikowany pierwotnie na portalu narodowcy.net