Do you ever get the feeling that you are doing something that life or karma or something does not want you to do or succeed at? That is the point I am at right now. We have been putting everything into getting our homestead built and every time we turn around something is standing in the way. This is not going to be a post with pictures or mems or anything like that just some thoughts and venting.
We looked a while for a place we could do what we wanted to do, in terms of animals, building and other things that will be a hindrance to building a homestead. The government is not giving us grief here, it is our vehicles. We have older vehicles as in 2003 and 2002 model year vehicles. We maintain them and keep on top of the things we need to do to them to make them dependable. If not one thing it is another with them. It is my body telling me to stop but I cannot as if I do things will not get done as I have to do these things to succeed. Not having been born with a silver spoon in my mouth (born into a family with money) and being a disabled vet, I only have so much money to work with. I use some of the rewards here to help as that is why I do not use YouTube and other social media sites because of the inability to earn from those platforms because of the rule changes and the censorship on them.
Last year my wife's van had the motor blow up in it just out of the blue. Now we were coming home last night and my van just started losing power when accelerating. We had to put off starting our AirCrete testing and a couple of other things to get some maintenance done on my van last week, now it starts this!
I am beginning to wonder if we were meant to start a homestead and try to be more reliable on ourselves for food, storing food for long-term use. eating healthier and building to cut back on our power consumption. I knew homesteading itself was not an easy task but with everything else thrown into it, it just seems impossible now. I will not quit trying and will strive to move forward.
This is just a rant to get some things off of my chest, I guess as sometimes it is needed to help move forward. I see so many posts here on Steemit making great rewards and I try to put out great ideas and things to help others and it is really discouraging to spend the time and make posts and hope for a great reward in the end. I worked hard to build my SP up to be able to upvote others and it seems the channels you help grow by upvoting and commenting just sit back and really do nothing but collect upvotes from their supporters but never support their supporters with the same. I see this with several of the accounts that joined close to the same time that I did. I see Steemit becoming another YouTube with the way it is going at this present time, the big accounts running over small accounts and making their posts not seen or to many big accounts being greedy.
People say become part of a community, it will help with upvotes and other things here on Steemit. I have seen a couple of communities keep that idea up but then most of them become a tight group of people and you are just a number in the community because you are not in the "click" of the community. I am done ranting and bitching, sorry I just had to clear my head and vent so you are the people I vent too. Have a great day!
Please Do Not Forget To Follow, Upvote And Resteem!

Please Help Support Our Veterans
Delegate To The "Humvee" Bot @shadow3scalpel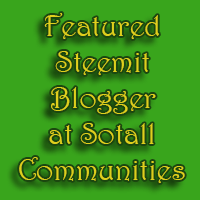 Directory of Steemit Posts
Community Forums