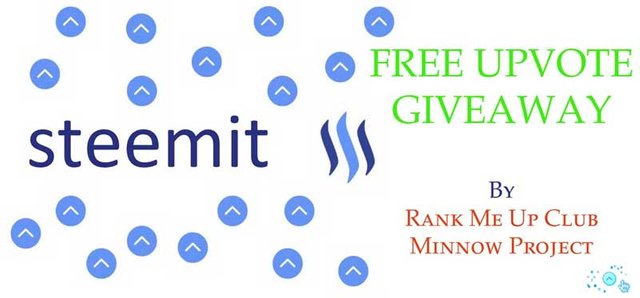 RankMeUp Club Minnow Project is a giveaway project to support minnow on steemit community to grow up and earn some money.
I just join steemit about few weeks ago now and I realize that only with BIG Steem Power can earn big reward but most user with less budget to start, it makes them hardly to earn a dime from reward on the system so this project come out.
Some need to earn fast so start using voting bot, I do not say that using bot service is not good. But we must do some calculate before start investing to some bot, some bot service you get profit but most you get less as your return will be half to SP and get less in return as STEEM or STEEM DOLLARS. But in the long run, you will be benefit from your own BIG Steem Power.
Most minnow with less budget, it seems impossible to use the service so this project come up.
You help our project, you get our FREE upvote back to your post, ALL AT NO COST.
How the project works?
Each day, there will be one post on free upvote giveaway so user can post the link that want to be upvoted in the comment. Read the rules before post comment.

Each comment with link will get upvoted and resteem in our wall.

3 random posts will be upvoted and resteem, it will selected from our followers.

The max upvote rewards will be given is $0.01 upvote cost. (For now, each post will get 100% upvote to maximize reward).

Delegated minimum of 5SP and get max of 2 upvoted per day everyday to you post.
As our minnow project steem power account growth, it will increase in upvoted reward, but for now our account is new, we have less steem power. But we are here to help and growth together.
The minimum of voting power is 70%, if voting power is below 70%, we will stop upvote and wait to regain and make the next upvote when voting power regain more than 70%.

This is no bot vote, all done by human.

All rewards earn from this account will use all income to power up this account so we can earn more reward together.
Get Free Upvote Daily to Your Post - New Updated
We have run discord upvote bot, so you upvote your post every day, no need to wait for manual post.
Join our discord here

Do you want to support our project?
You can upvote this post OR ...
Simply delegate some of your SP to our project account and get upvoted back everyday, any amount are welcome.
Let's grow together, start delegate by clicking the following links: 5SP | 10SP | 50SP | 100SP |
Or use this tool to delegate any amount to @rankmeupclub
But, you must leave at minimum of 50SP on your account to ensure your upvote is worth.







footer created with steemitboard - click any award to see my board of honor
Updated 16/02/2019