DPC Points - Dota Pro Circuit Points


source
What is DPC
What is DPC points you say? The acronym stands for Dota Pro Circuit. So what's it for? For us to be able to understand it better lets have a look at the history.
In July of 2017 The owner of Dota II game which was also known for their Half-Life and Counterstrike game as well as the Steam Platform - Valve announced a great changes to how tournaments and their pools and prices will work. This was following the end of the most premier e-sports tournament of last year The International 2017.
So now unlike prior Major Championships other than The International which was held by Valve themselves will now be run by third-party tournaments chosen by Valve to receive an extra 500K USD sponsorship from Valve in addition to the events own prize pool. For a specific tournament to be eligible the hosts of the tournaments must follow a set of rules that Valve has enumerated themselves.
To be elligible and receive the Major Tournament tier and to get the extra 500,000 USD prize pool along with the Major Tournament DPC points a third party must have a prize pool of equal to or more than 500K USD , and at least one qualifier from each of the six primary regions namely :North America, South America, South East Asia, China, Europe, and CIS (which stand s for Commonwealth of Independent States) and lastly, the finals must be in LAN format.
Additionally, Valve has also agreed to sponsor smaller events called Minors and will also have a corresponding DPC points albeit smaller. Similar in requirements, these so called Minor Championships must have a prize pool of at least 150K USD to be eligible for a 150K USD sponsorship.
So, in essence more prize pools for the tournament but what's the use of these DPC Points that are awarded to winners and placers of the tournament? You see, these points awarded to players will be the sole criteria for invitations to The International 2018 and only the top 3 point earners on a team will contribute towards a team's effective total qualifying points.
---
How's it doing so far and what has been the major effects of this change?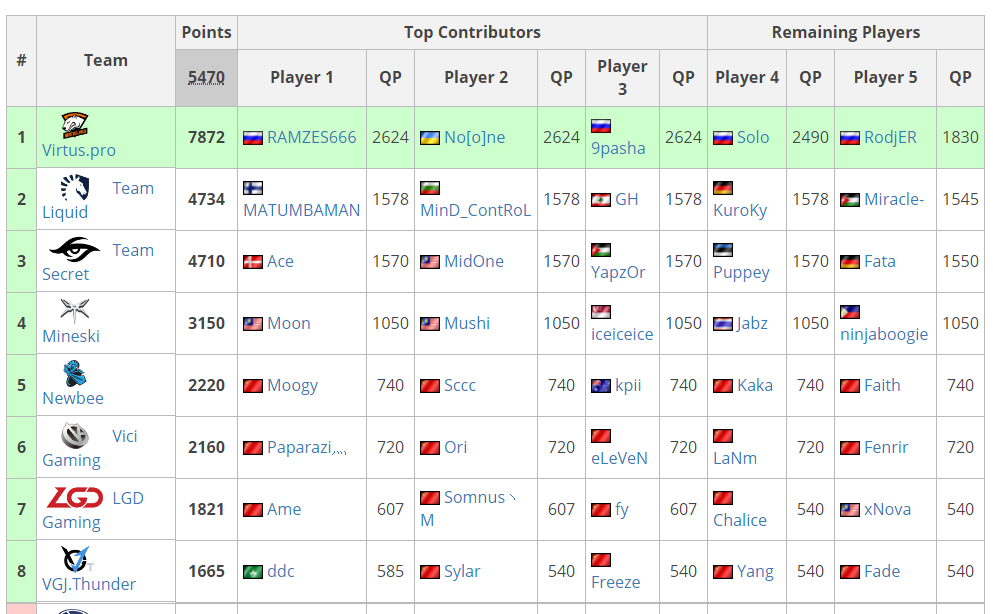 At the moment 59.67% of all DPC points have been awarded so far and one Esports Team has already cemented themselves a direct invite to TI 8 scheduled this August of 2018 and that is VIRTUS PRO with an impressive 7872 DPC points already. With the previous TI winner Team Liquid with 4734 DPC points in second place. TI 5 Winners Evil Genius was most recently knocked out of the top 8 (the number of teams that will be awarded an invite by June) due to Mineski winning the most recent Major Tournament leapfrogging EG and other teams towards the 4th Spot.
With these recent changes there is less effort and involvement from Valve and more prestige and relevance to the Tournaments outside of TI and since more importance is given more sponsors are more interested to so it's a win-win on the non-players side.
Players and Teams have shown little interest in other Tournaments not offering DPC points. Such as the case of the Galaxy Battles debacle held on the PhilippinesII. With lots of well known teams deciding to withdraw due to strict regulations imposed by the sports commission in the Philippines.
As the tournament progresses more and more teams have shown fatigue with the overwhelming schedules. With pubstar and e-sports celebrity Miracle withdrawing from a minor tournament due to exhaustion and most recently the whole Virtus.Pro team deciding to opt out of the upcoming Major Tiered tournament held by MDL on Changsa China III
---
Driving it home.
During an interview with Slacks he commented that compared to Riot's way of managing the tournaments and commended their superior numbers, he was confident of the process that Valve has released. Further saying it that its the capitalistic way in which they kinda leave the market to its own devicesIV.
The DPC and this process definitely is not perfect but it can definitely improved and one can definitely expect improvements as the Dota 2 Pro Scene and the community grows.
---


source
References I | II | III | IV