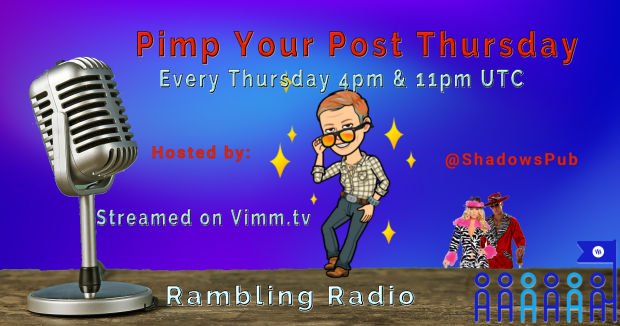 PYPT is as much about promoting your own posts as it is about discovering the posts of others. We're in this community together and it is always good to know who the members are.
We had a first in the Evening, there were only a few people who took part so we did a bit of a hangout and shot the breeze for a couple of hours. As so often happens in The Ramble we ended up chatting about some interesting topics so the time was sure not wasted.
Remember, comments on the posts are just as important as the upvotes.
This is the YouTube replay of the morning session:
List of links shared
Posts Shared for Those Not Present
One of the things I enjoy on PYPT is the number of guests who share posts for others. Here are some of the people who had posts shared and were not present at PYPT: @steemalliance, @jimramones, @mamma-dukes, @tygertyger, @monchhichi, @bembelmaniac, @ura-soul, @dezziq
Come on in and join the fun. Clearly there are people who attend PYPT who enjoy your work.
The Giveaway
A giveaway was held for each session with the winners who were present and active receiving a Steem Basic Income Share each. Thanks to @dreemsteem, the number of SBI for each show has been increased.
The purpose of PYPT is for Steemians to bring along a recent post, share it with the assembled and talk about the post and their blog.
PYPT is one of a growing number of shows being broadcast live on @ramblingradio.
Conclusion
Don't forget, you can visit the The Ramble discord at anytime. Pimp Your Post Thursday attendees can add their posts to their own channel.

Until Next Time — Just Steem on










If you like this, please follow me and upvote the post.
I can also be found on Medium & Trybe