How can I watch RaiPlay abroad?
Would you like to watch a program on RaiPlay in Italy? Are you located outside Italy? Do you see an error message when you try to watch a program on RaiPlay telling you that "The streaming of this content is available in Italy only. We apologize for the inconvenience?" Is it possible to watch RaiPlay outside Italy? How can it be done? In this article, I will give you all the instructions that you need in order to watch RaiPlay abroad.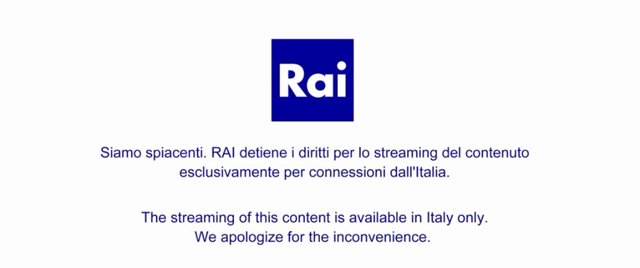 Siamo spiacenti. RAI detiene i diritti per lo streaming del contenuto escusivamente per connessioni dall'Italia.
What can you do to get rid of the error message above? It is actually quite easy.
Why is RaiPlay blocking content to people outside Italy?
RaiPlay is producing a lot of material themselves, but they are also purchasing the broadcasting rights to TV shows from companies in other countries. When they purchase the broadcasting rights to a program, they are buying the rights to broadcast the program in Italy. In order to keep the licensing agreements, they have to block the content to people outside Italy.
This is the reason why you see the error message whenever you try to watch RaiPay outside Italy.
What can I do to watch RaiPlay abroad?
In order to watch RaiPlay abroad, you will have to make the RaiPlay website believe that you are located in Italy. How can I do that? It is possible to fly to the Fiumicino Airport in Rome and use the free WiFi at the airport, but that is quite complicated and expensive. Luckily there is a much easier and cheaper solution.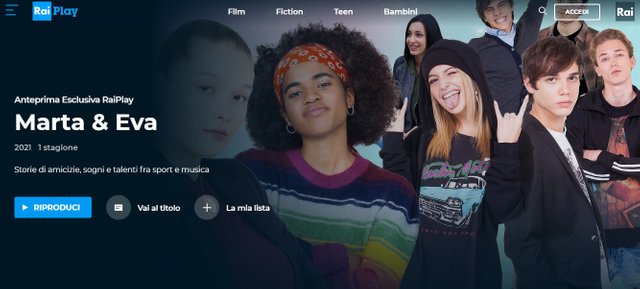 You can use a VPN to watch RaiPlay online outside Italy. Millions of people use a VPN on a daily basis. They use a VPN to secure their data online and to protect their computer from hackers. A VPN is a tool that will encrypt your data online and it will hide your actual location, and instead show the location of the VPN server you are connected to, instead of yours.
If you use a VPN and connect to a VPN server in Italy, you will get an Italian IP address. And when you have an Italian IP address, RaiPlay and other Italian streaming services will believe that you are in Italy. As a result, you will be able to watch RaiPlay at your current location, no matter where you are located in the world.
Watch RaiPlay outside Italy - step-by-step
The first thing you need is a VPN subscription to either SurfsharkVPN or ExpressVPN. Click the links to visit their websites. Both the VPN providers have a 30-day refund policy, in case you do not like it.
Download the VPN application to your computer, phone, TV, or tablet.
Run the application and connect to a server in Italy.
Visit RaiPlay.it and watch all the programs you are interested in.
This can be used also to watch live streams from Rai1, Rai2, Rai3, Rai4, Rai5, RaiSport, and other TV channels. As a result, this is a perfect solution if you want to watch Giro d'Italia, the Summer Olympics, the FIFA World Cup, the European Championship in football, or some other live sports event on Rai, or some other program that you are interested in.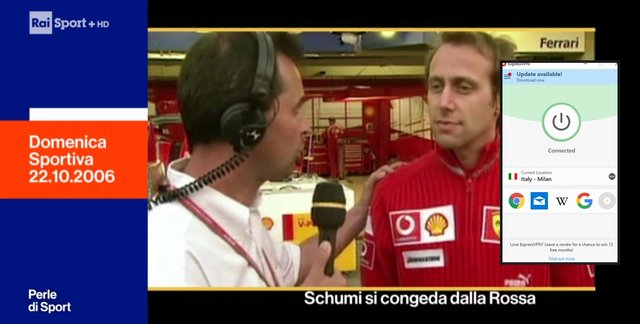 I am connected to an ExpressVPN server in Italy, and I can now watch Rai TV live outside Italy.
Are you finished watching the TV program you wanted to stream on RaiPlay?
Have you watched the most recent episode of Peppa Pig, or maybe watched the Formula 1 race you were interested in? Don't forget that your VPN can be used to much more. You can connect to a VPN server in the UK (with both Surfshark and ExpressVPN) and you will then be able to watch BBC and ITV, and the content on Netflix in the UK. You can also use the VPN services to watch Netflix content in Japan, in the United States, and in Canada. You can also watch content on NBC.com, CBS.com, and other TV networks in the United States and elsewhere in the world.
Isn't that very cool? You purchase a VPN subscription to watch RaiPlay abroad, but in addition, you get access to so much more!
I hope these instructions have helped you, and that you are ready to watch RaiPlay online right now. If you have any comments or questions or need help along the way, please write a comment and I will do my best to help you!
This article was first published at https://www.thevpnboss.com/how-can-i-watch-raiplay-abroad/