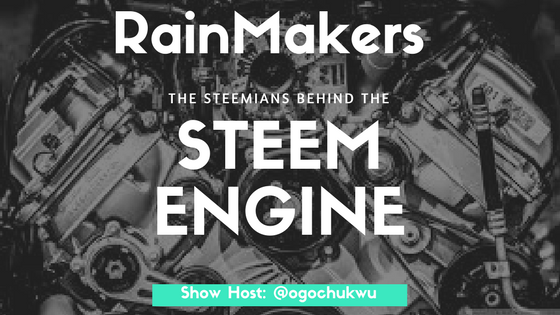 ..
Our guest on the rainmakers this week is Community App developer the highly spirited @good-karma, the Brain behind the eSteem mobile and desktop App and a whole lot of other Important digital products that are making life on Steemit easier.
In my interaction with him, I have found out that he is a Man of Intense humility, who is very approachable and have a Listening ear for any issue you bring to him.
He is one of the people who is constantly working on taking Steem to the Moon
Without futher much ado, I give you @good-karma
..




..
Ogochukwu: What is your name and where do you come from?
Good-Karma: My name is Feruz, I am originally from Asia living in Europe.
Ogochukwu: How did you learn about Steemit and why did you decide to join?
Good-Karma: Just like many of us here, learned when Steem hit the market and price skyrocketed. Got my attention to learn more about it
Ogochukwu: What do you think is the best way to market Steem/Steemit?
Good-Karma: Steem offers many use cases for developers as well as for users and I believe each of these features should be marketed. Of course, community plays big role in it.
Best way due to nature of the platform word of mouth, bring/invite your friends, family to the platform. They don't have to know blockchain and all other technical parts.
Ogochukwu: You are a third party developer, what apps have you designed for the Steem Blockchain?
Good-Karma: The apps I have developed and continuing to develop are, eSteem (mobile, desktop app), SteemPoll (web app), SteemMonitor (mobile app), SteemFest (mobile app), Interactive SteemAPI explorer and number of other small contributions.
Ogochukwu: Among all the apps you have built which one is your favourite?
Good-Karma: eSteem is the main and favorite project. I love how we built community and growing the development of the project.
Ogochukwu: Where does the development process start while creating an App?
Good-Karma: It begins from the concept or idea stage, proposal stage to get feedback from potential users, implementation stage and production stage where you return back to feedback loop to continue evolvement of the project.
Ogochukwu: What in your opinion is the best thing to consider when creating an App?
Good-Karma: Users, users, users and consistency. Most projects can't keep consistency after initial feedback loop and that's the what matters most, deliver-get feedback, work on it-deliver improvements, then go back to start.
Ogochukwu: What do you think are the qualities required to create a user-friendly App?
Good-Karma: Main requirements are to learn how user flow is working. Guide user through the interface with ease. Of course it doesn't happen with over night, you should constantly tweak and adapt to usages.
Ogochukwu: There are obviously aesthetic differences between IOS and Andriod which do you prefer and why?
Good-Karma: I use both and I appreciate both system, it is nature of my work that I cannot favor one of them over another.
My goal is to give user consistent and similar experience no matter what device they are on.
Ogochukwu: Who are the Steemians who have impacted you the most?
Good-Karma: Oh that's tough one, I respect and admire many Steemians, developers, content creators, etc. wouldn't want to mention few and leave out others. I have and am learning everyday from all of you.
Ogochukwu: You are also a witness on steem what does it entail and how do you manage your time between witnessing and your other activities?
Good-Karma: My activities involve growth of the platform and being witness is only one part of that.
As a developer of apps, I do run multiple servers anyway, so handling witness servers is not much of complicated task. I try to accomplish one thing each day, be it fixing bug, be it monitor witness servers, release update, work with users, contributors, translators, etc.
---
Thank you all for reading. The second part of this interview will be posted on Wednesday, so follow my blog if you want to get it.
If you have any contributions to make or any questions to ask our guest of the week, please make your thoughts known in the comments below
..



...............
The Block Chain Blogger series on Blog growth with Steemit Dolphin and Whales will be starting tomorrow, so watch out for it.
Have a splendid day and STEEM ON.