"Mommy, why do we celebrate birthdays?" Rafa once asked.
I replied, "We celebrate birthdays because that is one way to show how happy we are that the birthday celebrant is a part of our lives, that they had another year of good health and hopefully happy life. It doesn't matter if the celebration is a big party or just a small gathering with the family, the important thing is that it is rejoiced."
Rafa thought about it for a moment then said, "Mommy, I'm glad my friends and family have birthdays."
And so we were both glad to have been invited to take part of our neighbor Yachne's 7th Birthday Party.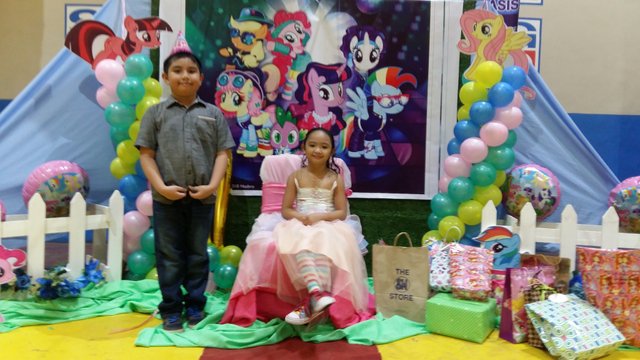 It has been a long withstanding tradition in the country to have a grander than usual 1st, 7th, 18th for female and 21st for male birthday celebrations for our loved ones.
First birthday of course is to celebrate the new life, one full earth rotation around the sun since the date of birth!
18th for ladies is the country's equivalent of a Sweet 16th Party in western culture.
Says a lot that asian, or at least Filipino parents, tend to hold on longer to their baby girls before actually recognizing that they are now young ladies.
Male 21st birthday of course is an official celebration of their adulthood. They are now full-grown men. Or they ought to be once they hit 22.
Why the 7th birthday though?
An elder once told me that we celebrate 7th birthdays because it is somehow a thanksgiving that the worst had passed- this is in relation to child mortality rate.
I tried looking for articles backing thid up but most write-ups would have the bracket to be at 5-14 years old and 5years old below.
If you do know the rationale behind 7th birthday parties, please do share.
Going back, Rafa and I, together with other neighbors were invited to celebrate Yachne's 7th birthday. It proved to be so much fun!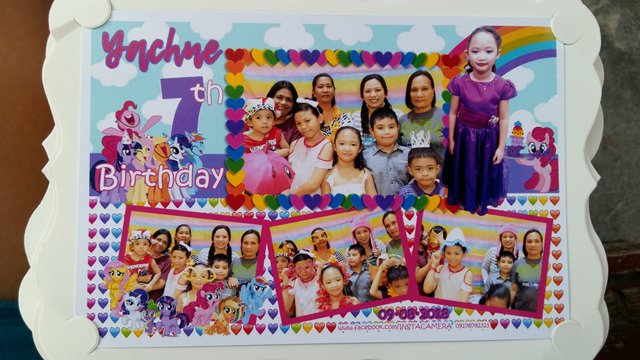 There is a photobooth for everyone to enjoy. You get to use the many props available to add to your photo's creativity. There is also no limit in the number of photos you'd want taken, so long as you wait your turn should there be any lines.
Of course we had lots and lots of photos taken.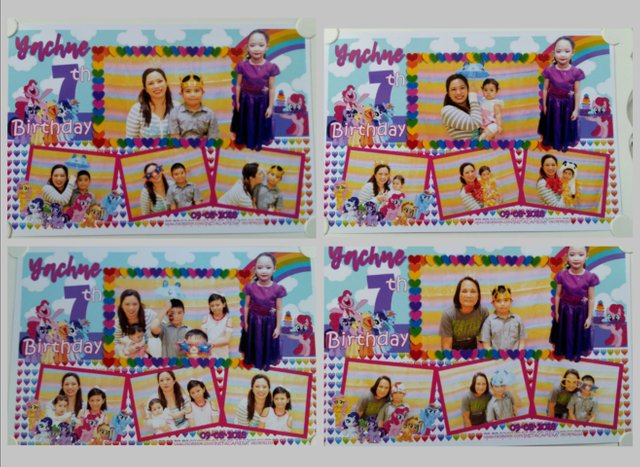 I loved it very much that I had solo photos taken, too!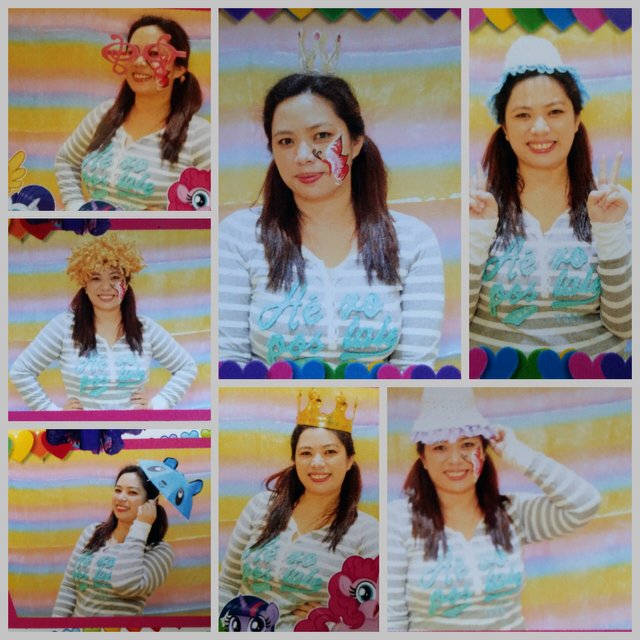 Of course the apple doesn't fall far from the tree. There was a moment I was looking for Rafa so we can join in one of contest, and I can't find him anywhere, only to learn that he is getting his photo taken on his own.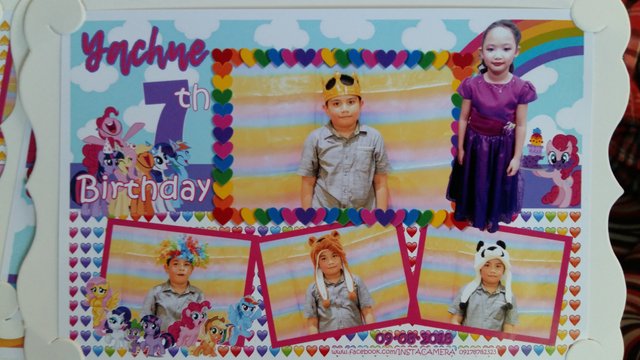 There was also a face-painting station for kids. Rafa absolutely loves Spiderman and so had one painted on his cheek.
The station was for kids, but well, there was a period where no one was on the line for a while.
And so I requested for a pretty butterfly on the cheek.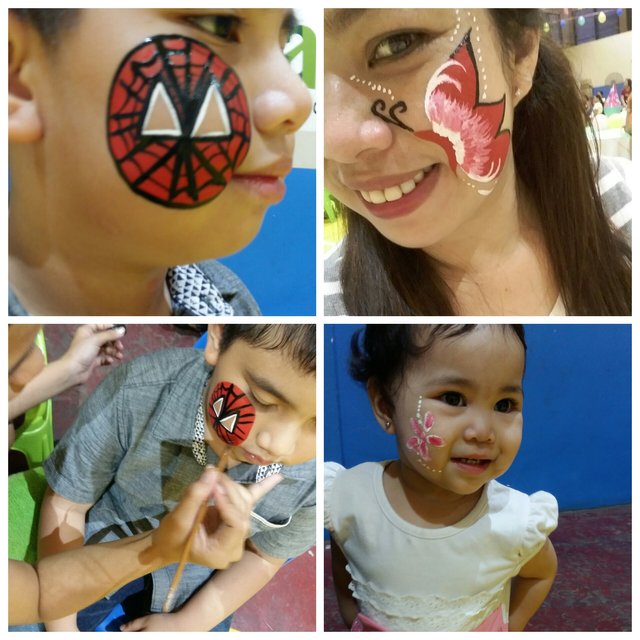 There's the sinfully delicious sweets and candy station that sort of hypnotized the kids. They were mesmerized. Seriously.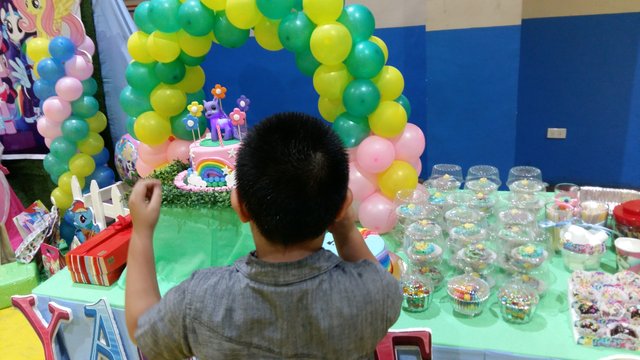 And of course there would be magician clowns. I realized that I really do have a young man now, as he is currently more attentive and participative in these parties than before. He even volunteered to be a part of the magic show!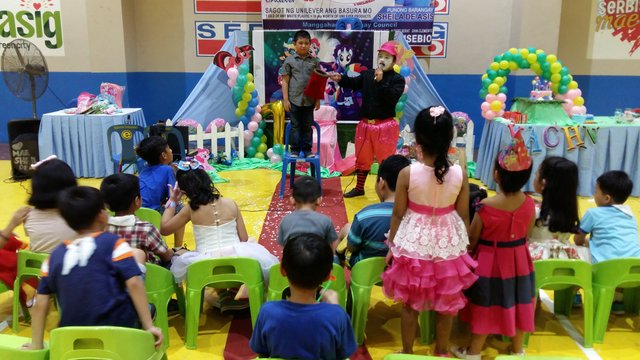 There were games, lots of good food and much laughter. Whatever the reason is for 7th birthday parties, I'm sure glad for it. We definitely had a great time!
---
Follow @bayanihan to view the work of exceptional PH talents!
Visit @sndbox page and learn about the amazing incubator for creatives and communities.
If you would like to support initiatives on community building and enrichment, kindly check out @steemph, @steemph.cebu, @steemph.manila, @steemph.iligan, @steemph.davao @steemph.antipolo and @steemph.uae.