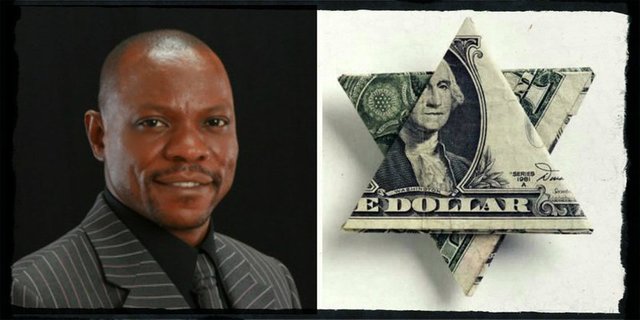 "The reality is that the white race had little to do with the slave trade that took our ancestors away from Africa and sold them into bondage in the New World. " -Dontell Jackson
In his courageously narrative-defying website, Dontell Jackson discusses how European Americans have been framed for crimes against humanity committed by the [nearly indistinguishable] Jewish race, and how African Americans have been propagandized into believing the lie so that the actual perpetrators might never be brought to justice.

Sadly, European Americans have also been raised in this lie and immersed in a doctrine of shame and guilt that was not theirs to bear.  So that, when the time came, they would make the perfect "whipping boy".   

"Whites  were and continue to be exploited and manipulated by the Jews, the same  as blacks, and their race is even more hated by the Jew" - Dontell Jackson
A few highlights of this narrative distortion include how:
 
Black and white children are not taught that the slave ships were largely owned and operated by Jews, or that the first American slave owners were black.
 
Black and white children are not taught about the quantity of slaves that were white (though most historians agree that roughly two-thirds of all whites came to the colonies in some form of bondage)   
 
Black and white children are not taught about how white slaves were valued at much less (50 sterling for a black slave vs. a maximum of 5 sterling for a white "indentured servant") and treated worse than their African counterparts as the requirement that they be released in a few years actually made them more expendable to their masters.   
 
Black and white children are not taught that the white race actually comprised a smaller percentage of slave owners in the United States than free blacks— about 28% of free blacks owned black slaves compared to roughly 1.4% of white owners of black slaves (1860 US Census)
 
Black and white children are not taught that, of the 10 to 15 million Africans who were transplanted to the New World, no more than 6 percent even went to the Northern Hemisphere; Almost all of them went to South America.
 
Black and white children are not taught about how the Muslim trade of African AND European slaves lasted centuries longer than any white European involvement did, or about how white, Christian Americans were the first to push for the abolition of slavery as a practice.    
 
Black and white children are not taught that, since blacks have never been the majority demographic in America, it is mathematically impossible for most whites to have owned black slaves.    
 
It is far more realistic to accept that the ancestors of most (obviously not all) American whites today were either indentured servants (the euphemism responsible for hiding American white slavery) or entirely too impoverished to be owning land or people.  So how would these truths effect the longstanding race-based psy-op being perpetrated against humanity?  The answer lies in another question: How can one defeat an enemy that is never allowed to be correctly identified?
 
"To learn who rules over you, simply find out who you are not allowed to criticize." - Voltaire 
Although it is illegal in 17 countries (Austria, Belgium, Canada, the Czech Republic, France, Germany, Hungary, Israel, Liechtenstein, Lithuania, Luxembourg, Netherlands, Poland, Portugal, Slovakia, Switzerland and Romania.) to even investigate the actual history of Jewish persecution (name one other race that is allowed to throw you in prison for simply examining its history) today in America, black and white peoples are being led into a race war that has been strategically fostered by group C feeding disinformation to both groups A and B.  If either race is to rise above it for the betterment of their people, both will have to realize the ways in which they have been manipulated in order to unite against the true common enemy: Zionism. 

In July of 2016, rival gang members from both Bloods and Crips came together to warn of this in light of the Black Lives Matter movement, with one red bandanna clad man declaring, "All lives matter"--an important statement that no other race is seemingly allowed to make in response to the BLM movement, despite the necessity of its observance in avoiding hypocrisy. 

"We're tired of it," 
states one gang member.  
"The establishment needs a populace divided. When people are isolated and categorized into their various labels by society — they are far easier to control. When people begin to look past skin color, they can see the underlying problem of the system."

Will humanity be able to spread enough truth to accomplish this before the goal of the conspirators is realized, the white race genocided and the black race further enslaved by these "sneak rulers"?  The outcome is uncertain.  But it is a noble cause to fight for until such conclusion is reached.  
 
Mr. Jackson concludes with the following message:

 "I would like to invite all of my black brothers and sisters to join me in untangling the lies, deceptions and half-truths that have been foisted upon us as a race, and to explore the true history of what has been done to us as a people by those who were more than happy to encourage us to think these wrongs were committed against us by whites" 
Sources:
 http://wethoughttheywerewhite.weebly.com/
 http://secrethistoryoftheus.weebly.com/
 http://www.globalresearch.ca/the-irish-slave-trade-the-forgotten-white-slaves/31076
 http://thefreethoughtproject.com/crips-bloods-unified-baton-rouge/
 http://newobserveronline.com/hidden-facts-about-slavery-in-america/
 https://politicalvelcraft.org/2011/11/30/slaves-in-america-were-white/
 https://www.vice.com/en_us/article/hey-v12n5