Don't ask me why it's called broken rice but that's just what the locals call it! Maybe it's the texture of the rice or the duration it is harvest before it gets picked up. The rice taste more harder than usual but the best part is the roasted pork. All time favourite and signature in Vietnam.
A dish like this cost about VND 35,000 = USD 1.51 = MYR 6.29
I know, it's so affordable right ... And it does the work by filling up the stomach which is sufficient for me.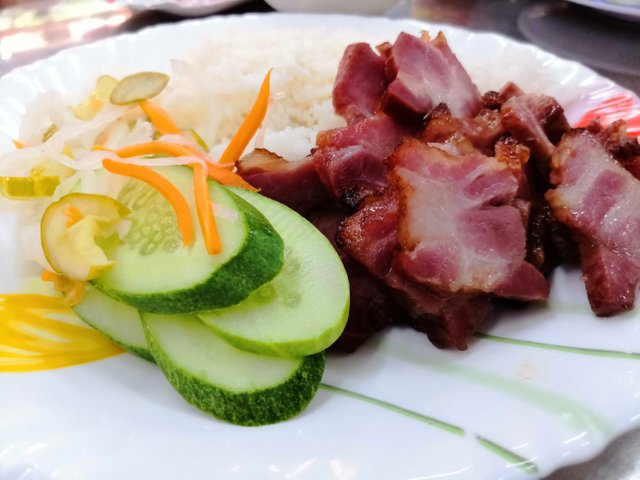 Well, hope you like this week's choice of food for Tasty Tuesday! Until next time.
This is my entry for @qurator's Tasty Tuesday. Check out the details below for more of this amazing contest.

Come join in on the fun and TAG a friend.
We all love food! There are hundreds if not thousands of foodies on Steemit. We all love to take our taste buds on a wild ride and share our food experiences. Come share your most recent food fighter moment and let us indulge and enjoy it with you. We hope to spark some more interest within the food community with this competition. Come take part!
RULES
Only food-related posts.
Use the #qurator tag as your first tag.
Mention the Tasty Tuesday competition in your post title or somewhere in your post.
All entries will be reviewed by the Qurator team.
Competition open to all Steemians, not just Qurator members.
One entry per account
I hope you enjoy my photo as it's taken from my Huawei .