"I Live On Earth At Present"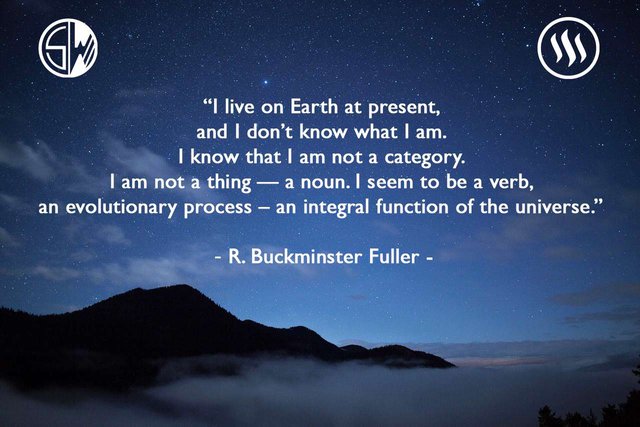 I stumbled upon this quote the other day, and I couldn't get it out of my mind.
 "I live on Earth at present, and I don't know what I am. I know that I am not a category. I am not a thing — a noun. I seem to be a verb, an evolutionary process – an integral function of the universe."
― R. Buckminster Fuller 
If you haven't explored any of Buckminster Fuller's written work. I highly suggest it. He is also responsible for this well known quote: 
"You never change things by fighting the existing reality. To change something, build a new model that makes the existing model obsolete."  ― R. Buckminster Fuller  

Hi there, I'm Will. First and foremost I am an entrepreneur and voluntaryist. I aspire to help build a more free world, one that we all want to live in. Some of my biggest passions include cryptocurrencies, marketing, finance, cannabis, traveling, bodybuilding, snowboarding, motorcycles, and Subarus. All pictures are my own unless otherwise stated. I release everything under CC0.
My Links:
Affiliated STEEM Accounts: @motorspeednews | @bitcoinshirtz | @trueliberty