I took a few quotes of the brilliant man and preacher, Mahatma Gandhi.
These quotes relates to everyone in Steemit and on the cryptocurrency trading business.
I would like to start with my personal favorite and with the one that has the most affect of Steemit-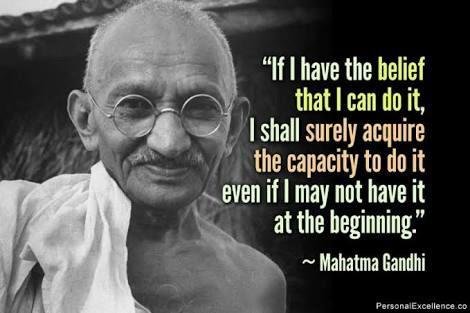 If I have the belief that I can do it, I shall surely aquire the capacity to do it, even if I may not have it in the beginning.
Why does it relate to Steemit?
Because 99% of us start with no followers and know no one around here.
We all have the ability to succeed in here as we have the ability to succeed everywhere.
Just believe in yourself, have patience and interact with other people around here, soon enough you will create a crowd of followers and bonds with other members that you'll see they are just like yourself.
This process takes time, you won't be able to make it in a few days or maybe few months, but you will be eventually, so what are you waiting for? Go on, believe in yourself and prosper!
---
My second favorite quote from Gandhi is that one
You may never know what results come of your action, but if you do nothing there will be no result.
Why do I love this quote so much?
Because it is as simple as it sounds, some people only complain without doing anything.
If you want anything to happen, start doing something about it!
You want your follower base to grow? Work hard for it.
You want to make money? Work hard for it!
---
The third one is pretty much similar to the second one, but more simple

Without action, you aren't going anywhere.
This one doesn't need any interpretation does it?
Tell me what do you guys think and if there are any quotes of Mahatma Gandhi you guys like.