The QNG as non-ico project groups moves for a revaluation and re-brand of the Qnode token in a snapshot...
WHAT THE QUANTUM NODE PROJECT IS AND WHAT ITS NOT
The Quantum Node Project is a crypto-currency project and not a blockchain (product based project). We are not building any fancy product like many other project promises and fails at the end of the day. Blockchains can be used without cryptocurrencies, but cryptocurrencies cannot run without a blockchain. Therefore, QNG project tokens are domicile on the WAVESPLATFORM, hence we utilizes the wavesplatform blockchain in our business tokenization model for generating passive and portfolio earning to community by building master-nodes.
WHAT IS A MASTERNODE
A master-node (i.e. blockchain node) is a crypto-currency wallets that holds a copy (in most cases a full copy) of a blockchain within the consensus of sharing nodes to secure the network, boast it speed, governance and shares block rewards. This is what QNG is building on different and selected blockchain networks and therefore giving rewards to our community who grants us their supports. Also note this, that in the MN ecosystem, the owner of a master-node cannot cheat the system, else he will be punished by the devaluation of his own hodlings (stakes). Our 2 nodes on Turtle Network are live. Isotopemn TN-NODE is live and generating. Also Qnode TN-NODE yet to start forging.
In the future we may or may not build a blockchain base product like a hub for Master-noding or staking crypcurrencies. We are therefore re-branding the Quantum Node token (QNODE) to Quantum Cash token (QCASH), as well as re-valuation of the currency. So, The QNG solution to the value of the QNODE TOKEN is here. QUANTUM NODE (QNODE) will undergo a revaluation, rebranding and snapshot as QNG wants to ensure that the QUANTUM NODE is considered our brand name only and 🧩NOT A TOKEN🧩.
Hence we are taking QNODE out of the market (including exchanges) and replacing it in a snapshot with QUANTUM CASH (QCASH) as the first official QNG asset. This will spike the value..
🔹 We have noticed several fradulent attitude of a some airdroppers during the phase 1 campaign, who acquired QNODE in dormant wallets over the past 3months. Also, many users are cheating with bot referral in the current airdrop redress and we shall phish them out. This is why the REBRANDING and REVALUATION is sure solution for project in a SNAPSHOT. Also, other advantages accompanies this development.
📸 SNAPSHOT HOLDS ON 10TH FEB, 2019 (3PM CET).
💦 DISTRIBUTION WILL COMMENCE 2hours after snapshot, & QNODE WILL BE BURNT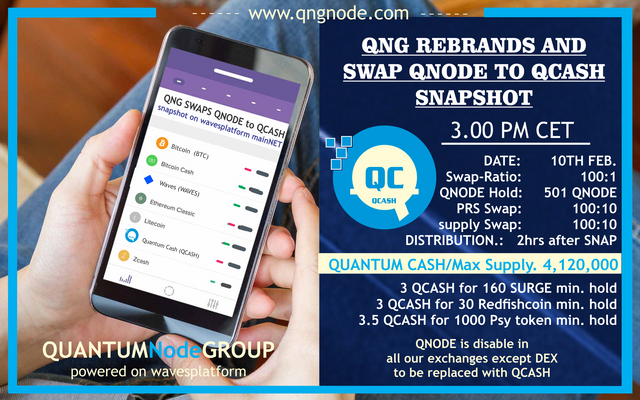 .
SWAP DISTRIBUTION PLAN
❇️ All Quantum Node (QNODE) active wallets (in the last 3 months) & with a minimum balance of 501 QNODE will be swapped for Quantum Cash (QCASH) at ratio 100:1 (i.e 501 QNODE = 5.01 QCASH).
❇️ All PRS eligible wallets will be swap at ratio 100:10 to retain eligibility
❇️ Henceforth, minimum 1000 QCASH will be required for PRS and PRS can be automated in the nearest future as QNG develops a bot for automatic payout
OTHER PRIVILEGES
❇️ All Surge Holders with minimum 160 Surge will get Distributed 3 QCASH
❇️ All Redfishcoin Holders with minimum 30 Redfishcoin will get Distributed 3 QCASH
❇️ All Psy Token Holders with minimum 1000 Psy Token will get Distributed 4.5 QCASH
AT QNG, We Uplift Wavesplatform, We secure the blockchain..
🔹 Therefore, QNG will only have QCASH, QBLAQ & ISOTOPE NETWORK tokens as official assets.
Note:
❇️ 36.9 million QNODE burnt already. All QNODE will be burnt on or before February 20th
❇️We will request a return of all QNODE in community possession for burning between Feb 16th - 20th. And reward such wallet with 1QCASH.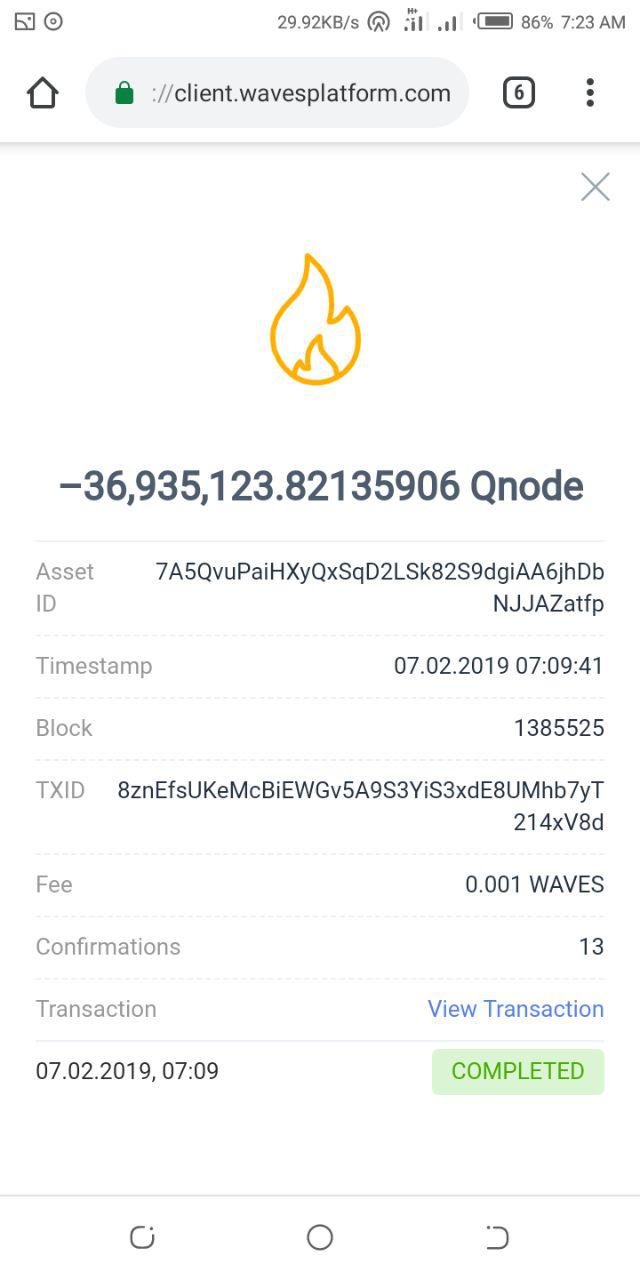 Do not send your QNODE out of you wallets. Do not trade (Buy or Sell) QNODE
Withdraw your QNODE from fortunex DEX and NANU Exchange
PRS (Portfolio Reward System) payout might run for a longer time or less as we are setting up Quantum Full-node on WAVESPLATFORM (TBA-to be announced)
QCASH WILL ALSO BE LISTING A NEW CMC (LISTED) EXCHANGE (ALTILLY) IN FEB (TBA)
NOTE: QNG ContractPaper is being revised for v1.2.0 BEFORE NEXT PRS PAYOUT
ASSET DISTRIBUTION SUMMARY
Community Airdrop Supply: 1,000,000 QCASH 24.3%
Self-drop & Contest Supply: 2,400,000 QCASH 49.5%
Team - Phase Dev. Supply: 1,000,000 QCASH 24. 3% (Securely vaulted (locked till 2020)
Portfolio Prior Reward Supply: 80,000 QCASH 1.9%
Maximum Available Supply: 4,120,000 QCASH 100% (SUPPLY IS REDUCED BY 90%)
QCASH IS FORGED ALREADY AT BLOCK 1385152
Signed:
QNG