Singapore's Info-communications Media Development Authority (IMDA) partners with DataStreamX and Quadrant Protocol to empower innovative AI and Microservice solutions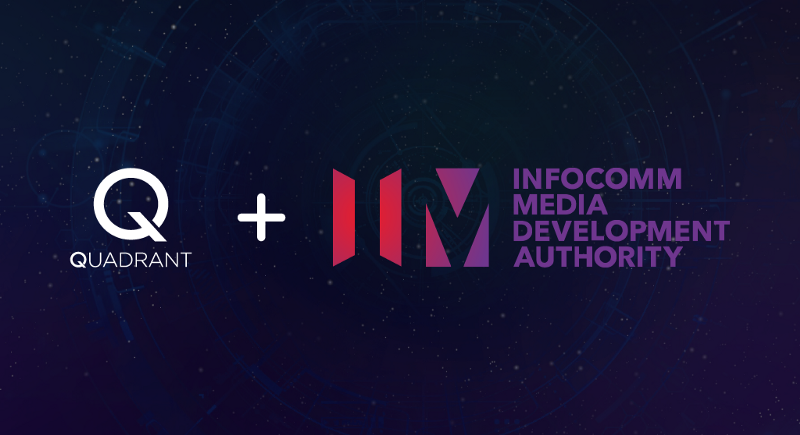 We are proud to announce our 2-year partnership with the Infocomm Media Development Authority of Singapore (IMDA) to implement a commercial AI and Microservice layer on DataStreamX, powered by Quadrant Protocol.
We will be implementing a Quadrant Protocol powered AI and micro-services framework that will enable data driven innovation and bridges the persistent problems in the data economy; AI data gap, inauthentic data and an unsustainable ecosystem. The goal of the initiative is to foster ground-breaking innovation around the use of data to solve global problems within a sustainable and regulated framework.
This collaboration is important to us and the community for two reasons;
The philosophy that drives Quadrant Protocol is our commitment to engaging, empowering and enabling Elons — bright, innovative data scientists — to build innovative solutions using data to solve global problems on the protocol. With this partnership, we will see this happen across industries. Over the next months, we will be onboarding onto the platform data vendors and AI / Microservices providers creating a thriving ecosystem of companies and users.

This showcases the commercial opportunity Quadrant Protocol offers. The AI and micro-services layer is a viable implementation that can be used by companies to meet their authentic data needs. Our contract with IMDA showcases our commitment to delivering a commercially viable platform and establishes our utility in the data economy. It is well beyond a proof of concept or prototype.
IMDA and the Singapore government's initiative is a boon for the many people that will be able to do great work with great data. We are excited to see what is created as the opportunities are tremendous.
About Infocomm Media Development Authority (IMDA)
The Infocomm Media Development Authority (IMDA) leads Singapore's digital transformation with infocomm media. To do this, IMDA will develop a dynamic digital economy and a cohesive digital society, driven by an exceptional infocomm media (ICM) ecosystem — by developing talent, strengthening business capabilities, and enhancing Singapore's ICM infrastructure. IMDA also regulates the telecommunications and media sectors to safeguard consumer interests while fostering a pro-business environment, and enhances Singapore's data protection regime through the Personal Data Protection Commission.
About DataStreamX
DataStreamX is a commercial data transaction marketplace and platform. Launched in 2015 and transacting over 20 billion data records a month, it will be the first commercial user of the Quadrant Protocol.
About Quadrant Protocol
Quadrant is a blockchain-based protocol that enables the access, creation, and distribution of data products and services with authenticity and provenance at its core. The data economy is similar to space: unmapped and chaotic. Quadrant serves as the blueprint that provides an organized system for the utilization of decentralized data.