Global Partners Announced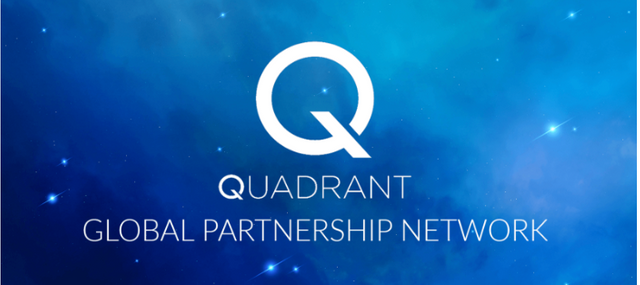 Worldwide network of Quadrant Protocol supporters to build solid foundation for the future
Over the course of the last month, we have been working on building out a worldwide partnership network to ensure we can carry the message and mission to all ends of the globe. Ensuring the long-term success and adoption of the data protocol was our utmost goal when selecting partners and investors who will be with us, not only for the token sale, but 6, 12 and 24 months after. The mission of the network is to bring tangible value to Quadrant Protocol, including building our network and user base of AI and Data companies and expanding to communities around the world via invitations to speak at conferences and meetups. The goal is to bring real-world solutions for mapping decentralized data into the market.
We are immensely proud to announce our Map of the World, a growing list of supporters of Quadrant Protocol and our long-term mission.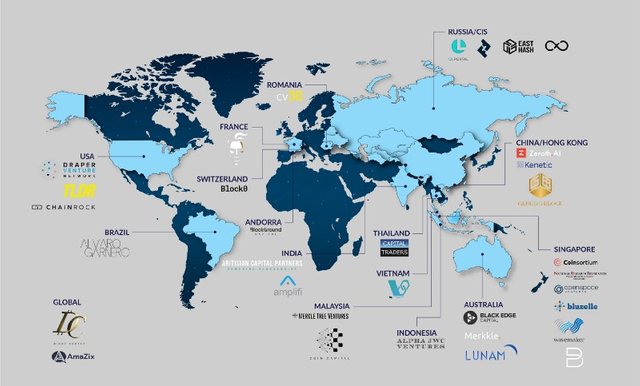 A tested tool for a global problem
One of the most satisfying outcomes of our private sale has been to validate Quadrant's international support. Our map of partners and supporters spans the globe. Crypto-funds and professional investors poured into our pre-ICO because The Quadrant Protocol is solving global problems and is solving them now. New advisors and partners came on board to offer long term support and cooperation.
A common thread between our partners is their commitment to build local communities around Quadrant and connect us to AI and Data projects and companies. If you trace the lines from one partner to another you will criss-cross the globe, which is in itself a satisfying reflection of the decentralized culture.
For example, Zeroth.AI has more than 30 AI projects in its portfolio in China and Hong Kong. Merkle Tree Ventures has helped introduce the Thai and Malay communities to Quadrant Protocol, along with Capital Traders and Coin Capital. The Vietnam Blockchain Community will support our growing Vietnamese community and we are working with Merkkle, Lunam and Black Edge Capital, who are determined to foster the community in Australia. In Indonesia, we can count on Alpha JWC, an established venture capital firm, to work with us on local business development. In India, an important data and AI market, our partners include Amplify Capital along with Aritisian Capital Partners.
In Russia and CIS, we have support from FinForge, OL Portal, East Hash and X8Capital who will deepen our relationships and bring us closer to the communities across the region. And in Europe, there is France's influencer The Court, while Switzerland's Block0 and Andorra's Blockground Capital will support within the European region. In the United States we have advisory support and expertise from TLDR and ChainRock with venture support from WaveMaker Partners and the Draper Venture Network. And this is to name just a few.
Post-ICO, we will invest our time working with our partners around the world to ensure we maintain our momentum to cement our relationships and deepen our collaboration with AI and Data partners. After all, the whole reason for so much work over the last few months is so that we have the best foundation to be able to build out our blueprint. A clear benefit of Quadrant Protocol is how it complements AI and Data projects, making everyone stronger through partnership. And we are excited to get out, meet and work with companies around the world.
We are humbled by the support and proud that others share our vision and acknowledge the achievements we have made.
Our incredible dev team has worked around the clock to meet all our technical milestones in a timely manner. Our TestNet has been stamping clients' live data feed since May 14th, starting our blueprint for mapping decentralized and authenticated disparate data sources.
We have also earned a successful smart contract audit from Hosho, a global leader in Blockchain security and smart-contract auditing. Our token contract codebase passed the audit after being analyzed for quality, safety, and correctness. More details on the audit can be found on this blog.
Long-term support for a solid project
Investors have also responded to our growing network of commercial and strategic alliances in the blockchain and financial spheres. Over the past several months, we've announced deals with partners such as Bluzelle and Kenetic to make our product more robust and reinforced our expert team with top-end advisors.
On May 21st, we signed a 2-year partnership with Singapore's Info-communications Media Development Authority (IMDA) to implement a commercial AI and Microservice layer on DataStreamX, powered by Quadrant Protocol.
A growing community of innovators
Our whitepaper, our timely announcements and our growing number of use cases have fed an engaged community whose numbers have now risen to thousands of Twitter followers and over 16,000 members in our Telegram group, asking questions, checking for updates and appreciating the milestones as we take this exciting journey together.
We understand you share with us the vision that the Quadrant Protocol will improve the data ecosystem for all players involved in the industry. Data Consumers will have proof of data authenticity and provenance via data stamping, Data Producers (Nurseries) will be compensated fairly, and Data Vendors (Pioneers) will have new tools to monetize disparate data sources. A win, win, win with endless opportunities to innovate and add value to all the data economy chain.
Sincerely,
The Quadrant Team
For more information on Quadrant Protocol and its vision, please visit our website and download the whitepaper. You can also ask any questions you may have in our Telegram channel, and a team member will get in touch.
t.me/quadrantprotocol
www.quadrantprotocol.com