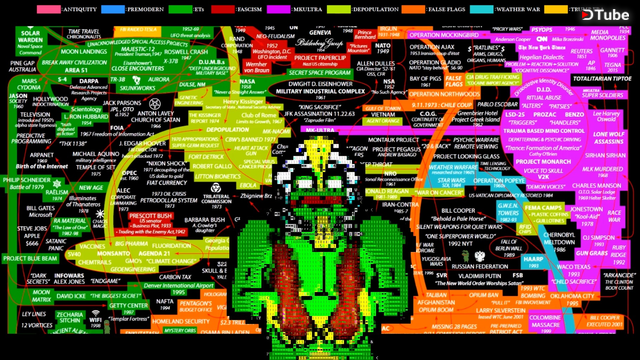 ---
For those that have been following us for over a year know that we used to post under the name "The Cult of Kek" but we changed our name late last year around the time that QAnon started appearing over on 4Chan. We are now under the name "The Alt Kek" but we are still actively making Meme Magic real. The QWeb map has been updated recently and now includes "The Cult of Kek" and while we were in the process of making this video, the location was moved around. Hope you can find it! ;) Either way we hope you enjoy this flick as it took many kek-hours to get it done and to get it just right. This will be the last video of its kind as we have made a total of three QMap related video which will also be uploaded to this platform soon. Praise Kek and Shadilay!
#######
A Cartography of the Globally Organized Corruption Networks: A Treasure Trove of Maps, Diagrams, Org Charts, and Family Trees
Learn more at: learntoreadthemap.com
Shop coming soon: deepstatemappingproject.com
#######
Follow and support us at...
Steemit: http://steemit.com/@thealtkek
Amazon: https://amzn.to/2pOeWnM
Website: http://www.thealtkek.com
Facebook: http://www.facebook.com/thealtkek
Twitter: http://www.twitter.com/thealtkek
Instagram: http://www.instagram.com/thealtkek
YouTube: https://www.youtube.com/channel/UCVVW59qRhfu28OM1JeboALg
Bitcoin: 11488YdJBDET9npSYFdbFE58nBTMmexsnP
Join The Cult of Kek Facebook Group @ http://www.facebook.com/groups/thecultofkek
---
▶️ DTube
▶️ IPFS