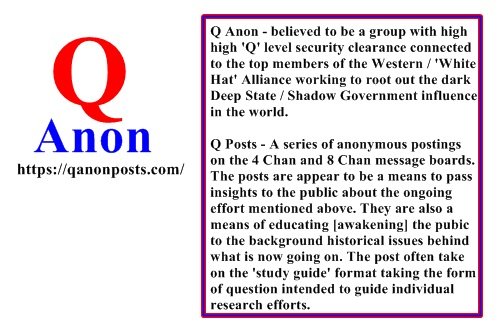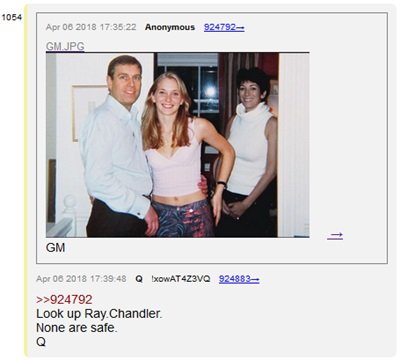 Q drop # 1054 Pictured are (left to Right) Prince Andrew, Virginia Roberts and Ghislaine Maxwell in 2001. At the time, Roberts was 17 and Maxwell was the girlfriend of Jeffrey Epstein. She was said to be tasked with acquiring and managing underage girls for Epstein and his friends.
Using the Search by Photo function at Google,  several articles were found containing the photo. These include:
Other article about Virginia Roberts (married name Guiffre):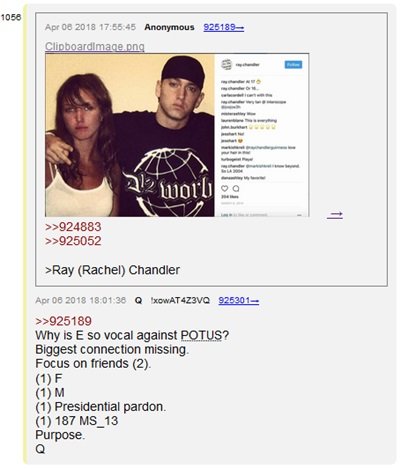 Ray (Rachel) Chandler - While currently running the "seemingly legit" Midland modeling agency and working as a fashion photographer, Chandler also has been connected with Bill Clinton since she was a teenager.  She also is said to be currently involved in finding underage girls for Jeffrey Epstein and his Lolita Express flights. Chandler had also been involved with rapper Eminem (photo Q post 1056) as a teen and some seem to indicate that he may also be involved with Epstein. She seems to have connections to a wide spectrum of "name" personalities from Hollywood to NYC to Europe including the controversial Marina Abramovic as is detailed in an 8Chan post. In a Q analysis video April 6 YouTube video from JustInformed Talk, includes a look at Chandler's Instagram account [referenced by photo in Q post 1057].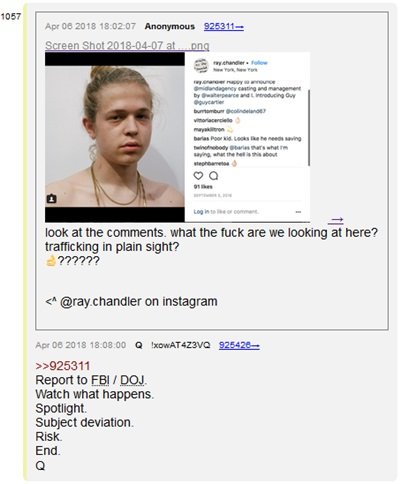 Additional related information: