I have just ordered a case for my iPad again using bitcoin on amazon. I just broke the old case.
I have to admit I did buy that broken thing on amazon and did not use bitcoin. To my defense i may have been price insensitive and wanted it quickly.
If you buy things on amazon and don't use bitcoin to pay for it you must either
not know that you can use bitcoin
be a lazy idiot
be price in-sensitive
really are under time pressure (still not good excuse)
Here is my current order: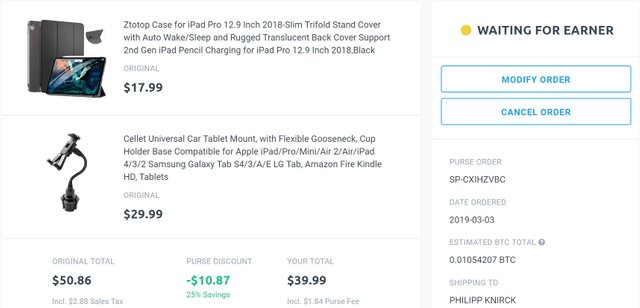 This is on purse.io If you have not tried this out, please use my affiliate link: https://purse.io/?_r=nhslyO
Purse allows you to create a wishlist on amazon and then have someone buy the stuff you want for you and ship it to you. But here is the kicker: You will determine the price in BTC that you are willing to pay.
The counterparty may pay anyway they like but you will pay in BTC, at your discounted rate.
In the past I have been successful with rates around 20-30%. That is huge when you buy big items.
The last time i used the service is when I bought my monitor.
Here is the order: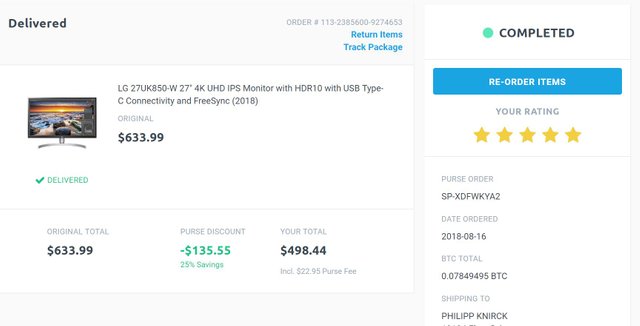 As you can see the order was accepted the same day I ordered it.


Why do people do this? Pay 20-30% more for their bitcoin and buy them in this complicated way?
Well this is effectively a remittance service for people that have some form of amazon credit they need to get rid off. If you had a amazon gift card this would be a simple way to liquidate it.
For me as a buyer there is no risk, as I pay only after having received the items. Purse is the escrow service in between.
Its an amazing service.
If you did not know, there is now no excuse anymore for you to not safe 20-30% every time you buy something on amazon.
update
Again the order was filled right away (same day)