An honest PureVPN review
I am writing this PureVPN review based on my own personal experience using the service. Yes, there will be an affiliate link to PureVPN at the end of the article which you can feel free to use, but what I write is not influenced by that link, and my goal is not to convince you to subscribe to PurePVN after reading. My simple goal is to share my own PureVPN experience and based on that you can decide to be attracted, or to look for some other VPN service instead.
PureVPN is a Hong Kong-based company which say the light of day back in 2006. It has since then grown a lot and today they have servers in more than 140 nations, with a total of more than 500 servers. That makes them a very big VPN provider, but the question is still if they provide quality?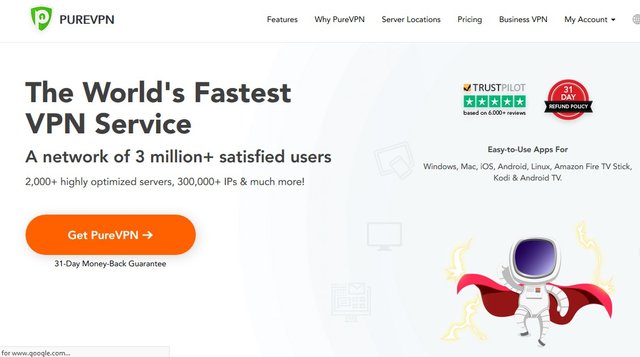 PureVPN and privacy
One value many people look for when looking for a VPN provider is privacy. The question is whether the provider logs their online activity or not. To avoid problems and misunderstandings I will simply quite what PureVPN write about their privacy policy and about logging:
We do not and will not monitor user sessions for inappropriate behavior unless compelled to by law enforcement with proper documentation and paperwork. However, if in the course of normal business (including complaints from the general public) we discover you violating our Terms of Service Agreement we may terminate your account and optionally refund the balance of your account to you.
PureVPN and refund
PureVPN has a thirty-one-day money back refund guarantee as of 2018 (the longest there is on the market). You can read more about this new and upgraded refund-policy in this blog post.
PureVPN and server locations
As I mentioned earlier PureVPN has servers in more than 140 nations. Those nations are for example United Kingdom, United States of America, Brazil, Canada, Switzerland, Sweden, Singapore, Romania, Egypt, Netherlands, Malaysia, Luxembourg, Ireland, Latvia, Germany, Russia, Panama, Australia, Turkey, France, Japan, Ukraine, Hungary, Malaysia, Luxembourg, Thailand, Taiwan, Russia, New Zealand, and Costa Rica. Again this means that if you want an IP address in, for example, Sweden, PureVPN might be a provider you should consider.
PureVPN and VPN client
The easiest way to use PureVPN is of course by using the client they provide together with your VPN account. Their client is very easy to use and it looks nice, and it even shows your download and upload speeds. You can also see your new IP address in the client and all in all it is one of my favorite VPN clients, and I have tried quite a lot of them.
PureVPN and download speeds
The most important when choosing a VPN provider might be their download speeds or server speeds. Based on my own experience I believe that PureVPN is one of the VPN clients out there with the best speeds. Some VPN providers have tons of servers in tons of nations, but you need to connect to three-four servers before finding one with decent speed. When using PureVPN you will soon find out that most of their servers have great speeds, so no need to connect over and over to find one working good.
Last words in my PureVPN review
I have tried many VPN tools, but PureVPN is one of my favorites. The client and the download speeds are the most important factors in making it so. From time to time they have discounts, and if you manage to make a subscription during one of those discount periods you can get a very good VPN service at a very low price. If you look for a VPN provider in one of the nations in which PureVPN has a server, then you should absolutely consider their services. This means it is ideal if you want to watch your Netflix from abroad or simply enjoy surfing the Internet with an encrypted connection making your passwords and other confidential information safe.
If you want to test PureVPN or read more about it, visit the PureVPN website today. If you have tested PureVPN, share your thoughts and comments!
For more VPN reviews and up to date information, make sure to read all the VPN reviews in the IP Address Guide.