A lot of controversy lately because the head of SpaceX, a government contractor, took a hit from a blunt while hanging out with Joe Rogan. Did everyone forget about Obama's "choom gang" and Clinton's "didn't inhale" moments?
I mean, he launched his car into space while playing David Bowie, of course he smokes every once in a while. Maybe that's when he gets his best idea. Dude, what should we do now? I don't know man, let's sell flamethrowers and surfboards...
Instead of freaking out, I think the USAF should focus on protecting us from aliens and chill.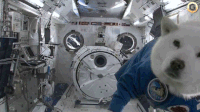 I nominate @theguruasia and @buttcoins for the next round