Inner workings of Prime Screen Tool in PTC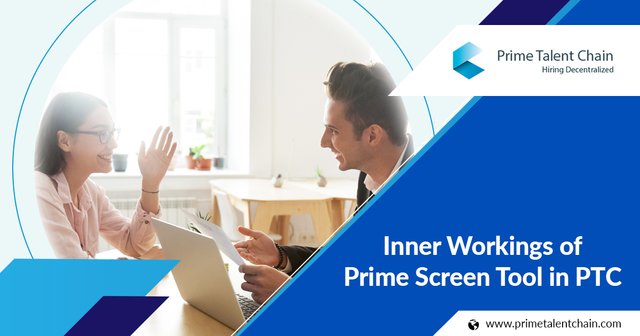 The global recruitment industry is filled with various issues such as lengthy hiring cycles, high cost in hiring, lack of right candidates who have potential, and the list goes on. In a survey by LinkedIn, it has been revealed that finding the right candidate for the right job takes weeks and sometimes months. Thus the huge amount of money and time spent on hiring the right candidates incurs a heavy loss on companies. 

Prime Talent Chain aims to solve the existing problems in the recruitment space with advanced solutions such as, 
Blockchain 
Big Data
Artificial Intelligence
Machine Learning
The company intends to create a transparent ecosystem of hiring with no intermediaries involved.  PTC employs four tools to accomplish its mission of creating a decentralized hiring space, 
PrimeSource - Resume Sourcing Algorithm
PrimeScreen - Technology-enabled tool with a preliminary background check
PrimeRecruit - Automated calling systems
PrimeParser - Matches resume with Skill Community
Let's have a detailed look at the primary tool in the ecosystem, Prime Source.
Shortlisting the resumes from large resume poolsCompanies receive thousands and millions of resumes in a year. But, they don't create a proper tracking of the resumes, and the majority of them are never looked at again. Thus, the failure to search the past candidates is one of the biggest problems faced in recruiting. 

PTC's Prime Screen tool receives thousands of resumes in a curated database which can be accessed easily at any time, anywhere.  Its primary focus is to reduce the time spent on locating the apt resumes from a huge pool of resumes. 

The employment(pun unintended) of AI helps this tool to self-learn that improves interaction and outcome, thus building an easy-to-access and deep knowledge base. This automated resume screening solution uses Machine Learning to examine the job descriptions and the existing resume database to learn which candidates are top contenders and which are not. 

Employing AI for resume screening is one of the best innovations as it has been designed exclusively to reduce the time spent on the activity. PrimeScreen is also programmed to ignore demography-related information, including the candidate's gender, age, and race that contributes to unconscious bias during hiring. 

Background checks will be done with blockchain technology. The candidates retain the ownership of their background data as the information can only be viewed by organizations that the candidates gave access to. 

Keep yourself updated by following our subsequent blogs to know more about the other tools in the ecosystem. You can also read our white paper for further information. PTC provides coins for participants who peer-review the candidate's portfolio and assures that the profiles are perfect for industries across the world. Invest in PTC coins for huge returns.