Everything You Should Know Before Investing in PTC!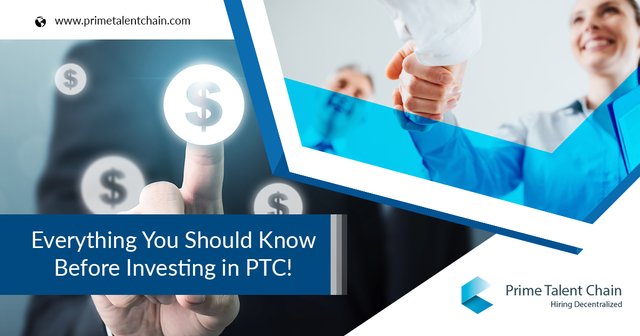 Blockchain has a come a long way ever since its inception in 2008. A survey by Deloitte has shown that there is a 2000 percent increase in its usage from. 2013. The decentralized technology has steadily infiltrated into many industries such as Finance, Healthcare, Logistics and so on. 
The game-changing possibilities of hyperledger are now palpable in the hiring sector too. With the talent wars heating up, the recruitment industry is stagnated with issues such as, 
Resume screening
Lengthy hiring cycles
High cost of hiring
Lack of potential candidates
The primary characteristic of this hyperledger is its unique characteristic to disrupt the existing status quo. Decentralized technology has the ability to transform the HR sector. 
How PTC transforms the hiring space with blockchain
In the present day, recruiters pay job boards for accessing the resumes of candidates. But the candidates don't have control over their personal information as they don't know who sees their resumes. There is no transparency in the system and blockchain is the only way to build a decentralized database of resumes, owned & controlled by candidates and authenticated by other stakeholders in the system. 
Prime Talent Chain offers a reliable ecosystem powered by Blockchain, Artificial Intelligence, Machine learning, and Big Data. It offers a unique kind of solution the recruitment industry has never experienced before.
Thus a decentralized application allows transparent communication between recruiters and candidates without the intermediaries such as job boards and staffing agencies. PTC also solves the tedious problem of background checks. The background verification process is slow and involves a lot of human intervention. The process is expensive and it is tiresome for candidates as they have to fill details every time they apply for a job. 
With a consensus platform, everything including - candidates' profile, identity proof, academic qualifications, and employment details will be stored in a secure platform. The essence of PTC lies in the creation of a curated database of skill communities using blockchain technology. Skill community is a collection of resumes with similar skills that match the right candidates with the right employers.
PTC will begin its crowdfunding soon. It is the right platform for you to invest in. Offering potential benefits and revamping the recruitment industry, PTC offers huge returns to its investors. You can read the whitepaper to know more about the significant perks a PTC coin investor enjoys. Invest in the most profitable platform ever!