736 - Modernos Dólares Comemorativos Americanos - Parte 20
Devido ao coronavirus eu estou preso em casa e não posso ter acesso a parte de minha coleção, onde existem moedas que eu ainda não tinha postado a respeito.
Vou, então, continuar uma série que eu já havia postado há quase dois anos atrás.
Será uma série um pouco diferente pois as fotos são novas (espero que melhores que as antigas) e o texto vai ser diferente (é claro que a base será a mesma).
A informação abaixo vem, em sua maior parte, de https://moderncommemoratives.com/
"O Programa Americano de Moedas Comemorativas Modernas começou em 1982. Neste ano a US Mint lançou meio-dólares comemorativos para celebrar os 250 anos do nascimento de George Washington. Desde esta data, moedas comemorativas foram emitidas quase todos os anos para celebrar pessoas, locais, eventos e instituições famosas americanas.
Cada moeda comemorativa é autorizada por um Ato do Congresso, que especifica o objeto a ser comemorado, as denominações das moedas a serem emitidas e a tiragem máxima autorizada para cada uma."
Todas as moedas de $1 pesam 26,73g com 90% de pureza de prata. Elas foram emitidas com acabamento Brilliant Uncirculated e Proof.
Elas serão apresentadas na ordem em que foram emitidas, mas apenas uma de cada desenho. Vou alternar as Brilliant Uncirculated com as Proof.
A vigésima é 1994-W MS70 "Prisioner of War".
Esta moeda foi emitida para o Museu Memorial do Prisioneiro de Guerra, a ser construído em Andersonville, na Geórgia.
PCGS gradou 2.781 1994-W "Prisioner of War", com 657 como MS70. 54.790 1994-W "Prisioner of War" foram emitidos em West Point.
Comprei esta moeda em 2002 por $120.00 e o preço hoje é no entorno de $135.00. O preço de lançamento foi de $32.00.
O obverso mostra uma águia careca em voo. Há uma corrente quebrada em uma perna e um arame farpado envolvendo o desenho. Isso foi representativo do vôo da águia em direção à liberdade. O obverso foi projetado por Tom Nielson.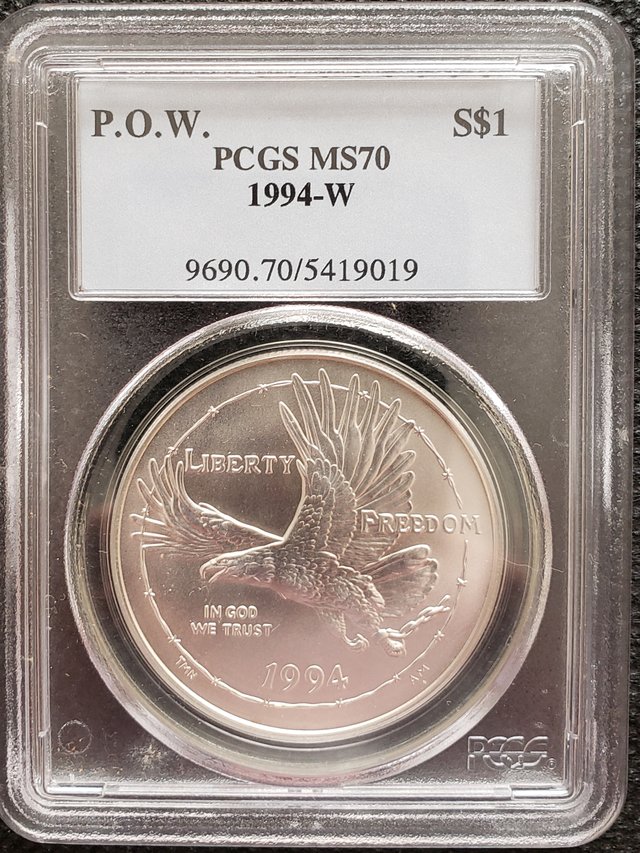 O reverso da moeda representa uma vista do proposto Museu Nacional do Prisioneiro de Guerra, conforme renderizado por Edgar Z. Steever.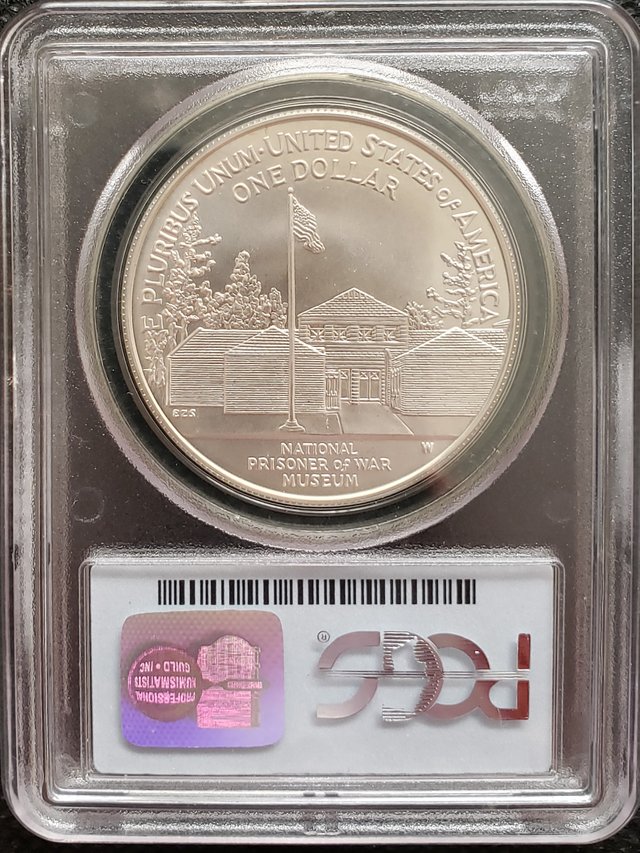 Muito obrigado por terem lido e por favor comentem, upvotem e me aconselhem.