Porque entender a jornada de compra do seu cliente é tão importante?
Porque é através do mapeamento das ações e reações do consumidor podemos apontar pontos sensíveis e criar estratégias que tornem o processo da compra de um produto ou serviço mais sólidas, oferecendo uma experiência agradável e personalizada a cada passo da jornada.
Segundo este estudo da neoatlas, 47,6% dos consumidores consideram um bom atendimento um fator importante na decisão de compra, e 22,3%dos consumidores entrevistados deram importância máxima para a o fator.
A verdade é que as necessidades dos clientes mudam com o tempo, mas o bom atendimento vêm se solidificando como fator decisivo da compra, muito mais que o preço. Entenda os passos da jornada de compra e entenda como você pode garantir o encantamento e satisfação de cada vez mais clientes:
Pré-venda
Etapas: Descoberta de necessidade e aprendizado
Estratégias: Investir na propagação de conteúdo relevante ao seu cliente;
Disponibilizar canais de atendimentos para prestar auxílio imediato;
Usar a pré-venda como ferramenta de conquista e conversão de clientes.
Atendimento
Etapas: Consideração da solução e decisão de compra
Estratégias: Investir na capacitação da equipe de atendimento e na manutenção constante do espaço;
Coletar informações sobre o cliente para continuar o atendimento além da finalização da compra.
Pós-venda
Etapas: Satisfação e lealdade
Estratégia: Usar o pós-venda como ferramenta de fidelização de clientes garantindo sua satisfação total.
Ao aplicar a jornada de compras ao seu negócio, você tem a chance de reforçar as estratégias já presentes na rotina de sua equipe e prestar um atendimento mais humano, focado nas necessidades do cliente, eficiente e descomplicado.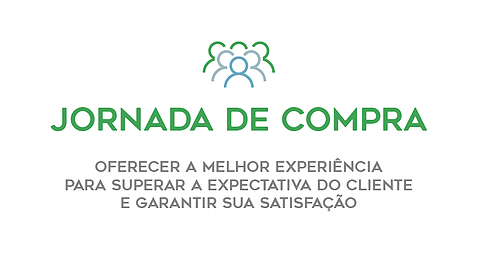 (English: Why is understanding your client's buying journey so important?
Because it is through the mapping of the actions and reactions of the consumer we can point out sensitive points and create strategies that make the process of buying a product or service more solid, offering a pleasant and personalized experience every step of the way.
According to this neoatlas study, 47.6% of consumers considered good service an important factor in the purchase decision, and 22.3% of consumers interviewed gave maximum importance to the factor.
The truth is that the needs of customers change over time, but good service has been solidifying as a decisive factor of the purchase, much more than the price. Understand the steps of the buying journey and understand how you can ensure the enchantment and satisfaction of more and more customers:
Pre sale
Steps: Discovery of need and learning
Strategies: Invest in the propagation of relevant content to your client;
Provide care channels to provide immediate assistance;
Use pre-sale as a tool for winning and converting customers.
Attendance
Steps: Consideration of the solution and purchase decision
Strategies: Invest in the training of the attendance team and in the constant maintenance of the space;
Collect information about the customer to continue the service beyond the completion of the purchase.
After sales
Steps: Satisfaction and loyalty
Strategy: Use after-sales as a tool for customer loyalty guaranteeing your total satisfaction.
By applying the shopping journey to your business, you have the chance to reinforce the strategies already present in the routine of your team and provide a more human, customer-focused, efficient and uncomplicated service.)