Hard Fork BCH - Guerra de Hashrate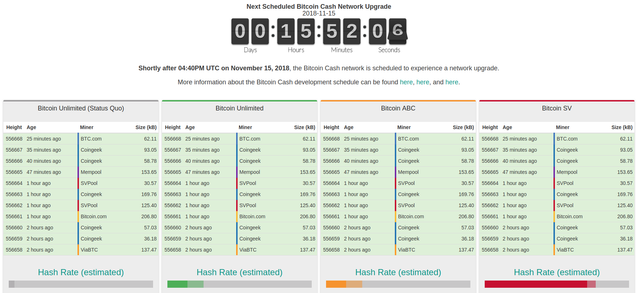 O briga de facções do BCH esta fervendo.
Segundo Craig Wright ele irá DESTRUIR o Bitcoin ABC, o cara está ameaçando até os mineradores de BTC:
To all BTC miners...

If you switch to mine BCH, we may need to fund this with BTC, if we do, we sell for USD and, well... we think BTC market has no room... it tanks.

Think about it. We will sell A Lot!

Consider that....

And, have a nice day

(BTC to 1000 does not phase me)

pic.twitter.com/oUScEahtWc

— Dr Craig S Wright (@ProfFaustus) November 14, 2018
Se os mineradores de BTC começarem a minerar BCH, ele vai afundar o preço do BTC.
Nossa, esse cara é um lunático ou "tem muita lenha pra fogueira".
Outro twitter ameaçador dele:
Well. In 2017 I said there was a MAJOR issue with SegWit.

In mid to late 2019, I will explain it.

It cannot be removed. It cannot be fixed. It is not solvable and, you cannot work around it.

Sorry. You allowed Core to kill BTC.

I did try and stop you.

— Dr Craig S Wright (@ProfFaustus) November 14, 2018
Aqui, ele afirma que existe um grande problema com SegWit, segundo ele esse problema não pode ser removido, consertado ou remendado.
Jihan Wu se defende:
The whole BCH community are working together to kick Fake Satoshi out. The resisitence against cult leader proves the inner strength and sophistication of the BCH ecosystem!

— Jihan Wu (@JihanWu) November 9, 2018
Nesse twitter de Jihan Wu ele confirma que a comunidade BCH esta trabalhando para tirar o "Satoshi Falso" do jogo.
Segue site com informações de quando vai acontecer o fork:
O fork está previsto para acorrer amanhã a tarde, aproximadamente as 16 horas.
Meu blog http://www.assuntotecnologia.com.br/
Meu Steemit https://steemit.com/@assuntotech
Twitter https://twitter.com/AssuntoT