I knew there were farmer suicides in India over GMO screwbaggery. So many farmers got ruined of their livelihood and saw no option but to end their lives than face the debt or legal fees, on top of their lost farming incomes. But I didn't know that the United States has had, and still has, a high suicide rate for their farmers.
The first farm crisis of the 20th century took place in the 1920s and 1930s between the two world wars and was a part of the Great Depression hardships. Prices after the first world war rose sometimes over 100%, making crops more expensive to produce in 1920 than any previous year. In the 1980s there was another farm crisis, when record farm production led to a fall in price, and exports fell due to a grain embargo against the Soviet Union. That also increased with a doubling of land and equipment debt between 1978 and 1984, along with a big fall and land prices leading to record foreclosures. And the Farm Credit System had its first losses since the Great Depression, meaning supplemental support to farmers was lacking.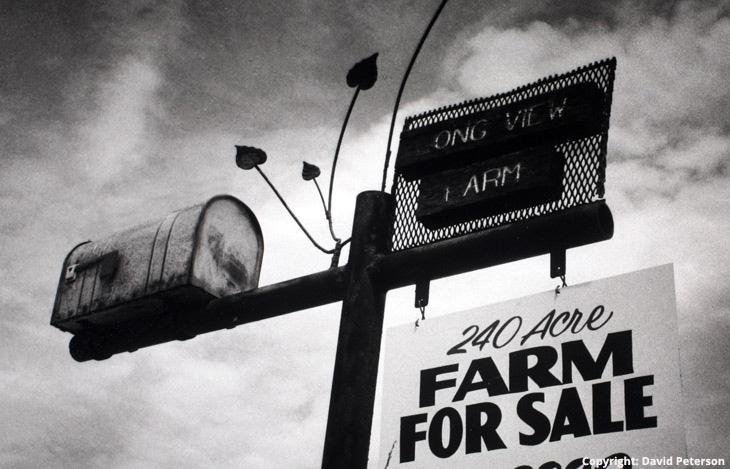 Source
In the 1980s, more than 1000 farmers committed suicide because of financial issues where they ended up losing their farms to foreclosure. A recent study examined the years between 1992 up until 2010, which came out to 230 farmer suicides. The annual suicide rate varied between 0.36 to 0.96 per 100,000 farmers. Considering the average suicide weight of all other occupations being 0.19 per 100,000 during that same time period, the farmer suicide rate is extremely high.
Economic factors may have improved since the 1980s, but their occupational factors have much in common, such as poor access to quality health care, isolation and continued financial stress commingle in their daily lives to place a lot of stress on them with a high risk of suicide. Even if there is quality health care, it might cost too much and be located too far for them to have the time to deal with their health issues.
Farmers can also be isolated from other people creating a smaller social network and more loneliness. There is also a farm culture which pressures them to live up to a rugged strong psychological model where they should just suck it up and go about their work, regardless of any physical pain or psychological issues. The use of chemicals such as insecticides has been known to cause depression. And when a farm has difficulties, it can be taken very personally as a sign of failure because farmers highly associate their jobs with their own identity compared to people in other jobs.
"They can't take care of their family; they feel like they have fewer and fewer options and can't dig themselves out. Eventually, suicide becomes an option," said Corinne Peek-Asa from the study.
Across the United States, the West has the highest level of suicide with 43% of the total suicides between 1992 and 2010. The Midwest accounted for 37%, the South for 13% and the Northeastern United States with 6% of the total.
Resolving these issues might be difficult because it involves much development in these rural areas to facilitate the increase in social networking between people when they are so far apart. Improving the economies would help to improve the amount of people that are there and thereby increase the potential to develop social networks. As an area develops, this increases the services provided to meet the needs of people in that area, such that improved health care and mental health services can come about as well.
I come from a small town, with farms all around as well. There are health services and many thousands of people in the area, but I imagine when the town was hardly even a town and there was barely anyone there, that the farmers and other people starting up a new community and place to live had a lot of hardships to overcome as well. I just imagine people moving out to some nowhere land to start something new. Why did they choose this place and not another?
I also think of how such a smaller town could eventually develop into a bigger economy. For example, new businesses would need to get started up that are more technologically oriented, such as introducing the programming industry or the IT support industry into such a town to make it start to grow again. Then people can live in rural areas while working a modern city-type of job and not have to commute.
These are just ideas for how to a make smaller town keep growing. I see them stagnating because they aren't moving forward in modern economic opportunities for their local populations. Have you seen rural areas get infused with technological jobs that boost that town and make it grow more, infusing it with more opportunities for people to stay or come?
---
References:
Wendy Ringgenberg et al, Trends and Characteristics of Occupational Suicide and Homicide in Farmers and Agriculture Workers, 1992-2010, The Journal of Rural Health (2017). DOI: 10.1111/jrh.12245