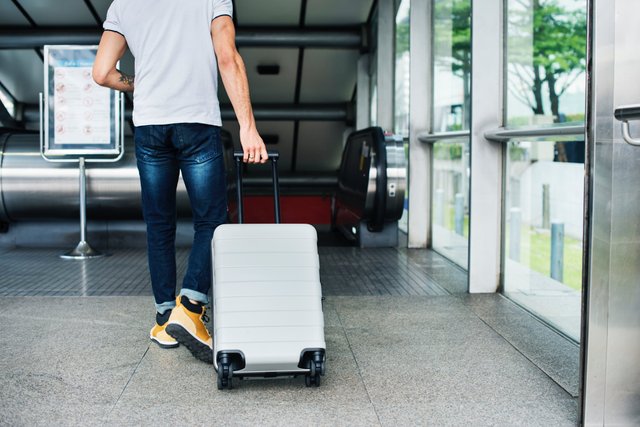 Over the course of a few different posts on here, I've gone through various self-discovery and self-examination journeys. A lot of them have yielded some pretty profound insights. I think one of the more interesting aspects about getting older in general is the opportunity to learn more about yourself.
I'm coming up on five years of marriage. One of the more interesting aspects of being married is having the opportunity to get to know your spouse better. Some of the things you pick up on early in a relationship are the habits of the other person. My wife and I both have our idiosyncrasies, and we accept them. But after a few years together, two items in particular were really starting to become minor friction points in our relationship.
On the surface, people's quirks are just that – unique things that make them different from most other people. How you develop these quirks is something I don't think most people ever really pause to consider about themselves, much less other people. When my wife and I took the time to learn about ourselves and teach each other what we found, it made the friction from the quirks much easier to deal with.
My wife will never throw out food that is in the refrigerator. Or drinks. Or leftovers. Or the three-fourths eaten bowl of oatmeal for our kid that has completely dried out and is slowly fusing to the bowl. It's somewhat irritating to me. I am also irritated by the fact that while she is the one who makes the grocery list, I am the one who goes to buy said groceries. When I return with a bag full of peaches only to find the previous bag of peaches rotting away in the back of the fridge, it really irritates me. Especially when they were buried behind all the other food that never gets thrown out.
Over our years together, this has become a bigger and bigger issue, until one day I finally decided to make a big deal about. She said she would try and do better, but a few weeks later we were right back to where we started. Finally, we had a breakthrough. She took me aside and explained to me why she has such a problem with throwing food out.
She grew up in a home where it was just her and her mother. Her mom worked as a beautician, and they lived in a trailer park. Money was tight. My wife remembers days growing up where the only thing in the fridge was condiments and an almost empty half-gallon of milk. She never starved, because they had family close by and they would often eat meals with her grandparents, who always had plenty of food. My wife loved going to her grandparents house, because their fridge was always filled to the brim with food, and she knew she'd always have something to eat there.
My wife explained to me that deep down in the back of her mind, she still carries that fear of running out of food with her to this day. She also associates being a good provider with having a fridge full of food – so full you can't hardly add anything to it or see what's in the back. She explained that when she was a girl, she would never throw anything out, because even some slightly moldy food was better than no food at all.
When she told me the story of why she is the way she is, I was able to empathize with her and extend a level of grace I was unable to find previously. I was raised in a very different household, and there were unspoken (and probably actually very spoken) rules that you did not waste food. Thus, letting food go bad runs counter to my own conditioning, and so we have that conflict. And when your fridge is so full you can barely fit in something new, I guarantee you that something is rotting away in the bowels of the crisper drawer.
Even though the situation today hasn't changed much, just knowing the story behind why it happens has made it a lot easier for me to deal with. I also feel more emboldened to throw things out without checking with her first, because I know she has that hang-up about ever letting something get tossed, even when it's well past the point that either of us would actually eat it.
---
A few weeks after all this had passed, my wife brought up something that had been bothering her. She pointed out the fact that I have a lot of clothes. I have many more clothes than she herself has. Even more frustrating for her is the fact that I only ever wear about 10% of the clothes that I own. The rest stay in the closet or dresser for months, even years. There are many clothes that I owned when we moved in together that I have not worn once since. She has asked me to throw out my old clothes and the ones that don't fit anymore. I said that I had already thrown out the ones that didn't fit (which was true) and that everything else I have, I wanted to keep. She got irritated, and we moved on.
But why was I being like this? Inspired by her story of food in the fridge, I decided to dig into my own past and my own psyche to figure out why I have this hoarder issue when it came to clothes. I certainly don't have it in other areas: I regularly purge old papers, I periodically sell items I am not using anymore on Craigslist, and I throw greeting cards directly into the trash after reading them. So why hold on to so many clothes?
I came to two conclusions.
When I was growing up, my mom was the one who washed the clothes. My mom was rather obsessive when it came to household tasks. She had a particular way of doing things, and rarely deviated from her routine. She would soak socks before washing them. She would turn out pockets on jeans and clean the lint out. She would take a tiny pair of scissors and trim stray threads off of shirts. The woman did great laundry, but there were two downsides to this ritualistic behavior. First, it was time consuming. Coupled with the fact that every other one of the household chores she did on a daily basis were bogged down by similar perfectionist habits, laundry could get held up for days. Second, she was very possessive of her washing machine and her laundry area. No one else in the house, my father included, could come near it. And heaven help you if you defied her and did a load of your own laundry.
As an adult, I am plenty experienced in doing my own laundry. I didn't think my clothes hoarding had any correlation to my childhood. But when I thought about it, I realized that I still have this fear of running out of clean clothes to wear and being forced to wear either something dirty or something that didn't fit well. When I was growing up, there were days when my favorite pair of pants was too dirty to wear, and so I'd have to go with the pair that was slightly too short, or too tight. I hated this so much. As an adult, there is a deep part of my brain that remembers the embarrassment of being forced to wear clothes that don't quite fit, and so I hoard many pairs of pants and shirts in case the day comes when I fall behind on laundry and need to grab a backup pair.
The second conclusion I arrived at is related to this first. I am very critical of the clothes I wear and how I perceive my appearance in different outfits. This goes back to when I was bullied as a kid for the clothes I wore. One kid called me "nice-shoes-boy" for three years because I wore loafers when everyone else was wearing sneakers. Other kids made fun of my pants being too short, and I'll never forget the feeling of embarrassment I felt as the cool room air touched my exposed ankles when I sat down. A shirt with sleeves that were too short was the perfect punchline to the class bully's joke. And so on.
Even now as an adult, there are some outfits I own which look and feel great, and I wear these over and over. I gain a lot of confidence from knowing I am in a great fitting and good looking outfit, and so I stack a few of these at the front of the rotation each week and reuse them again the following week. This results, over time, in me wearing the same dozen or so outfits, while the rest of my wardrobe languishes away in storage. The fact that I've gotten a little larger over the years means that some old outfits are now a little too tight for comfort and confidence, even though they might not be too small to throw out completely. Plus, there's always the chance I'll get back in shape.
These two pieces of my past directly impact my behavior to this day, and it manifests itself as this weird little quirk that my wife notices but doesn't question. When I shared my findings with her, she thought it made sense. We agreed that I'd give the clothes purging another try this year.
Even though these things aren't earth-shatteringly important or particularly profound or insightful, I find them very interesting. I wonder how many of our personal habits and quirks can be attributed to events that happened long ago. I suspect all of them. My hobby now is to start to look into other areas where I'm a little unique and question how and why I came to be the way I am. Maybe some future discovery will results in change much more meaningful than parting with some old shirts.
---
View this post on Steeve, an AI-powered Steem interface