Super Psychedelic Circus Arts Fire Spinning SHRED VIDEO! PatchesFlows Episode 1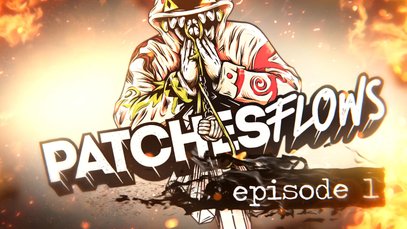 PatchesFlows #1 - Salmon House Jam (feat Rachel K Collier)
--Please Like and Share! -- It helps SOOO much! Plz its free :)
Yay! Many Hours of work went into this video! I hope you love it :) Special thanks to the Salmon House for throwing a fire jam / filming sesh at super short notice. I had no idea it would come this far.
Starring:
Sam King Alexander McAllister Nick Seay Jessa Grace Matt Stoker Kacie Woeber Jade Martell Jackson Horton Christl Ammerman Lance Woods Exuro Piechocki
Thanks to Ohluvya Pearl Right and Hannah Cameron for helping with the intro vocals!
Also Extra Special Thanks to Rachel K Collier, not only is she an ultra talented musician, but such a kindhearted soul as well. Thanks for letting me use your beautiful music. Be sure to check out Rachel's Page: https://www.facebook.com/RachelKCollierOfficial/
Please Like Sub Share on your Social Media Networks of choice. Leave a comment with your favorite part or if its too psychedelic let me know there! It helps sooooo much! Clickkkkk the buttons :)
Thank you for Supporting PatchesFlows
-Sam King AKA Patches
►Become a PatchesFlows Patron & Get Access To Exclusive Discord Channel and content: https://www.patreon.com/patchesflows
►My PatchesFlows Merch Store: https://patchesflows.com/
ANY DONATIONS HELP SUPPORT US AND KEEP THIS CHANNEL GOING!
►Donate Ether and ERC-20 Tokens: 0xAe3659d22238d89EDC0b5Ce5E855de88bAF996D5
►Donate Bitcoin: 361hWVKzkKm1oR6Lm2fb17nLLYGmsZ7AEk
►Donate Using Paypal: https://www.paypal.me/laughingleather
FOLLOW US HERE:
►Facebook: https://facebook.com/patchesflows
►Instagram: https://instagram.com/patchesflows
►Twitter: https://twitter.com/patchesflows
►Snapchat: magicpatches
►PatchesFlows Official Site: https://patchesflows.com
►Steemit: https://steemit.com/@quantumbalance