Persistence - Open financial assistance protocol for businesses & organizations

Persistence Goal:
Persistence creates a bridge between decentralized finance (Defi) and traditional finance (CEFI) through facilitating lending of crypto by using real assets as collateral. Focus on helping businesses and traders easily access, maximizing blockchain technology to increase revenue and reduce costs.
Persistence focuses primarily on Enterprise & Institional (businesses & organizations)
In the enterprise, it will focus on the trading exchange, the market of crypto assets (commodity transactions / singles, letters of credit, shares, bonds, ...)
Persistence, developed by Tendermint Core and built on Cosmos SDK, including Toolkit to build a business-level market, exchange trade and applications to eliminate complexity when using Blockchain (token, custody, gas ...)
Persistence is completely compatible, extension, and installation depending on the needs of the enterprise.
Persistence approached according to 2 methods:
Focus on financial institutions
Use trade financing for real property loans (invoices, receivables, inventory, properties, etc.) through the Comdex DAPP platform for business organizations' Goods substances (Physic) 'and financial transactions.
COMDEX is a commercial funding and Decentralized commercial transactions.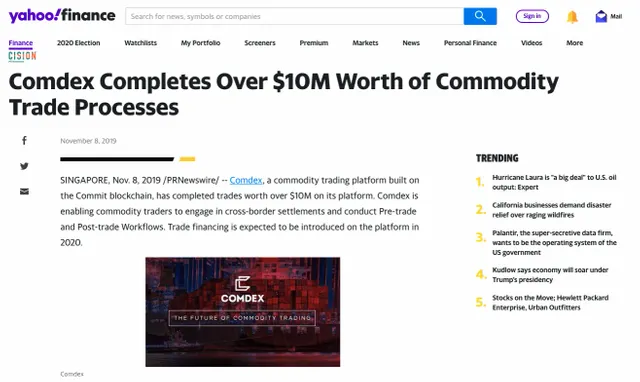 COMDEX, a commodity trading platform built on Blockchain Commit, has completed transactions worth more than 10 million USD on its platform.
Focus on Cryptocurrency
Debts definition (debt group) and stablecoin loan platform to provide stakeholders to receive income through the introduction of real-world assets into Cryptocurrency .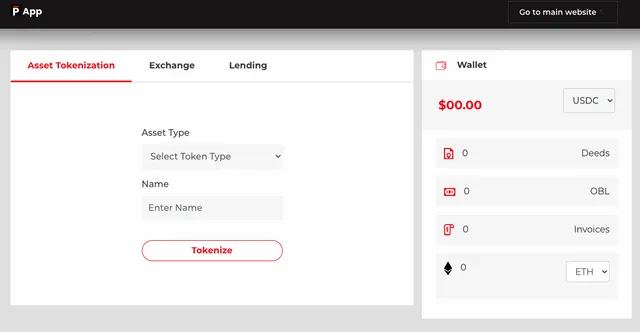 In the Persistence ecosystem, the financier creates a lot of loans (holding a collateral of a collateral) to the seller to request a loan on the Comdex platform. These loans are then included in batches or groups (debt management) based on different factors such as risks, V.V.
Through Persistence DAPP - Allows stablecoin holders / suppliers of StableCoin loan liquidation to generate income.
Persistence solves 4 problems that old & new financial instruments are now encountered
Problem 1: Lack of infrastructure and low accessibility
Problem 2: Market segment and lack of interoperability
Problem 3: Faith (Lack of honesty)
Problem 4: Slow payment / payment time
Persistence has faith that will bring huge capital into the Blockchain industry / cryptocurrency through cooperation with traditional trading organizations and large financial institutions (in addition to cryptocurrency use cases) - By creating a reliable environment and opening up business roads that have never been before.
What will Persistence project do?
Persistence SDK as a building block of trading platform and market
Persistence SDK contains the infrastructure and tools needed to build trading exchange and markets. Tools will facilitate transactions and trade from A -> Z - all ways from joining trade organizations, traders, KYC, joining buyers and sellers, negotiating , dealing with transactions and finally support fees for transactions.
The basic approach is to create favorable conditions for paper-based tokens (through document marking) and cryptocurrency financial assets through the NFT for unique representation and metadata collection.
SDK is useful regardless of how common use and really capable. In addition, there are:
Interoperability of KYC information by protecting privacy on different trading exchange and markets
General liquidity and net payment on platforms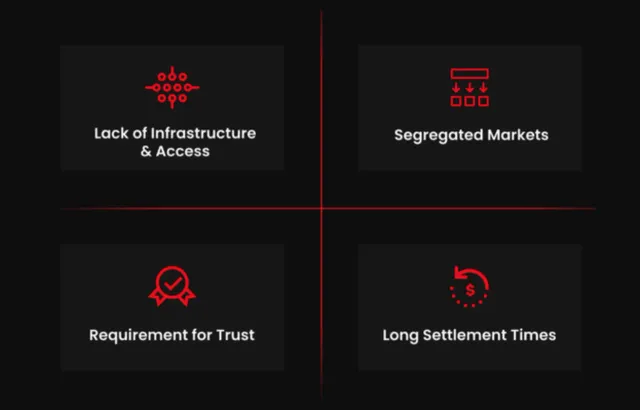 The Validator Persistence as a human being honest
First, Persistence's third-party and high security validators help review and test for all important actions taking place on trading exchange or markets. The appropriate economic incentive measures are given to ensure that Validator does not "metamorphic".
The list of top validators on the prestigence and finance are chosen to ensure a total value of more than 700 million USD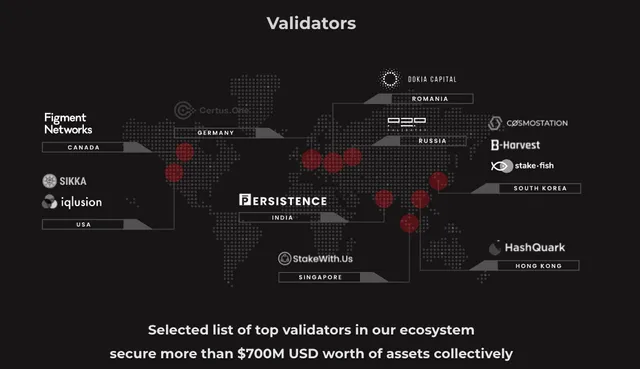 In the event of a dispute between buyers and sellers, this trace can be used as a "single source" to determine the history of the transaction.
Payment immediately through Fiat Gateways (if needed)
Persistence is currently working with a number of major financial institutions (FI) in the world to create convenient connection ports for payment / money transfer / billing / Payments for commercial organizations. These FIS has a global practical presence to facilitate quick payments, bring effective for traders and commercial organizations.
Partners and customers
Customer
COMDEX - COMDEX is a SAAS solution for businesses in the commodity trading market (Physic) or more specifically the bill of lading transactions (eg metal, cereals such as wheat, soybeans, products Energy products such as coal, palm oil, etc.). Comdex captures the entire cycle of transactions from customers / traders, match buyers and sellers and payments. Trade Financing (Trade Finance - Another form of commercial loans) The ability to be added in the coming months.
XO Foundation - IXO Foundation is a "Social Impact" platform that is currently focusing on breaking the 'social impact bond' market. SIB is an innovative method to encourage individuals and business organizations to have a high net value for society in a better way
Partner
The SDKs for Tendermint, Terra and Persistence have a common cooperation through the authorized Swap token. The goal of this partnership is to promote efforts to expand networks in the main geographic areas and cooperate in community initiatives.
Persistence cooperates with Terra: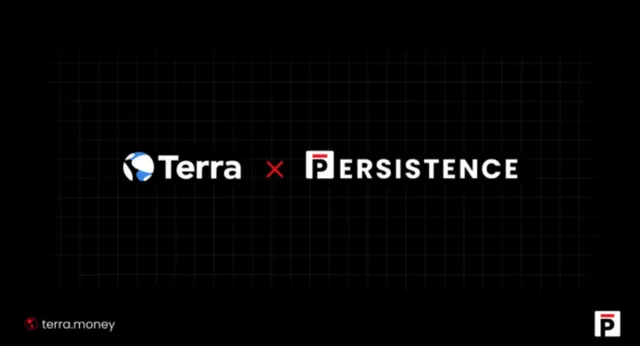 Currently, Persistence relies on relationships with large financial institutions to solve transactions on various trading platforms provided through Swift ecosystems. Including 'traditional' organizations, especially trading companies, learn more about the blockchain industry / cryptocurrency, they intend to start using stablecoin into payment to increase efficiency for businesses.
Team & Advisor
The Persistence project was founded by members from India. (India is a country with a blockchain-friendly attitude, with many regulations that facilitate Blockchain development projects)
Team
CEO is Tushar Aggarwal & CTO as Deepanshu Tripati:


_CEO - Tushar Aggarwal: Tushar supports the establishment of Lunex Ventures - the first Crypto VC Foundation in Southeast Asia (a traditional 'crypto branch of a' traditional VC 'in Singapore named Golden Gate Ventures). He also wrote a lot about Blockchain / Crypto on ASIA in Asia and formerly hosted Decrypt Asia Podcast.
_



CTO - Deepanshu Tripati: One of the three main factors creates a base of payment accepting. Being white labeled for Reliance (invested by Facebook, V.V.) and was resold to Fintech African for $ 9 million. This is the first NFT Inter-Blockchain NFT activity in the world.
Core Team is an engineer from the Indian Institute of Technology Bombay as a technical and public research university located in Powai, Mumbai, India. IIT Bombay was founded in 1958.
Adviser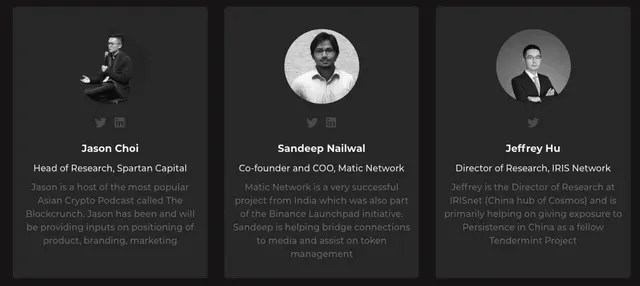 +Jason Choi (Head of Research, Spartan Capital): Jason is the famous Crypto Podcast program in Asia named The Blockcrunch. Jason has been and will advise input to positioning products, branding, marketing for the project.
+Sandeep Nailwal (CO Founder and COO of Matic Network): Matic Network is a very successful Indian project, which is also part of the BINNCE Launchpad initiative. Sandeep is helping to connect connections to media and support token management for the project.
+Jeffrey Hu (Director of Research, Iris Network): Jeffrey is a research director of Irisnet (China's Cosmos Hub) and mainly helps to develop Persistence in China as a Tendermint project model.
Roadmap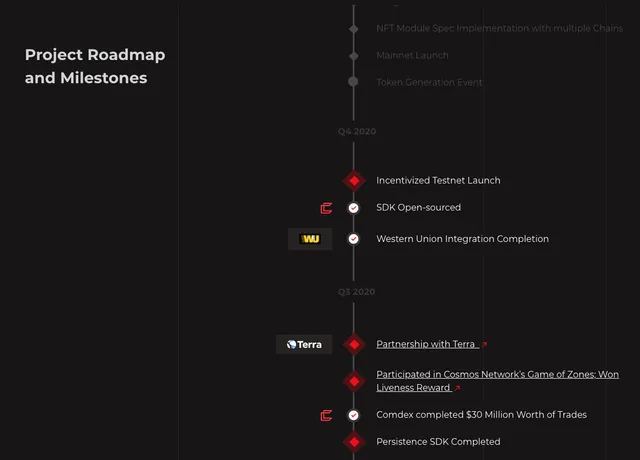 Explorer interface of Persistence project: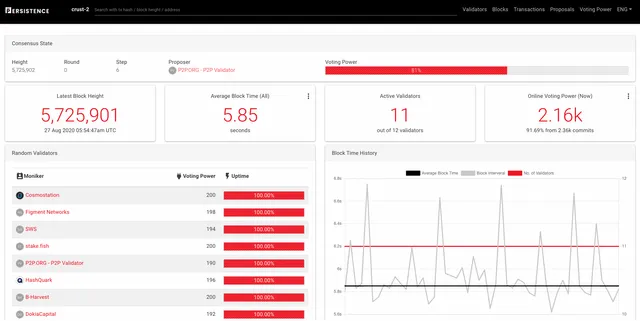 Evaluation of the project
According to an independent analysis of Ico Analysic, Persistence is one of the 10 most potential POS projects in 2021 with many factors such as solutions, the Trend Defi (bringing real property into space Crypto), the Public team technology and especially the advisory board of the project.
Persistence belongs to 1 of 10 potential POS projects of 2020 and 2021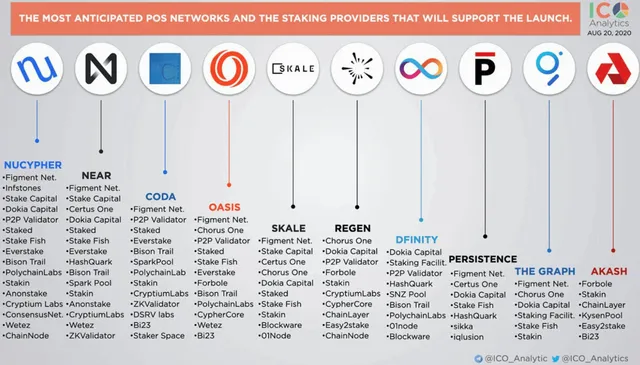 You can follow their social media here :
Website - https://persistence.one/
Twitter - https://twitter.com/PersistenceOne
Telegram - https://t.me/PersistenceOneChat
Discord - https://discord.com/invite/SaBKpjbnhH
Reddit - https://www.reddit.com/r/PersistenceOne/
Youtube - https://www.youtube.com/channel/UC5wqI1ZRdkCjWWVOCQdhxLQ/featured
Medium - https://medium.com/persistence-blog
Linkidin - https://www.linkedin.com/company/persistenceone/
Author
BTT Username: TranTrongit
BTT Profile: https://bitcointalk.org/index.php?action=profile;u=1755886
Persistence address: persistence1lcmvvh5cpmhpdl948k6ungcn9eapa6407u6yns
USDT address: 0x8e80715E4316611b72481170A10F482fFCD7e7FB