Exciting news for PS4 users, a new exploit has been found in firmware 4.55 allowing for a larger range of consoles to be jailbroken!
For those with PS4s with firmware 4.55 you will be able to take advantage of this new exploit (by developer Qwertyoruiop) that has been released on GitHub for all to use!
For those not familiar with Jailbroken devices, it is the use of an exploit in the manufacturers coding to remove and restrictions from the particular device. This opens up the possibility to run your own custom operating system enabling you to download/install programs and games without having to pay through things like the PS store. It also allows for people to install hacked software into the games you use and play online.
Here you can find the tweet from @SpecterDev giving the implementation of kernel exploit 4.55:
https://twitter.com/SpecterDev/status/968572598211698688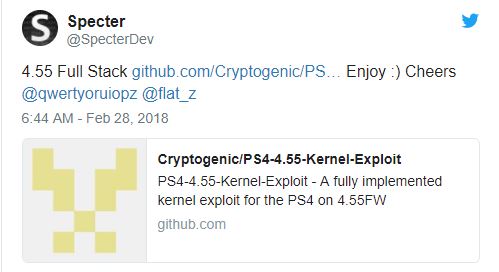 Unfortunately if you've updated your software to a more recent update, your console will not be able to take advantage of this exploit. This is because the firmware on the consoles motherboard will not allow you to upload an older system software from what is most recent on the console.
The good news however, there are brand new consoles in circulation that are eligible with manufacturer specs of firmware 4.55 or lower.
Since firmware 4.55 was release on April 11th 2017, certain bundles can still be bought from old unsold stock through ebay, amazon and many other retailers.
The following PS4 bundles contain firmware 4.55 or lower:
-PS4 Slim Call of Duty Infinite Warfare bundle (12/2016)
-PS4 Slim Gold Edition (6/2017)
-PS4 Black Friday GTAV + TLoU bundle (2014)
-Arkham Knight Limited Edition (06/2015)
-Destiny Taken King Limited Edition (09/2015)
-Uncharted Nathan Drake Collection Bundle (10/2015)
-Star wars battlefront bundle (11/2015)
-Star wars battlefront limited edition bundle (11/2015)
-Call Of Duty Black Ops III bundle (12/2015)
-PS4 Slim Uncharted 4 Bundle (09/2016)
-Uncharted 4 limited Edition bundle (05/2016)
-The Last of Us Remastered bundle
There may be more, but this is currently all I've been able to find searching.
The second avenue is to try and find second hand sellers on ebay ect. who haven't updated their PS4s.
Remember to always ask and check their software information in the settings screen!
If you know about other bundles that were manufactured with a low firmware, please let me know in the comments below!
And remember, JAILBREAK AT YOUR OWN RISK, the method is illegal and can also lead to some serious future implications with trojan viruses!