My one and only #proof-of-hug
Yes, one and only and I don't even do it right. For those who are not attending, this is an initiative by @arcange where you go take photos of people hugging and upload them on Steem with this cool hashtag #proof-of-hug as you know, a proof! that they hug!
Anyways, we hug!
A lot of hugs. Long hugs. Intense hugs. Scary hugs.
It's just because we pretty much the same races and look quite alike (They said so). Somehow wore cool green-ish clothes that probably made us look alike (They,again, said so). Last night, we started to hug and with the initiative, #proof-of-hug, we started to snap!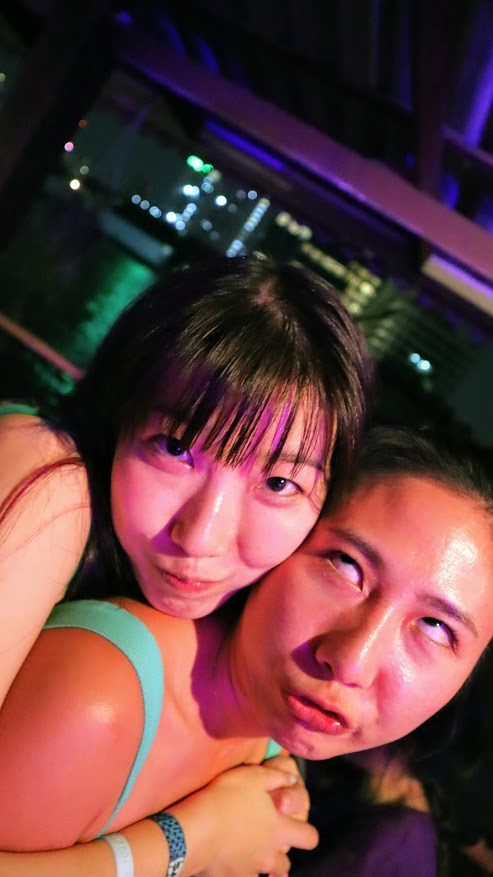 Sorry! didn't want to scare you off like that
it's just my tipsy face :D
Let's all love one another ♡
'I love you Mo' @joythewanderer or Joy, shortly, started saying that first night of Steemfest when she was probably a bit drunk. I think it's an Asian thing. We don't mind saying 'Love' as why not?
I watched so many movies where they're like..
I love you
Thank you..
. . a k w a r d . .
We didn't really do it that way. It's more like, 'I love you too Joy'
@joannewong and I also sometimes say 'I miss you' - 'I miss you too' after that one time we met at a meet-up in Kuala Lumpur. Yeah, again that I think about it, I think it's really an Asian thing..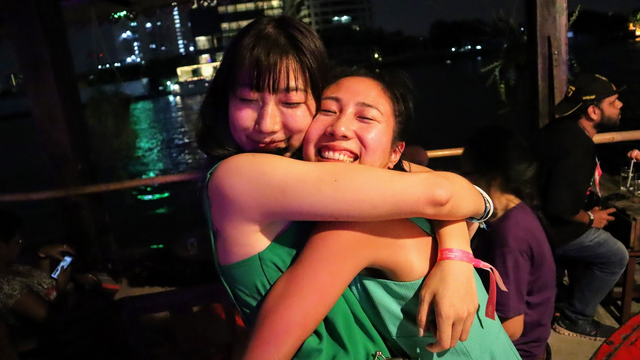 Joy & Mo story
Wait, is this like a wedding speech preparation or what?
I think I have known her way long time ago (not that long but you know what I mean : Steem time period) since I started the using Steem. Joy's super duper active one the platform. Everywhere you go, she would have already been there. Seems like we have pretty much the same lifestyle, travel load tons and write about it. Full-time content creators mostly on here.
Lately, quite a few months ago, we ended up being in the same community so we dm sometimes. Almost met each other irl one time when she's here in Thailand but dang it, I was out of the country exactly that time.
Anyways, we met!
We met here at the Steemfest for the very first time and literally, I felt like we have known each other for already quite sometimes. I don't feel shy, not so much. It doesn't feel awkward, not too much. #joke! really, it's just all natural..
I even tried to do the boobies grabbing photo if it looks like one at all..? Yeah, it's that level of comfort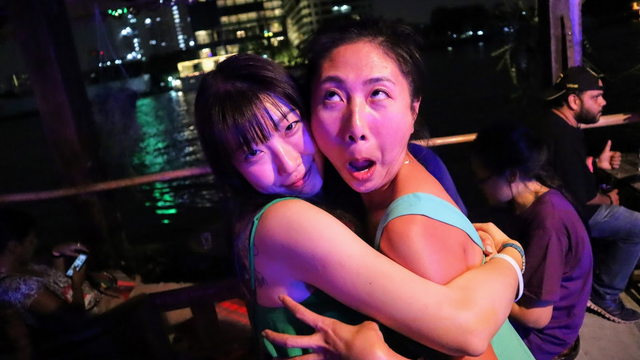 Friends at Steemfest and the fest in general
This talk is leading to the point : A lot of Steemians I have met and talked and the Fest are a lot like that. It's like we have met so long before and it just feels all natural talking when we finally met in real life. Isn't that weird and at the same time, isn't that so nice?
A lot of Steemians I had never really known on the platform and finally, we have met at the fest. A lot that I have already feel like we could be really good friends.
Though, honestly, quite a few I still haven't gotten to meet or talked to in person (and you may ask why) or a few that we have talked a bit but it's kinda 'awkward' moments. I think that's also totally a normal thing that happens.
Quite a few kids running around and hey, don't mind I'm saying this word as it's normal for an asian to say so.. 'I love them all ♡' and I will introduce all my new kiddy friends so soon.
Not on Steem yet?? Let the ninja gets you a Steem account and start earning crypto!
㋡ Get $55 off your first adventure on Airbnb
㋡ BEST Boba Tea in town [Bangkok].
---
All copy and photos are original content by me.
TO SUPPORT WITH LOVE 💙 PLEASE SUBSCRIBE!!! TO MY SUPER DUPER AWESOME YOUTUBE CHANNEL :)