Hybridbot


Membership Upvotes, Bid Upvotes, Trail Followers, Daily Investor Payouts!
We don't want all your steem power, nor do we want to be the only bot you invest in! @hybridbot is best suited for steemians who post regularly and still want to earn a little daily from a bid bot. There are other bots who pay higher rates on bids, and there are bots who upvote your posts above your delegation, but here we can do both giving a high combined ROI!


Unlocking Automatic Upvotes


You can unlock automatic upvotes by delegating 100 Steem Power to @hybridbot, you can invest more or less but 100 SP will be the golden zone of investment in the bot. Investing by delegating SP is safe and secured by the blockchain and can be returned to your control easily!
Daily payouts from bids will process for any investment (large enough to trigger the 0.001 minimum payout). See more information below!
Account and Membership Statistics


Steem Power - 923 SP (Not Including Trail)
Upvote Value at 100% - 0.06 STU (Not Including Trail)
Followers - 81
Number of Members - 4
Current Idle upvote % - 20%
Minimum Post Age - 15 Minutes (bot will bump posts newer than this to the next round)
Minimum Bid (Promotion Mode) - 0.010 SBD or STEEM
Minimum Bid for resteem / upvote - 0.050 SBD or STEEM
Comments Supported (with full URL)
No automatic refunds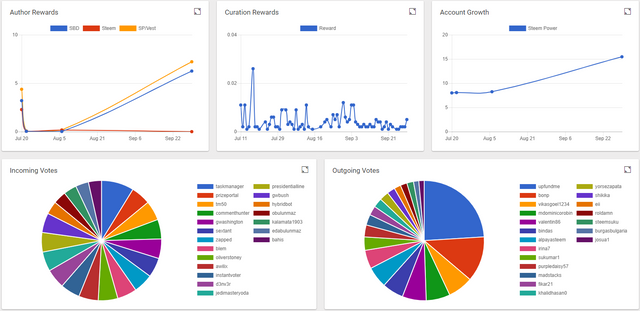 Current Supported Tags (Investor Support Mode, all tags but nsfw are accepted for bids in promotion mode)


"steemit"
"dmania"
"dtube"
"funny"
"meme"
"upfundme"
"charity"
"community"
"photography"
"steemnova"
"taskmanager"
"busy"
"life"
"savage" (new)
"bitcoin" (new)
"partiko" (new)


If you have 100+ Steem Power invested with @hybridbot you qualify for automatic upvotes on steemit posts within these tags. You can add new tags to the list by becoming a member! (Please note any tag but NSFW can be used in promotion mode.)


Promotion Mode
Promotion mode works like any other bid bot, and this is the main mode @hybrid bot remains in. You can send 0.010 or more SBD or STEEM to @hybridbot with the post you want upvoted as the memo. Send 0.050 SBD or STEEM to include a resteem.


Investor Support Mode
This is where @hybridbot steps up above most other promotional service bots, and adds in a key feature for investors in @hybridbot. When there are no bids for promotion mode to activate, @hybridbot will try and deploy in investor support mode. @hybridbot will scan the blockchain and see if any of it's investors of 100+ Steem Power has a post within the last 6 days using one of the above supported tags, and give it an upvote (along with the trail) valued greater than 100 SP could provide! As @hybridbot grows, we can reduce the vote % while maintaining or increasing the returns!


Payout Mode
Once a day @hybridbot will deploy in payout mode, and pay out all investors a cut (currently 85% Delegaters, 15% Trail Followers) in that days "Promotion Mode" earnings. This will be in the form of SBD, STEEM or both depending on what was brought in for income that day.
You can join the steemauto trail and enjoy automatic curation, but if you want a cut of the payouts you will need to contact steemtaskmanager@gmail.com to work out a follower agreement on vote weight, vote STU, timing and payout share.




This means you can earn from a bid bot, and get upvotes from your invested Steem Power when you invest with @hybridbot!
Goals and Unlocks


5000 Delegated Steem Power - Will remove comments for membership upvotes.
10000 Delegated Steem Power - Will remove comments for bid upvotes.
Adding reinvestment options
Adding support to call @hybridbot with comment commands






@hybridbot is owned and operated by @taskmanager. We are currently in beta testing, all users of this service acknowledge things may go wrong. We will do our best to correct any errors. By using this service or investing you agree that any offer above or before this is not a guarantee, and could be subject to change at any time without notice.