Throwback: THE HUSTLE OF MAKING STEEMIT T-SHIRTS IN DOWNTOWN NAIROBI, KENYA/ REVEALING A STRANGE ART OF MAKING TSHIRTS
Throwback Thursday!
We have a Steemit in Kenya meetup soon and we wanted to have sample t-shirts for the members to decide on. So @mutitum and I had the task of printing t-shirts. After reviewing different prices, we decided to get handy and do it ourselves. (sort of)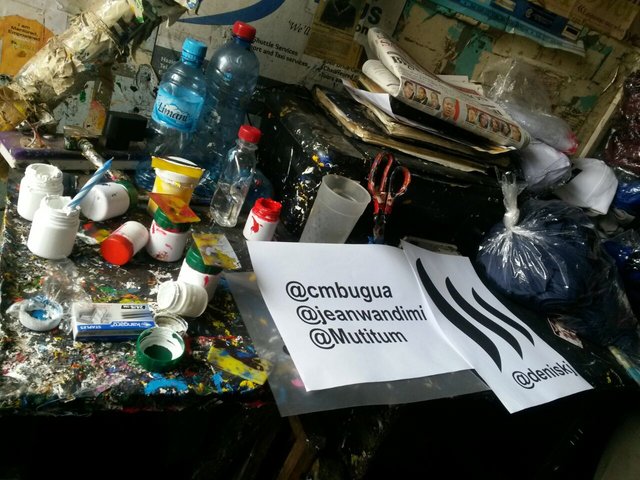 I had a very eventful day. I met with her at 11am at the junction between Odeon and Dubois Road. I had gone to Dubois Road to look for earrings and after we met we headed to Riveroad (a street in Nairobi where you can find everything and anything).
So in Nairobi, there are all sorts of places where you can get t-shirts. What we did is skip the middle-man and go straight to Riveroad. Had we got someone to print the t-shirts without going through this process, we could have been charged about four times the price. When you live in Nairobi, you get tired of being charged a lot of money for the same thing. For example, someone will buy a handbag for 800ksh($8) and sell it to you at 4000ksh (40$). However, when you know where to get it, it will save you the money.
Many people would rather pay that high price because they do not want to go through the pressure of searching and they also fear the place. However, @mutitum already had a contact and we knew where we were going. So we had to buy some t-shirts from a distributor then take it to the artists who would download the logo, make a stencil and print it for us.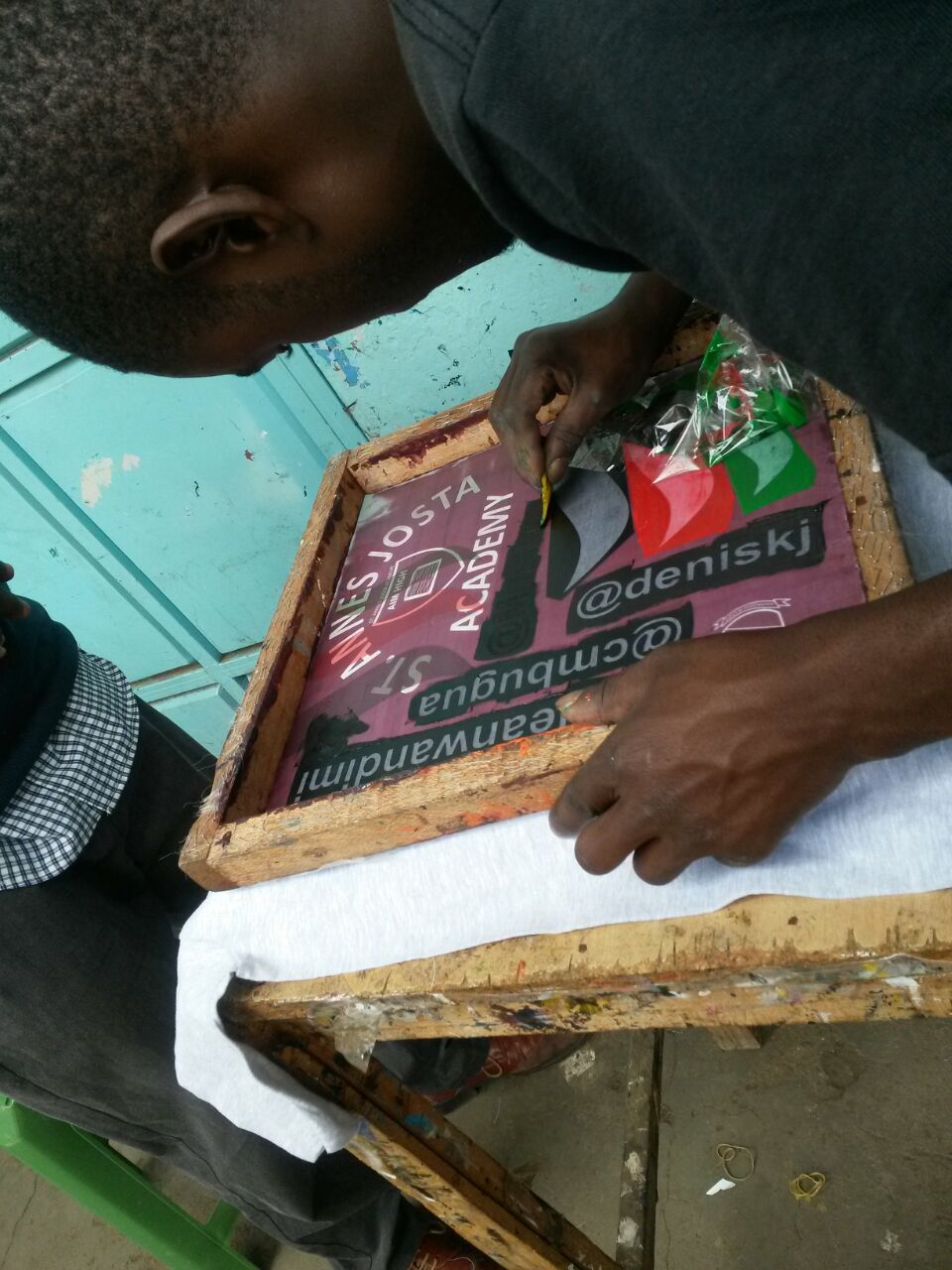 When we got to the distributor's shop, we found about 50 people queuing to get t-shirts. There were has so many customers. So many such that the owner told us to go away. We were shocked! How rich do you have to be to chase your customers away? He had so many customers such that he did not want any more people entering the shop. He was also understaffed. I remember @mutitum and I joke that we want to be this rich where we chase buyers away.
The security guard closed the door and told us "Mmeskia mkubwa amesema nifunge./ You have heard the boss has told me to close the door." There is nothing I can do". He was a kind security guard who looked like he was a day away from quitting his job. He looked tired and his mind appeared to be somewhere else. Sigh!
He was kind enough to refer us to some other shop where we found a rude woman who sold us some t-shirts. It was an interesting day but we were determined to get our t-shirts. We went back to the shop and we sat down.
This shop was so small but there were 4 young men who worked so well together. We found them printing school t-shirts, jerseys and ties. One would hold, the other would fold and the other would put the items on the line to try. They worked like a well-oiled machine, each component doing what it is supposed to do.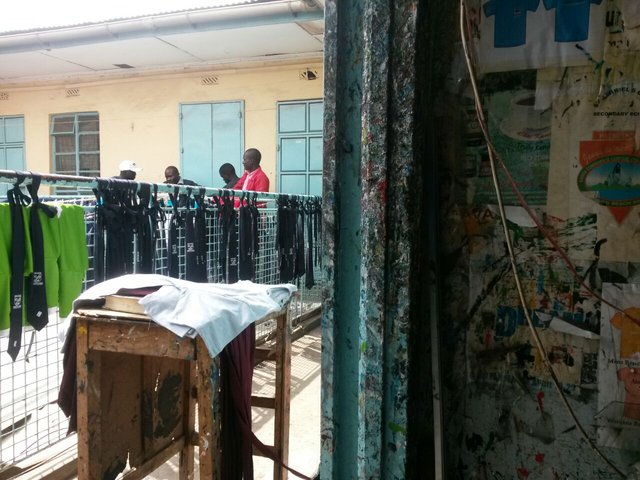 We found them printing ties. The paint on the ties has to dry.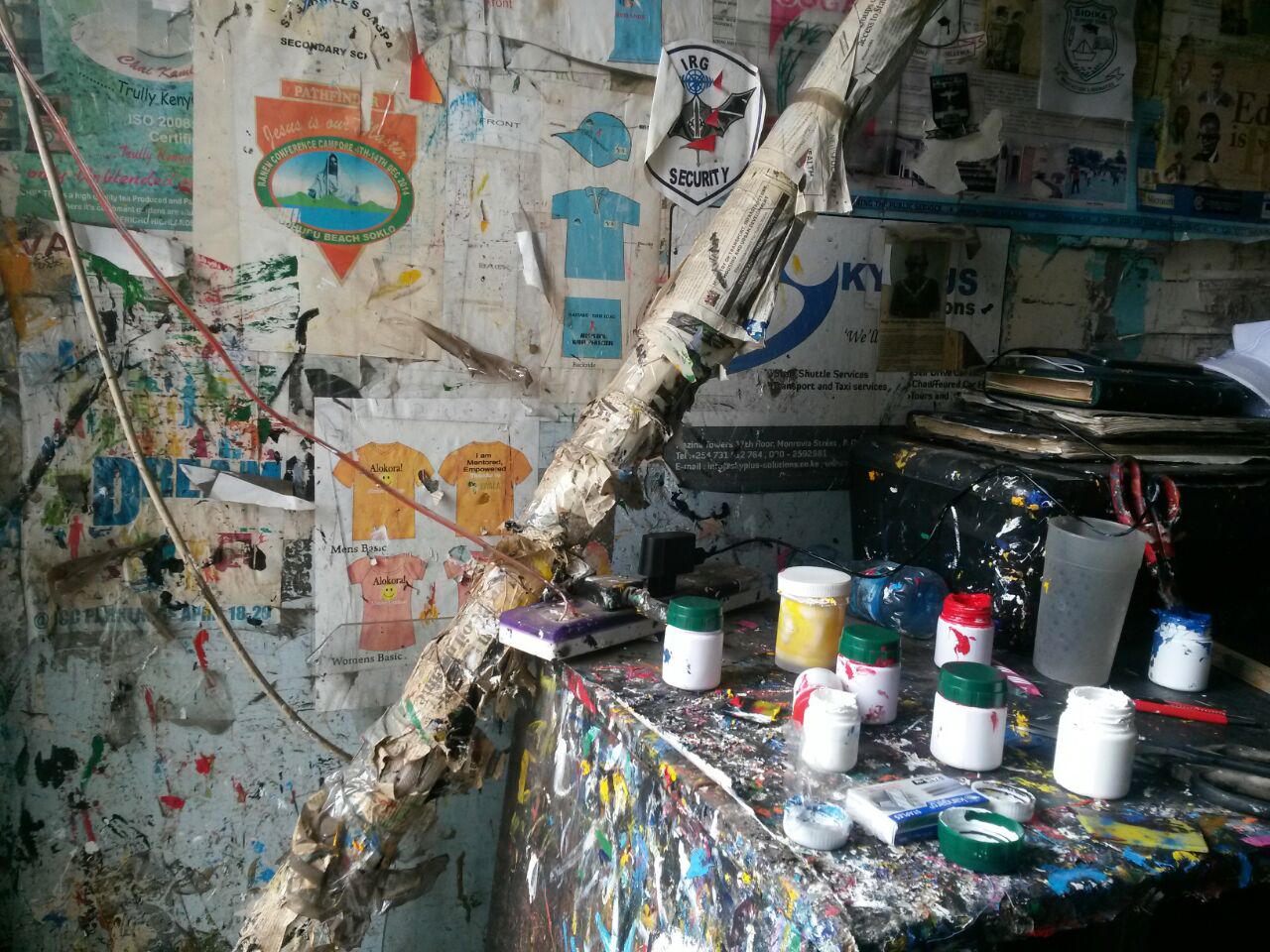 Look at all that paint and chaos!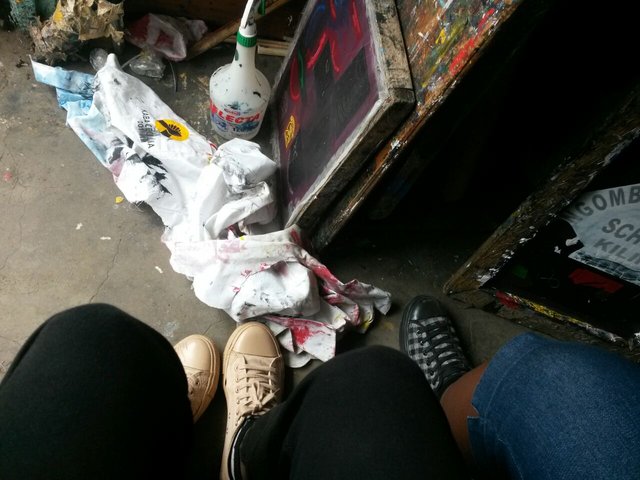 We sat and watched the men get to work painting and drying.
Here are the Steps
1. Get the image.
They downloaded the images and printed them on a paper.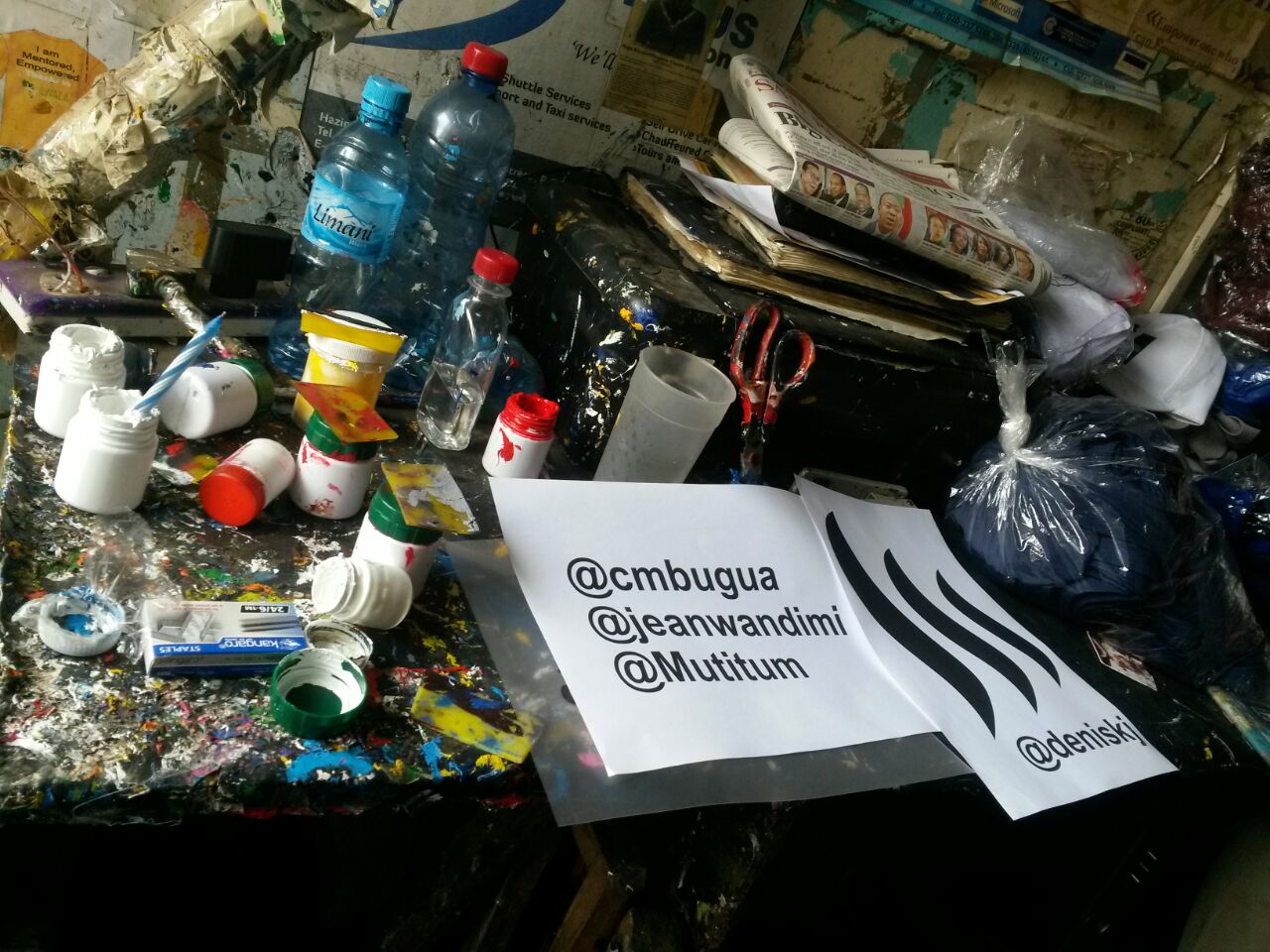 Shameless plug. Check out Team Kenya on Steemit.
2. They then got a rectangular stencil and put a cloth on it tightly.
3. They applied photosensitive paint on it.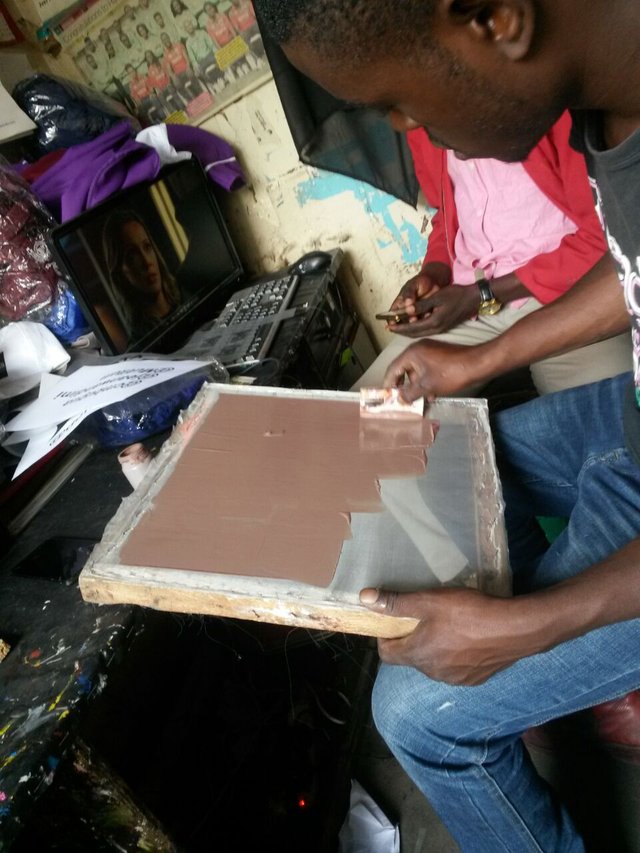 4. Oiling
They then put the papers with the designs and poured kerosene on it. A generous amount of kerosene. The paper stuck on the cloth with the paint.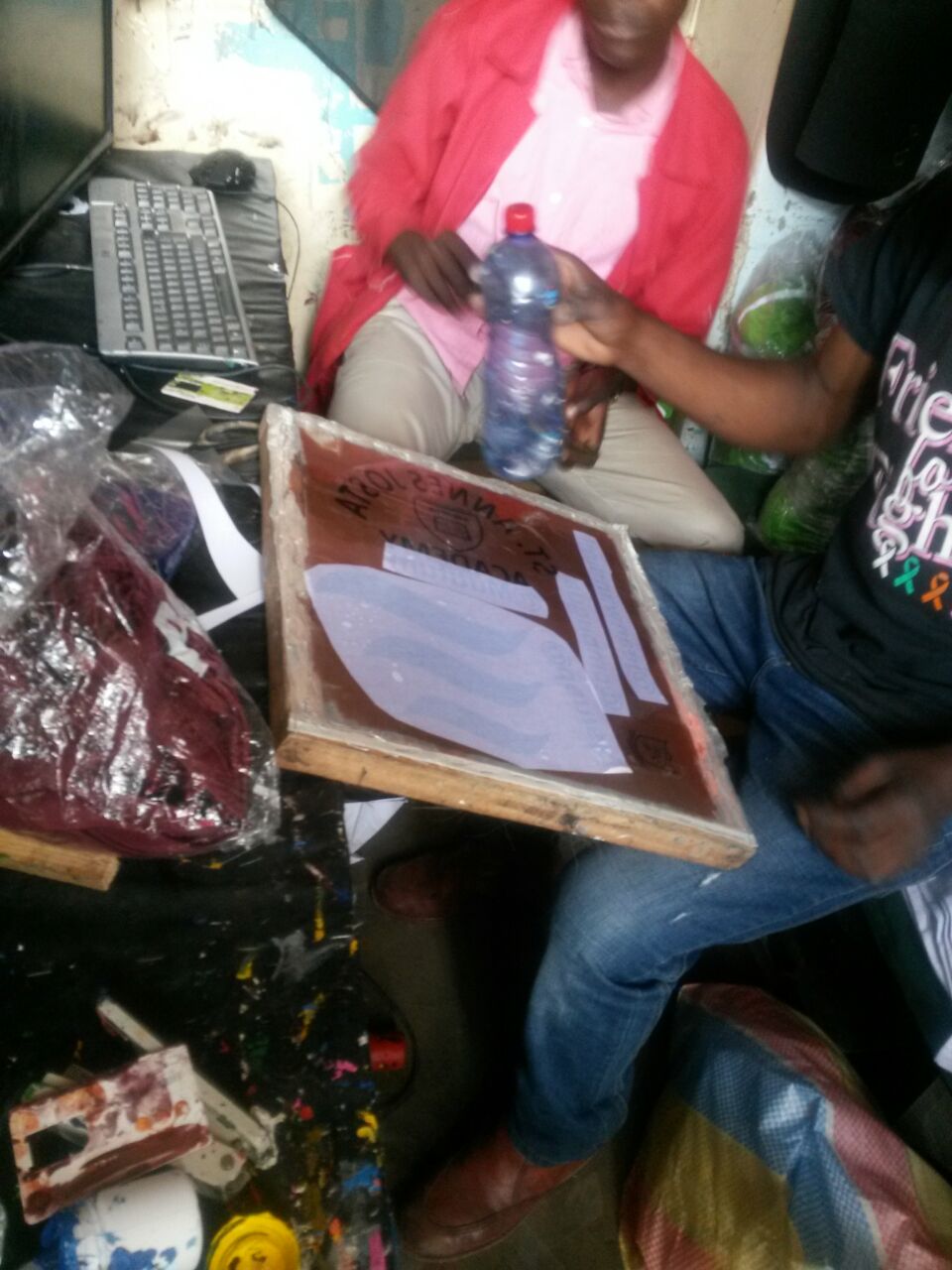 5. Washing
They removed the papers and poured water on the stencil. After some time, the stencil was revealed. He continued washing it under tap water.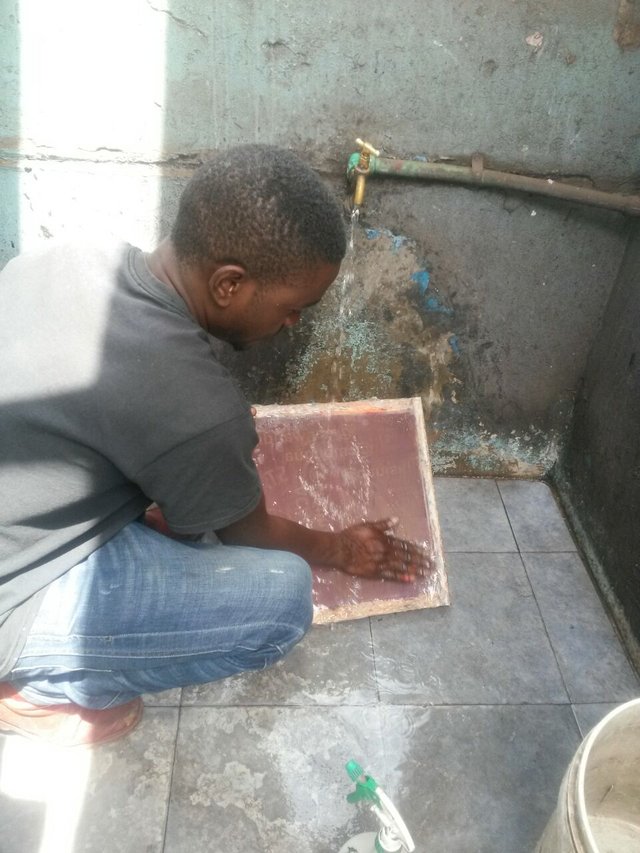 6. Spraying
They sprayed water jets on the stencil and the place where the paper was and the place where the paper was printed became thinner. The cloth wore off at specific places. What shocked me is that the cloth wore off very strangely without the cloth getting completely torn. It was like it became thinner. Thin enough to allow the paint to pass through.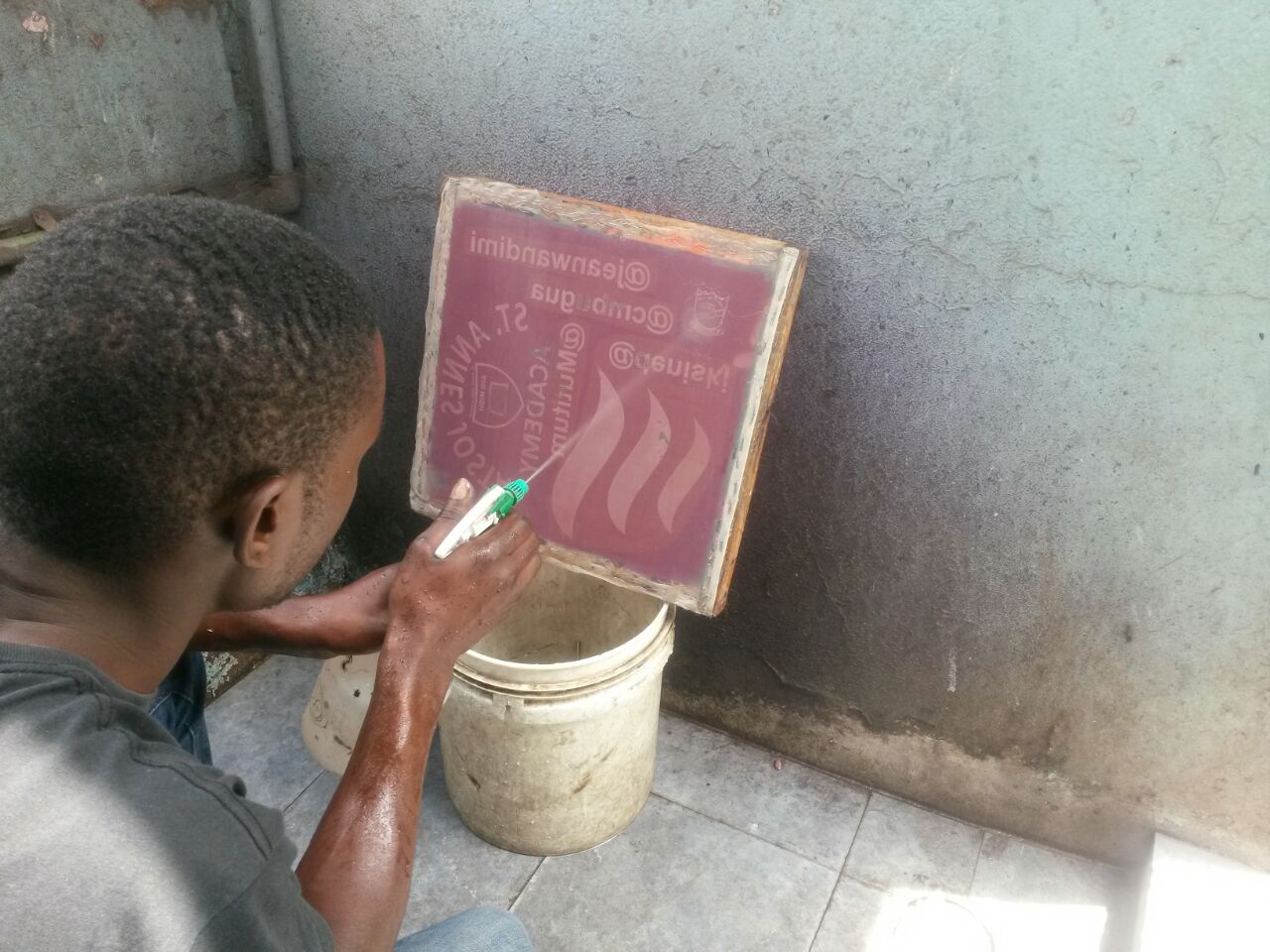 7. When the stencil was done, he hang it to dry.
It dried and they spread the t-shirts on a table. He worked on one motif at a time. Our design had many motifs and component parts. For example, we wanted each Steem sign to have a different colours as the flag of Kenya (Red, Black and White).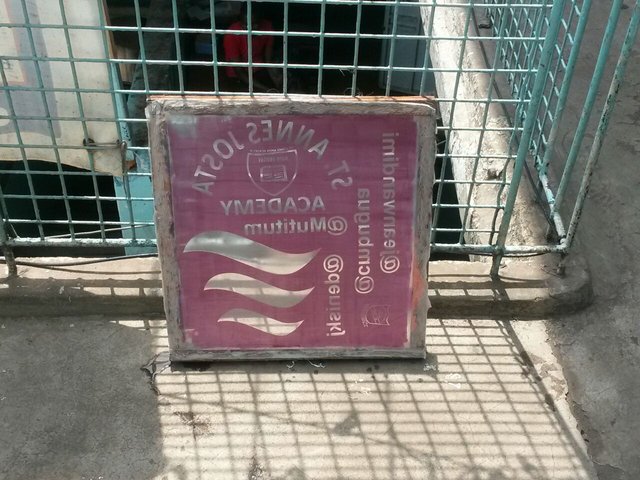 8. Painting
We covered other parts with sellotapes and left the sign we were working on every time. He meticulously passed a small layer of paint and scraped off the rest. A colleague then hangs it to dry as they worked on the second t-shirt.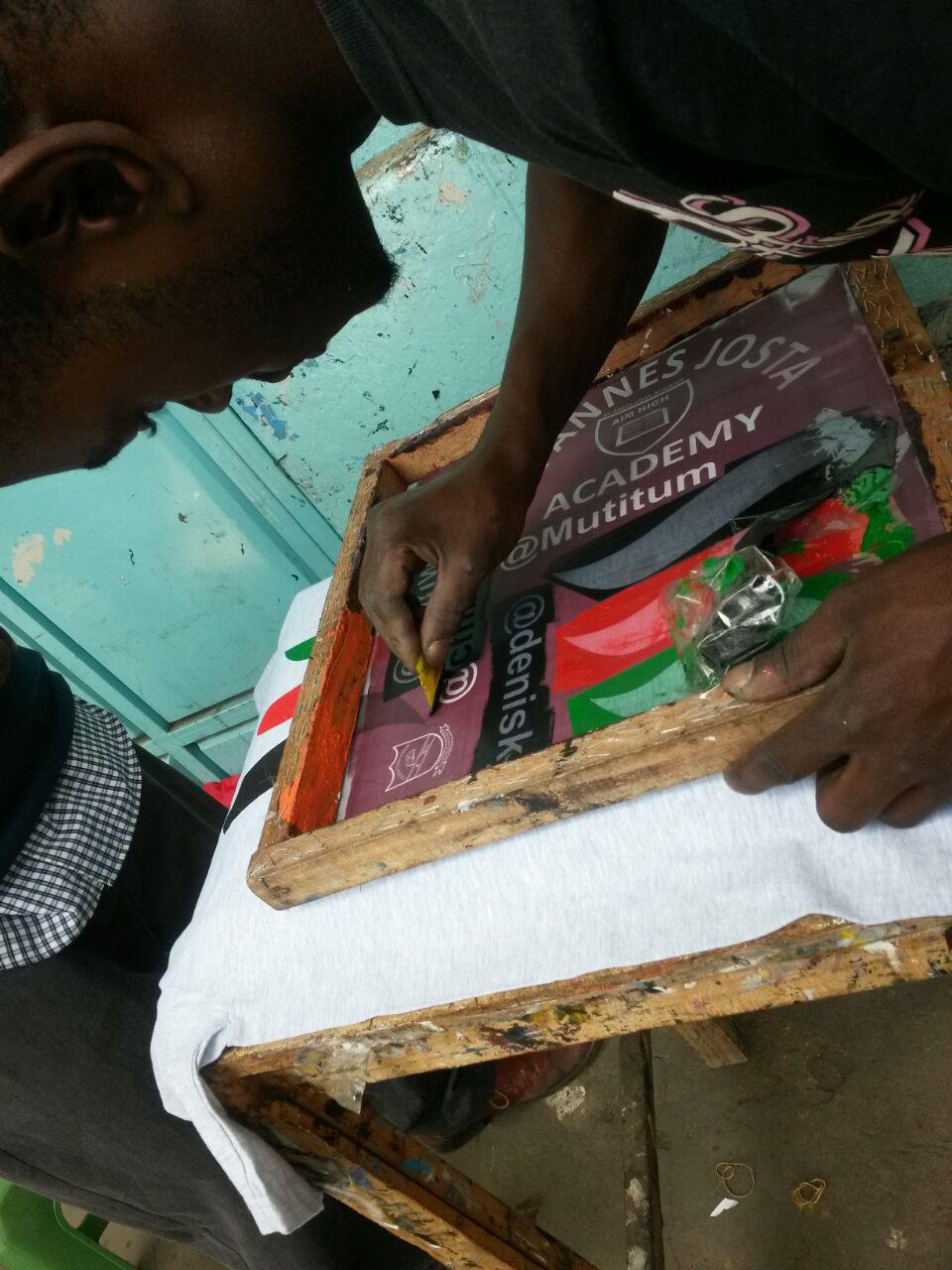 Passing the paint through the stencil
9. First design
They repeated the process until we got the desired result.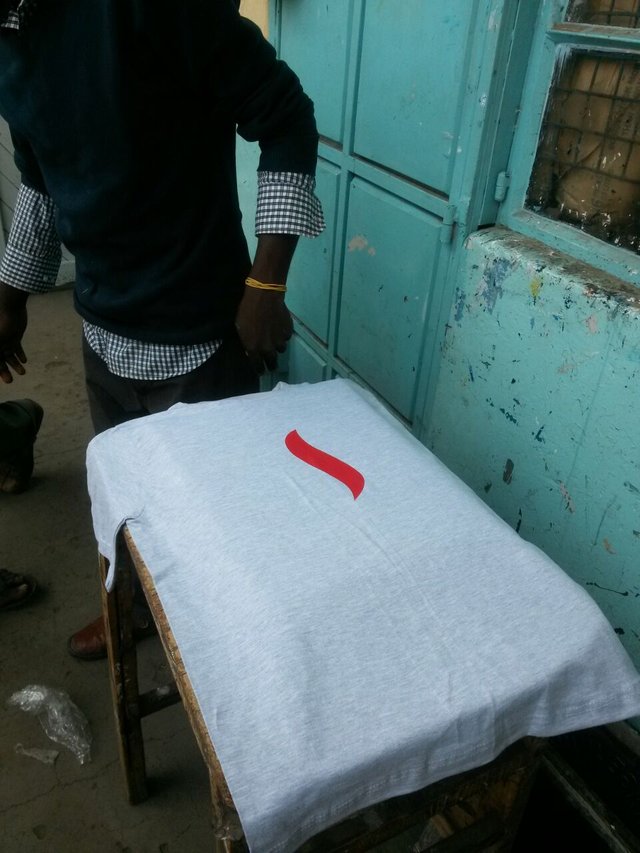 10. Repeat with different colours
There was an issue with the design but since these were samples, we will sort it in the next batch. Overall, we were happy and intrigued.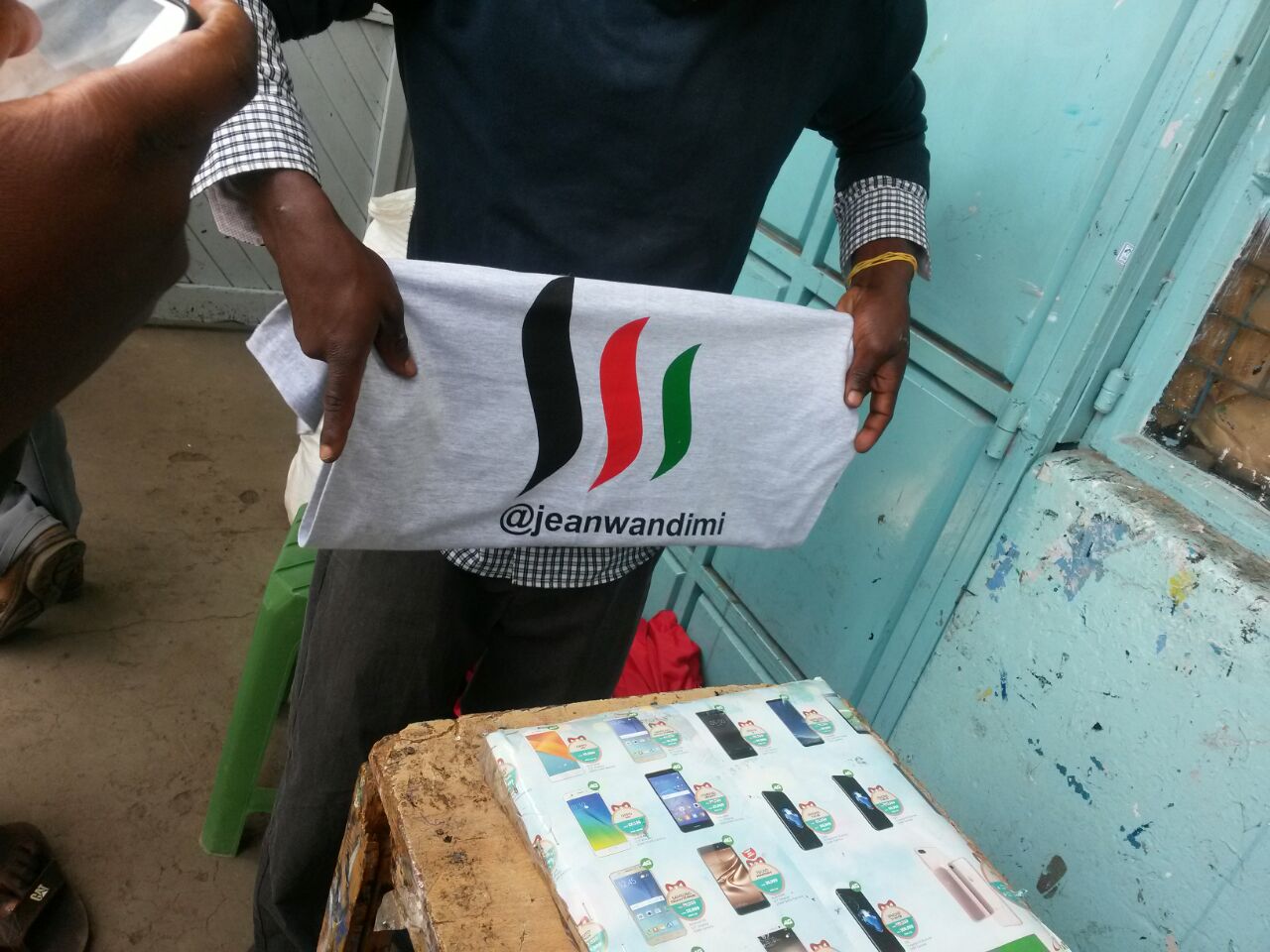 I admired their dedication and love for their craft and we laughed as they helped us print the Steemit logos. The following pictures will show you how it went. We spent a total of 1500ksh ($15)instead of 7,000ksh ($70)for 4 t-shirts. That was a win if you ask me!
All Images taken by me.
Nb/ This is a throwback post