My Promo-Mentors Writing Challenge - Genesis of an Entrepreneur!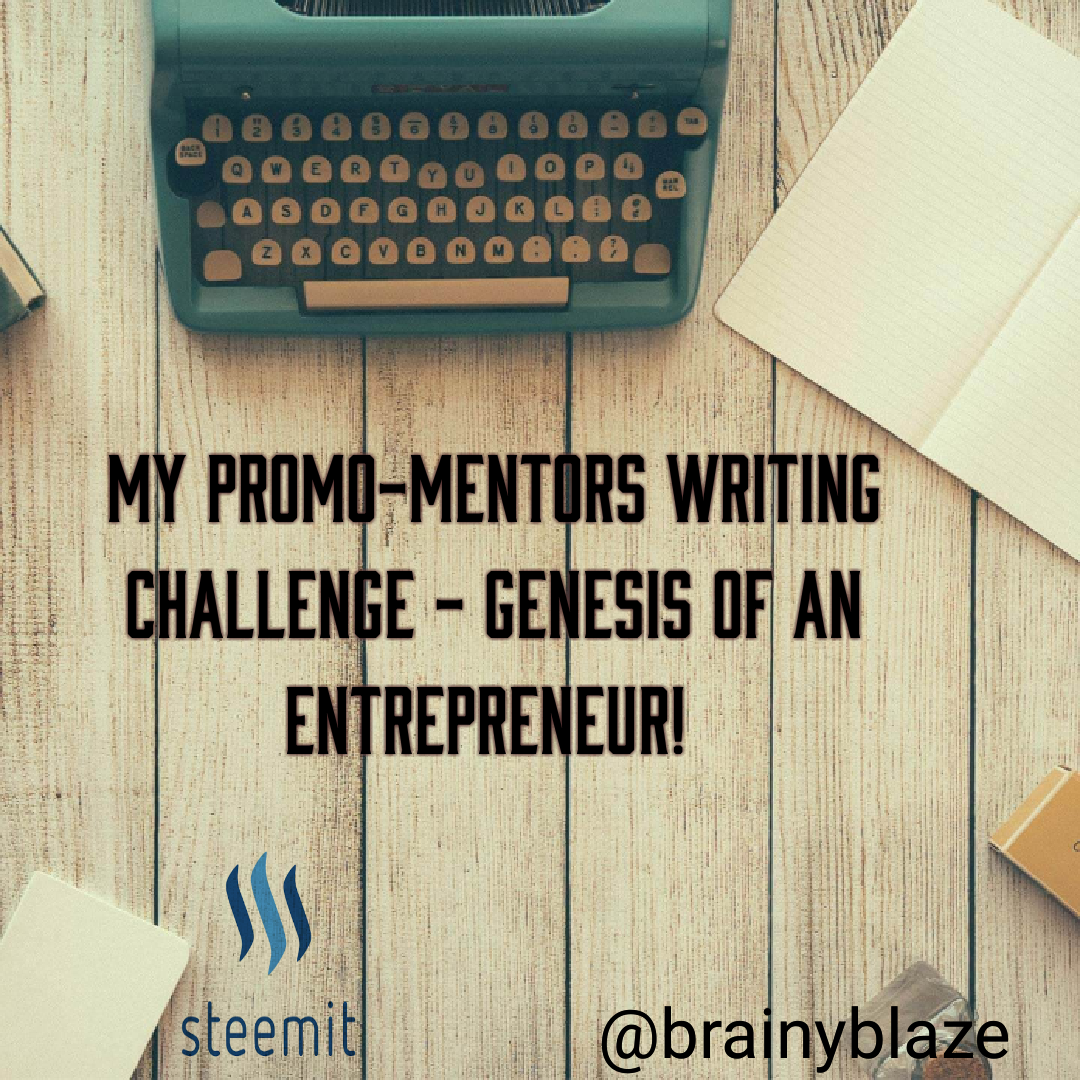 If someone ever told me that I do be taking the path that I am in right now, I do say the person is joking.
As a Kid I have always wanted to be a Medical Doctor.
So After my SSCE in 2012, I sat for my first JAMB (Joint Admission Matriculation Board), an exam that will launch me into the University. I performed exceptionally well but I wasn't granted admissions due to some Post-Utme saga. I had to reapply for another Jamb in order to secure a spot in the University.
One of the protocols that is required to be fulfilled by a candidate while registering for jamb,is to pay for the Application Fee over the counter in the bank.
I can vividly recall standing in the queue with my Dad at the banking hall when a Young, Vibrant man in his early twenties (I can't recall his name) initiated a conversation with my Dad about the state of our nation and how he has been following Politicians around after graduating as an Electrical Engineer from one of the nearby polytechnic.
THE INVITATION
After a lengthy conversation between my dad and this young man , the young man dipped his hands inside his mini-leather -office bag and issued my dad an invitation card to an Entrepreneurship conference that is been hosted by a politician in our Local. With a smile and warm heart my Dad accepted the invitation, but my Dad went further to tell him that he may not be at occasion in person due to his busy schedule, rather he will send his Son(me) to represent him . Personally, I never wanted to attend the event but due to the respect I have for my Dad, I had to follow suit.
AT THE CONFERENCE VENUE
On that day, I dressed up in my corporate attire and rode straight to the venue with my Motorbike (Machine as its regularly called over here). I was signed in and given my conference tag and other souvenirs.
Here I am, amongst 1000 Youths who are about 25 to 26 years on average, patiently waiting to hear what the speakers have for us and of course; to witness some political maneuvers that will done by the politician who was the host of the event.
STRUCK BY THE LIGHTENING
As the first speaker(Mr Okey) of the event was delivering his speech, I was struck by my own imaginative lightening when he unraveled the meaning of BOSS. According to him, he said that the word B.O.S.S means BUILDING ON SOMEONE ELSE'S SUCCESS . He went on to drop another quote that completed the shock by saying ; If you do not work on your dreams and purpose, someone else will hire you to build theirs
A RENEWED MINDSET
The words I heard during the entrepreneurship conference totally changed me and the path I choose in life. Infact it stopped me from making the mistake of going ahead to become a Medical Doctor Who depends on 3 to 4 jobs for survival.
It made me understood that I can be my own boss . I no longer have the consumer mentality, rather I am filled with the producer Mentality. The conference thought me how to source out for opportunities by meeting needs and how to fund my ideas.
THE AFTER EFFECT AND PROGRESS
Since after this conference, I have been able to found 2 companies and also co-founded 2 companies which are currently doing well except 1 of them.
I have developed a skill in Graphic Design, Web Design and in writing.
I have been able to self-taught myself the above stated skills by just watching videos.
The journey has not been rosy but I am glad I took the step to becoming an entrepreneur over been a Medical Doctor
It Only took a 2 days entrepreneurship conference held in Anambra State Nigeria, (the city of Nnewi) to be specific to a change me.
Appreciate
@futurethinker, you always know how to take me down the Memory Lane. Thank you for triggering this write up.