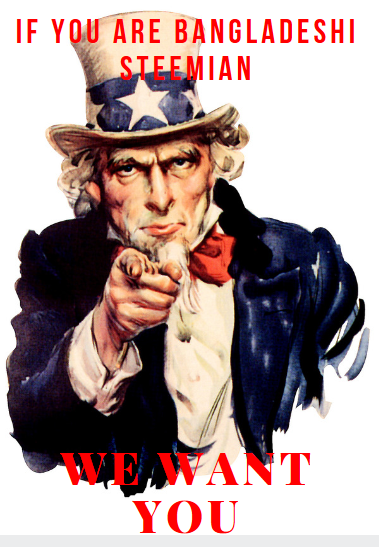 Yeah, We want you. We want to grow on steemit together, We want you to help other newbie users, We want you to make Bangladesh Steemit Community strong. As you guys know I am from Bangladesh and I am attached with Bangladesh Steemit Community AKA @steemitbd. If you Don't know about our community Read this post 👉 Why @steemitbd is the best communication for Bangladeshi Newbie Users. (Find Out Here). We are Arranging several Competition every week. Now we want to Announce Another Contest 👉 PROMO-STEEMITBD 👈 . Our main goal is to bring every Bangladeshi steemian on the same hood And help each other. SO what are you waiting for ?? Join our Discord Channel Now : https://discord.gg/Z3P6bbt.
CONTEST Rules for Successful Entry

Upvote this post.
Resteem this post.
Bangladeshi steemians.
Be Active in Steemit Bangladesh Community Discord channel.
You have to give short details about our other contests.
You must use #steemitbd & promo-steemitbd tag.
In the entry post, you have to write that you are participating in promo-Steemitbd contest.
You need to use our community Logo & Footer with Discord link.
You can share our Community Hangout Screenshot on your post.
If there are less than 5 Participants then there will be no promotion contest for that week.
Contest entry timeline : Saturday to Thursday
Winner will be Announced on Friday hangout.
Prize : Winner will get 100% vote & re-steem from @zaku and @steemitbd AND also get 1SBD As a prize money
Community Footer & Logo for promotion:

Steemitbd logo [gif]

Steemitbd Logo

Steemitbd Community footer


None of Bangladeshi steemians has large amount 10K SP at least. To support the community, we need more development of the project. We need meetup and may other community work together here. It will be highly appreciated to have support from any of my followers here.We receieved 100 SP delegation from @guiltiparties, 101 SP delegation from @jackmiller and 50 SP from @derangedvisions And our Community founder @azizbd Delegate 500SP to @SteemitBD recently. We appreciate their support and we look forward to supporting more Bangladeshi users on steemit. We have proxy as steemitbd if anyone would like to share and we need more delegation to offer free upvote to bangladeshi steemians. You can also join our witness proxy by clicking here
50SP, 100SP, 250SP, 500SP, 1000SP, 5000SP
That's all for now i hope every Bangladeshi will join this competition. Best of luck everyone.For more info Join our Discord Channel: https://discord.gg/Z3P6bbt.
Thanks to our Amazing Community team : @azizbd @ayasha @sabbir1213 @reazuliqbal @sourovafrin @anikaa @sfturzo & many more.


Image Source: Click here & Logo Created By: @calumam