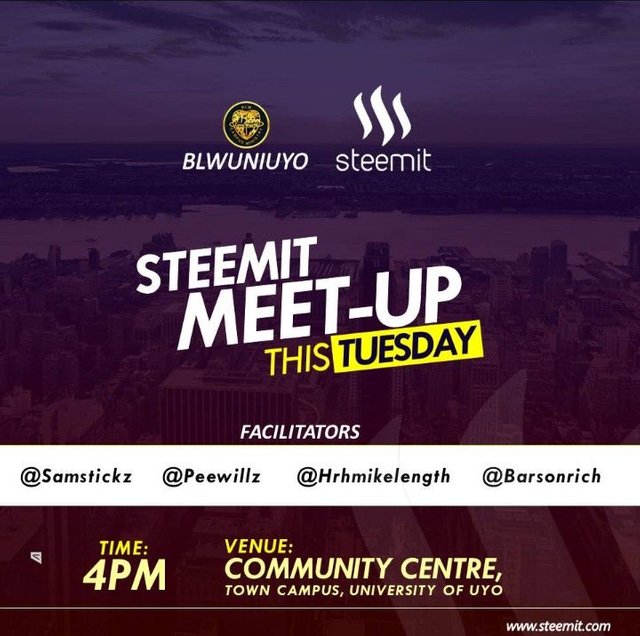 It's another meetup again in uyo, another time with new sets of newbies in uyo community. Steemit uyo community is growing so fast and it's important for this newbies to be taught the fundamentals and core values of steemit.
We've had several meet-ups and this time, we'll be meeting with a vibrant set of young people in the Blw Nation.
The meet-up will cover
The future of steemit
Core values of steemit
The need to get more steem Power
Why we need to promote Steem and Steemit
Using steem to change the world
Stach project
Difference between STEEM BACKED DOLLAR(SBD) STEEM POWER and STEEM
Smart Media Token
The meet-up should last for 2 hours max and will start by 4pm GMT +1 today.
I'm working on live streaming the event so you guys online can participate, I hope it works out.
Meanwhile, if you're promoting steem, please go ahead, together we'll achieve more. Also, if you're in uyo or anywhere in akwa ibom, you can join us today by 4pm at the University of Uyo main campus.
---
Links to other steem promotion / Reachout done by steemit uyo community.
Big thanks to @ejemai and @donkeypong for constantly supporting us.
---

click the picture below to follow @stach

click the picture below to register on bitshares