What is the difference between the owner key and the master key in Steem Blockchain? Answering in Quora.

This question was asked in Quora and I have answered this question in Quora, shared in Twitter and additionally I am also submitting the same answer to this question as a backup in Steem blockchain.
---
First of all, it is not "Master Key" rather it is "Master Password".
Owner key in Steem blockchain is a high privilege key which is used to change other keys such as a private key, active key, the owner key itself. A user can also recover his account in case of stolen account. A user can decline voting rights using this key. This key is important and should be kept safe.
The "Master password" is not a key like "Owner key". So the Master password is not something which comes under the hierarchical key system in Steem blockchain, rather it is the master password of all the hierarchical keys that are used in Steem blockchain. All the keys(Owner, Posting, Active, Memo keys, etc) can be derived from the master password. The master password is the most sensitive key and should be kept offline in a safe place.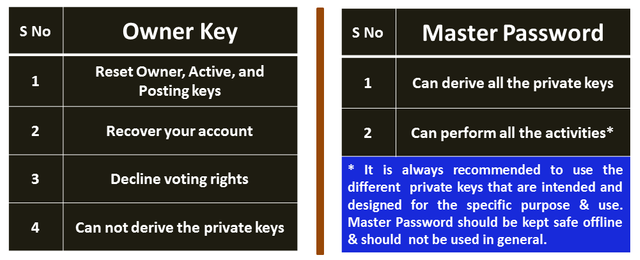 So the key difference between the Master password and Owner key is that you can change all other private keys using Owner key but you can not derive the private keys using Owner key, for that master password is required. So the master password does not fall under the private/public key system, whereas the owner key is a part of this key system. The master password is the seed to generate all the private keys that are used in Steem blockchain.
While you can perform all the operations & activities in Steem using Master password it should not be used in general as it is a sensitive key. From security point of view it is always recommended to use the four hierarchical keys in Steem that are intended and designed for the specific purpose.
Thank you.
---