What is the cost of resource credits for claiming a discounted account in Steem Blockchain? Answering in Quora.

This question was asked in Quora and I have answered this question in Quora, shared in Twitter and additionally I am also submitting the same answer to this question as a backup in Steem blockchain.
---
Currently, the RC cost for the free claim of a Steem account is 8.92 MM RC Mana. You can check the real time cost of RC mana for claiming a Steem account by visiting Steeminvite.com. For claiming a Steem account, you either pay 3 STEEM which is generally burned for creating the Steem account or you spend the RC required to claim a Steem account whose cost right now is 8.92 MM RC mana.

Head over to https://steeminvite.com. Click on "Login". Enter your Steem ID and Private Posting Key. Click on "Login Now". Then you get to know the exact cost of RC for claiming a free Steem account. You will also get to know what is maximum RC available now in your Steem account, based on which you can claim your free Steem account.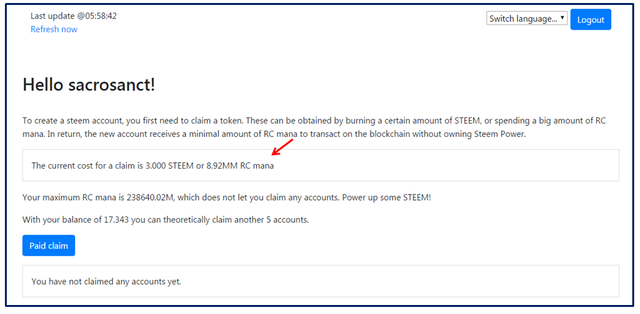 If you don't have sufficient RC, then you can proceed with a payment of 3 STEEM to claim a Steem account. The approximate amount of SP that you need to claim a free STEEM account(with RCs) is 4500 SP. However the exact figure is dynamic and varies slightly.
Thank you.
---