Promoting Steem on Twitter. Replying to the tweets on #freespeech #censorship
I came across many tweets today where I could see the frustration of many twitter users on the issues like #freespeech #censorship etc. We all know the existing mainstream social media like Facebook and Twitter are centralized. So the question is can you ensure censor-free media with centralized platform? Fundamentally censor-free media can not be possible with a centralized platform. So the answer is NO and the real solution is decentralization & Blockchain technology to achieve such an end.
But the next question is- Can a decentralized media on the top of a blockchain technology be scalable? The PoW consensus based blockchain does not have a proven record which can match the scalability of traditional centralized system. But with DPoS it can be made possible.
So many different types of DApps can be deployed on the top of blockchain which can serve the specific use-case of social media. Therefore many verticals of social media on the top of blockchain technology can be created.
Monetization can further catalyze the productive engagement.
Taking motivation from the above and to solve existing issues of mainstream social media #Steem as a social media platform on the top of Steem blockchain was invented in the year 2016. So Steem is a decentralized, censor-free, highly scalable social media where the users can freely express & immutably record what they want to say in a social media and no one will censor them. Other than that they can potentially earn from their productive engagement in Steem. The native coin of this platform is STEEM. The second layer economy in #Steem has also evolved(with tribe tokens economy) to further enhance the earning potential of a Steem user.
Steem blockchain has 94 dapps of various categories. The various categories are- social, media, games, gambling, finance, wallet, marketplaces, exchanges, development, health, etc.
It is not like that Steem as a decentralized social media does not have any challenges. It does have. But Steem Blockchain has addressed all those challenges as & when required and it has stood the test of time. It has been thriving since 2016.
Here are some of my replies in Twitter to those users who are frustrated about the #censorship in Facebook and Twitter. I took the opportunity to generate awareness in Twitter that we do have a solution in the form of #Steem as a social media to the issues like #freespeech #censorship etc.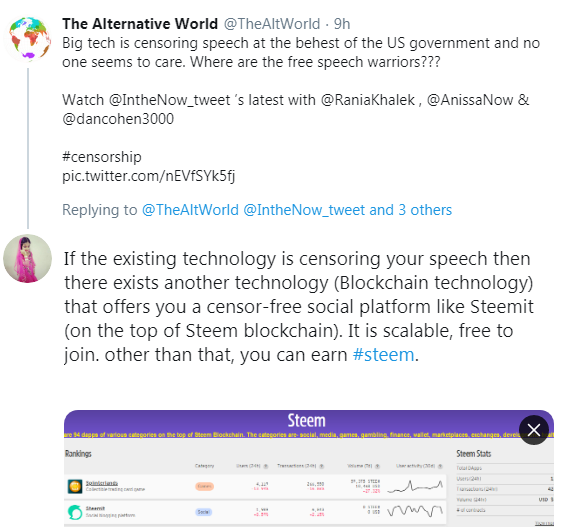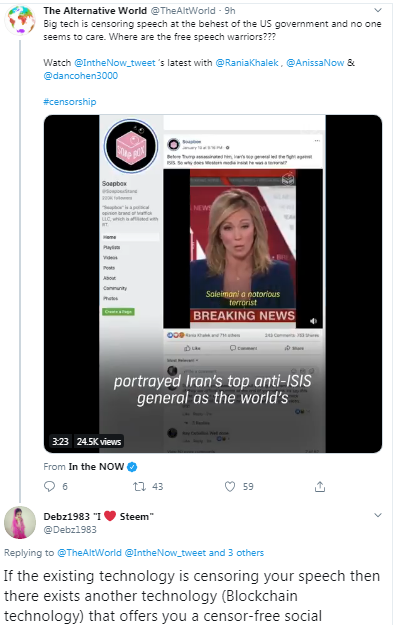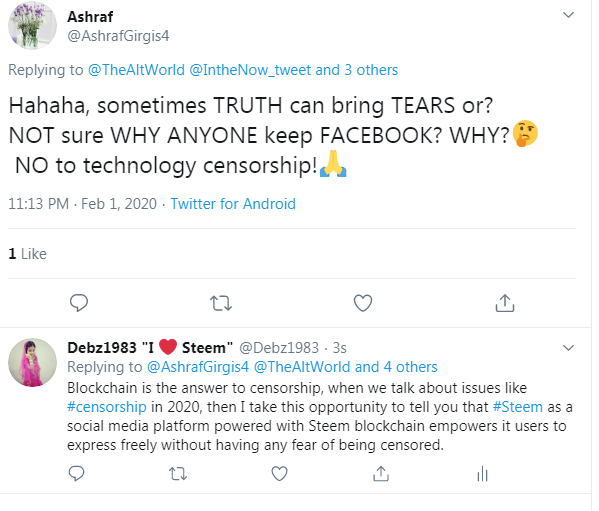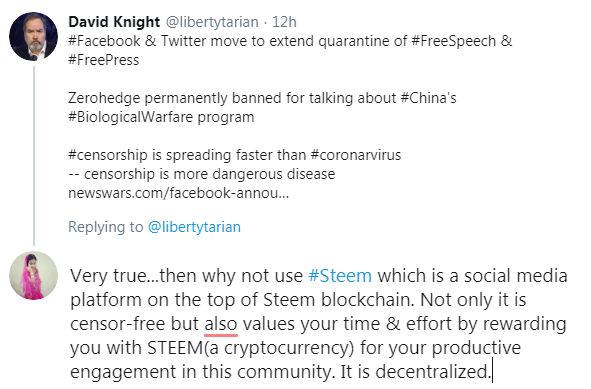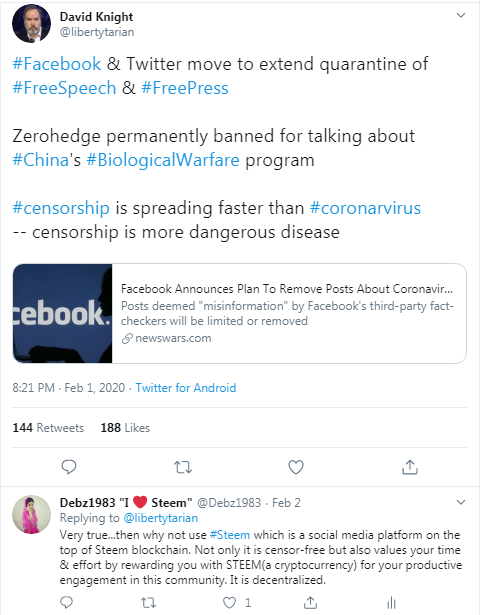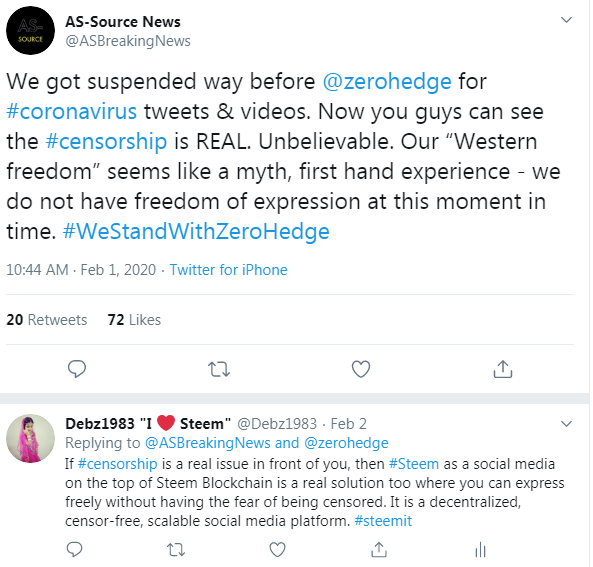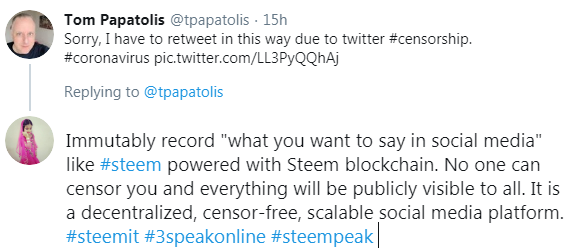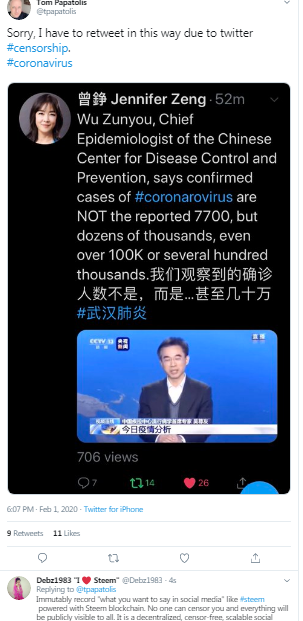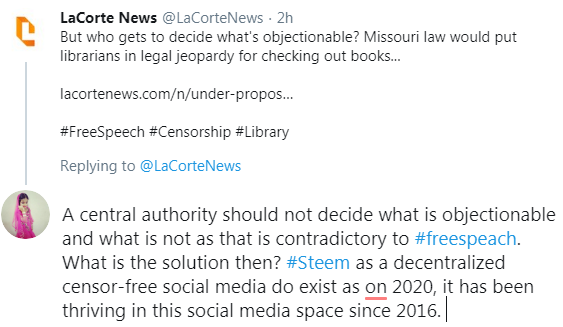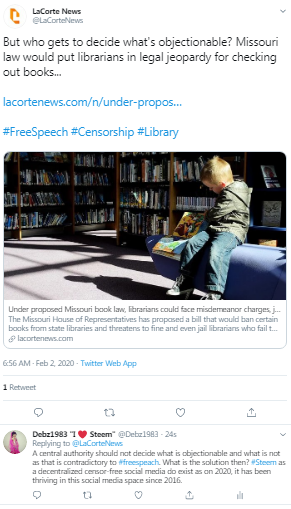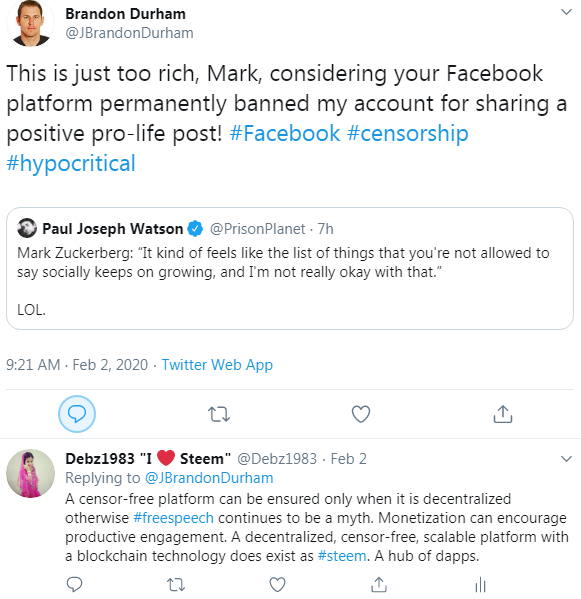 ---
Steem on......
Thank you.
---