In Steem Wallet, how do I sort a particular set of transactions that I regularly make with another Steem user? Answering in Quora.

This question was asked in Quora and I have answered this question in Quora, shared in Twitter and additionally I am also submitting the same answer to this question as a backup in Steem blockchain.
---
With Steemworld.org you can easily sort your transactions with another user from the wallet history in Steem blockchain. Head over to Steemworld.org/username. Replace your username with your Steem name. Then scroll down the page. Towards the bottom of the page, you will notice a tab "Tools". In the drop-down menu of "Tools", find "Transfer Search" & click on it.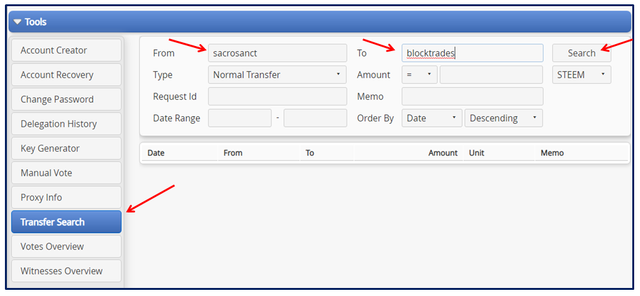 You need to fill "From" & "To" and then click on "Search". "From" will be obviously your Steem username and "To" will be the Steem name of the other user with whom you have transacted in past and want to check it out. The transaction type will be "Normal Transfer". The token by default is STEEM. But you can also select other currencies like SBD, SP, etc. Leave all other fields as it is. Hit the "Search" button now.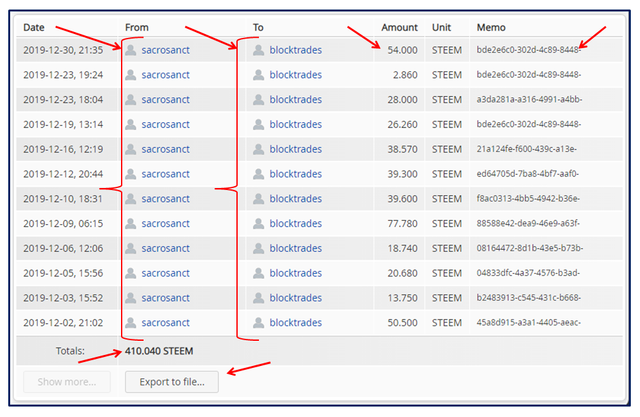 The transaction history between you and your counterpart, the dates of transactions, amount, memo, etc you will get now in the form of a consolidated sheet. The total amount of transactions is shown at the bottom.
You can export this data in excel sheet by simply clicking on "Export to file".
Thank you.
---