Nigeria is a great place to be for those who will love to visit Africa. We are the most creative and talented people in Africa. Even though we are still underdeveloped.
We have the good,the bad and the ugly, Also the Rich and Poor.
Bringing different kind of people together for 8 days, So steemcamp has been fun all the way.
I will be posting about steemcamp activites and publiahing photos of Where we will be talking the contestants to.
To avoid all work and no play, We will be visiting different locations and hangout in Delta state.
Ladies and Gentle Men, i bring to you KFC lounge. Hope to see you all there on Friday.
Lets listen to good music as we talk about #steem.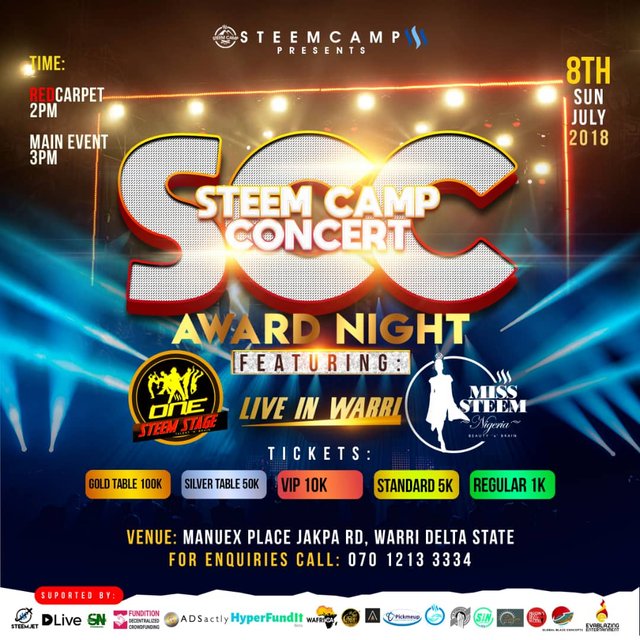 (proposed design for publication. Pls do not copy)
We will be grateful if you watch my pitch for support
Steemcamp 1 Week Activities
There will be no spare time because most of the free times will be used for rehearsals for Talent ( One steem Stage) and Pageant ( Miss Steem Nigeria)
---
Day 1
This will be arrival for all campers from different locations in Nigeria.
We will focus on camp registration, grouping all contestants, assigning accommodation and officially welcoming all contestants to camp.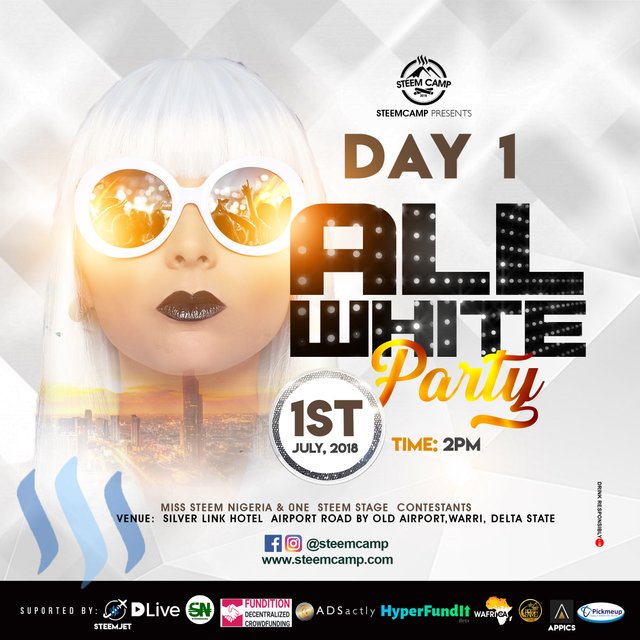 ---
Day 2
Rehearsals will kickoff in the morning,
Afternoon: Adventure and Picnic at the zoo. These will also go along way with the photo section for Miss Steem Nigeria while talent contestant will go to the studio for Steemcamp theme song production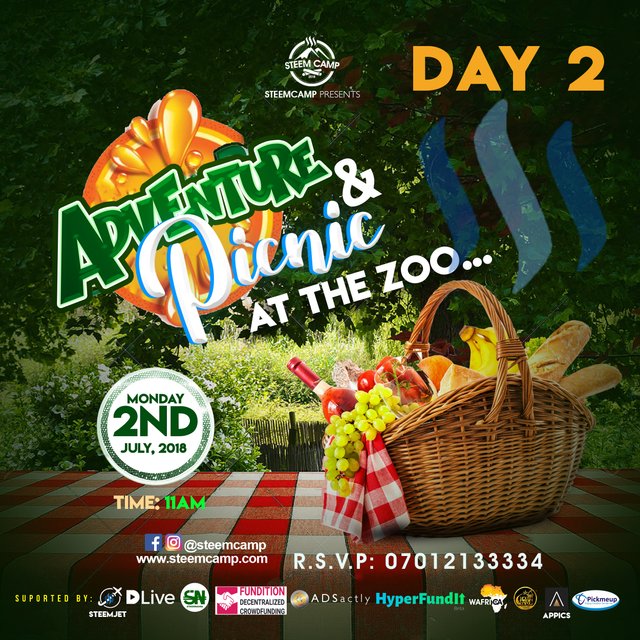 ---
Day 3
Skill Aquisation Day.
After the morning rehearsals, campers will all be present at the program to learn different skills which will help to them stand out from the crowd in the nearest future.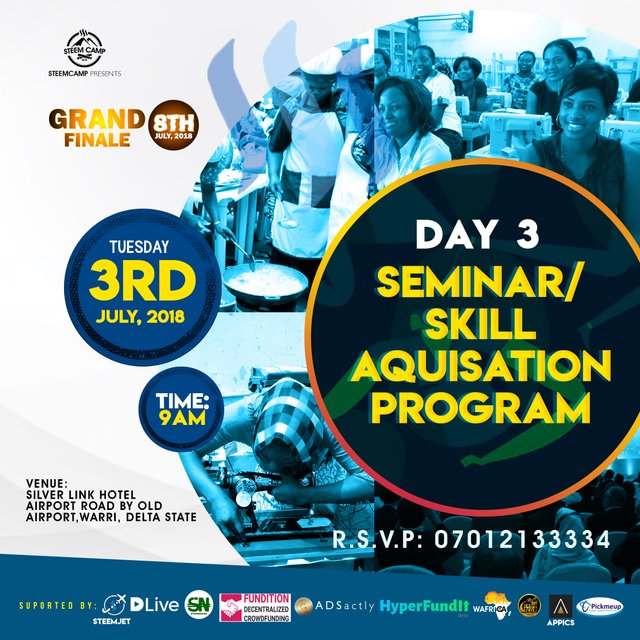 ---
Day 4
We will use this medium to reach out to motherless babies in the streets of Warri amd visit orphange homes. This is one of the aimes of Steemcamp project for 3rd word countries.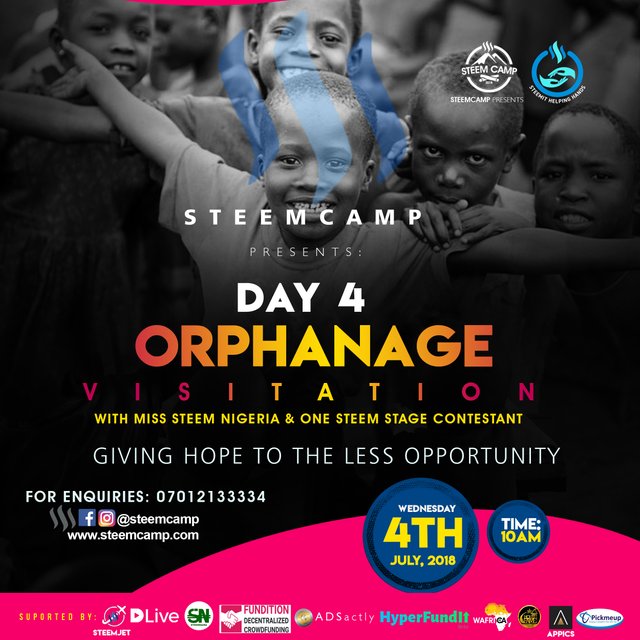 ---
Day 5
This day will becset aside to reachout to primary school students. Together with @steemithelpinghands, @youarehope and @steemjet community, Educational materials will be shared among children after a writing contest and game challenge.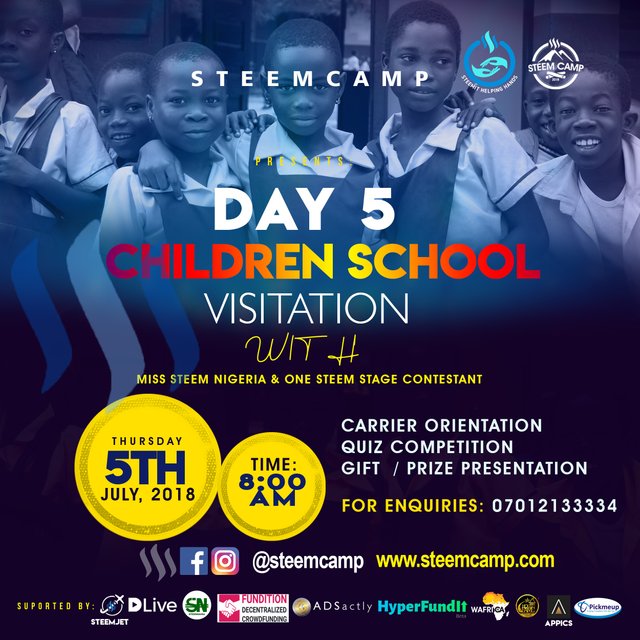 ---
Day 6
Morning
Another way to reach of to our offline community, Showing the public how youths can positively contribute to the society, we set aside Environmental day. A day to clean up the city but indoors and the abandoned streets. #cleanupwarri #cleanupdelta #cleanupNigeria powered by Steem.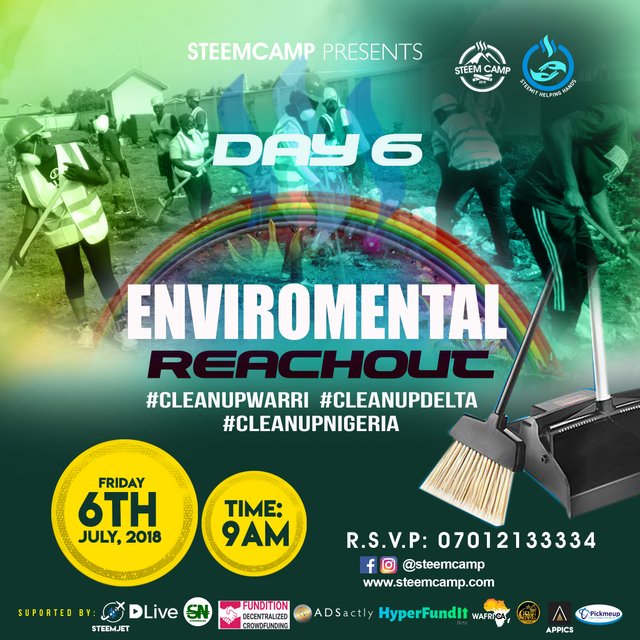 Evening
After this hectic work, we will take contestants to the swimming pool to cool off the stress as ready to go back for rehearsals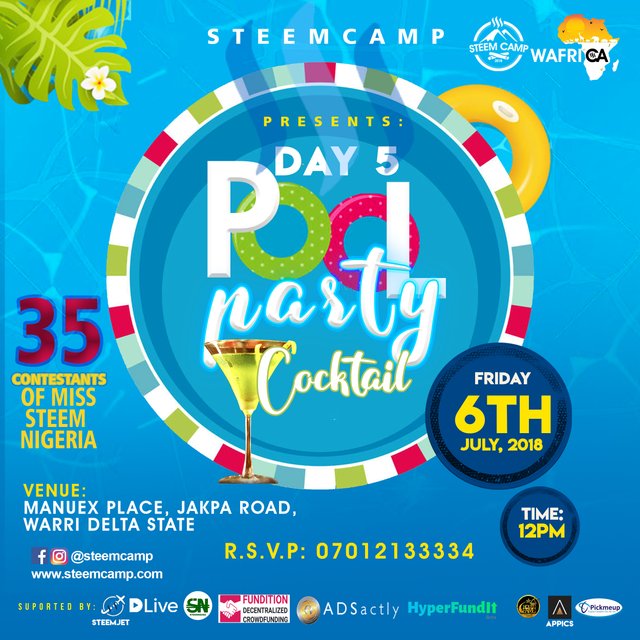 ---
Day 7
The blockchain Conference is going to be amazing. Campers and Steemians from far and wold will be learning a lot about about steem blockchain network and other key cryptocurriences, SMT, @appics test App live on screen, watch live Videos from @lukestokes @surfyogi and others that will blow your mind.
Special guest speakers are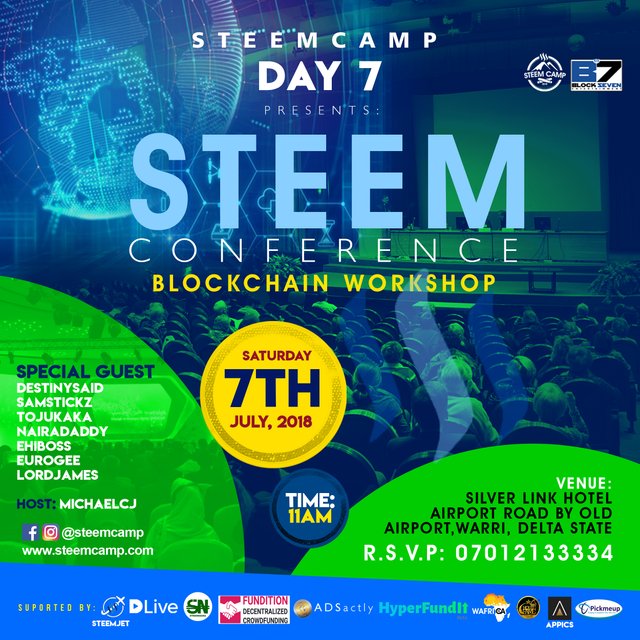 Special Guest presentation will be done by notable steemians in Nigeria community.
We carefully seleted them based of their knowledge of Cryptocurrency in generaaly and steem especially.
And others who we are still communicating with.
Venue of the event :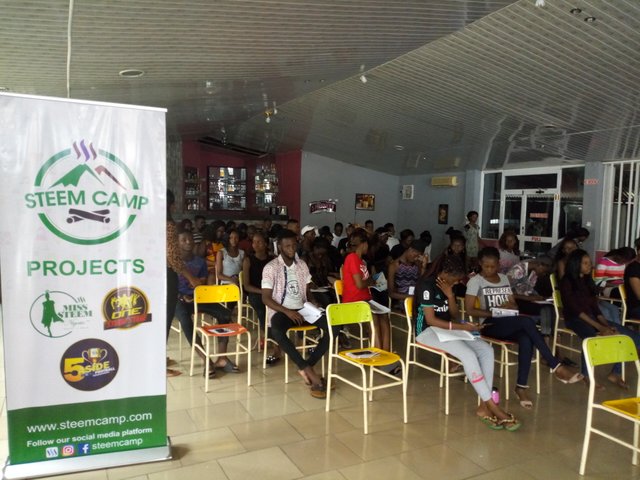 Image of pre-camp steem exam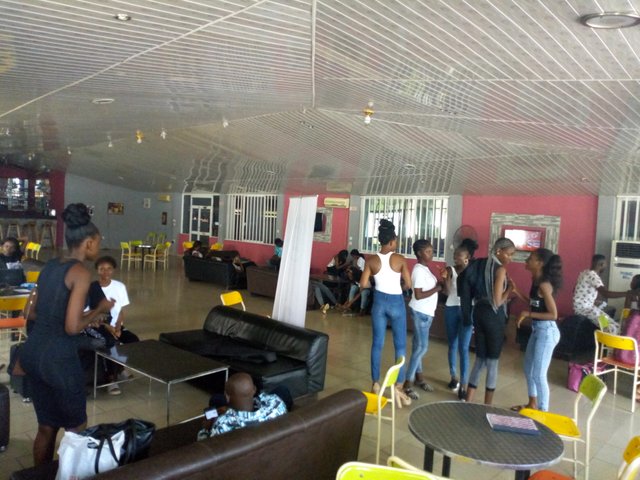 We will be using our pre-camp venue which can accommodate more than 500 people, its easily located and its not very expensive.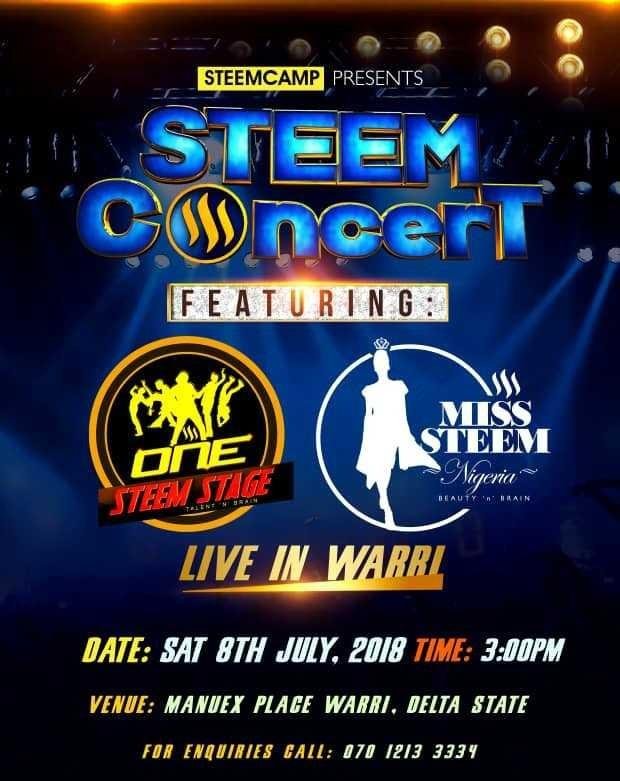 BUDGET SUPPORT PROPOSAL FOR THE GRAND FINALE
For us to be able to achieve this project successfully, We are currently in need of 2.5million naira which is equivalent to 5813 Steem approximately (26/6/2018 current price)
Why such an amount of steem. See reasons below;
Steemcamp will be hosting 35 female for Miss Steem Pageant and 20 talented contestants who qualified from the 6 major geopolitical zone during our city tour
Budget for hosting steemcampers.
Accommodation for 7 days


feeding and other welfare of 7 days


Pet projects during camp which will be used to score contestants at the grand final day.

Hall for the grand final performance



DJ Sounds service at the grand finale

Projector to advertise spornors brands, videos and logos.

Banners, Flyers and tickets. IF we can generate a good amount of money via tickets says if we start publication in time and also bring a popular figure.
Bringing a popular figure which is very needful for promo steem will cost us 900 thousand naira minimum 1800steem. (we are still considering this strategy because it's going to result to a very huge turn out)

Winners prize for both Miss Steem Nigeria and One Steem stage talent quest. Total price is 1667 steem.

Media team and coverage of All activities for 7 days
---
We have a whole lot of mind blowing activities for steemcampers during the 7 days.
7 days Activities entails
Rehearsals for the Grand final performance
Hackaton Classes
Three major project as a praactal test of their readiness as a steem ambassador
Street Steem evangelism to on-board new people into the platform
Dress and tech night, lots more.
---
Dear steemians, your support will be highly appreciated.
Benefits for supporting
I will add Your logo in all @steemcamp publications suchas;
Banners
Flyers/handbills and tickets
Video advert for the grand finale
T-shirts for contestants and crew member
Your delegate/rep will be live at the grand finale, Recognized and given time to talk about your brand
You will be given the opportunity to share knowledge with contestants at hackaton during camp.
For supporters not in Nigeria, Your video will be played live on stage at the grand finale
I also hope this project will be supported by you as we hope to positive reply
Current Support Update
@roelandp founder of @steemfest donated 300 steem
Thank you @donkeypong for donating 100 steem previously
@surfyogi of @wafrica and @artzone donated 300 Steem and 100 steem for the previous State tour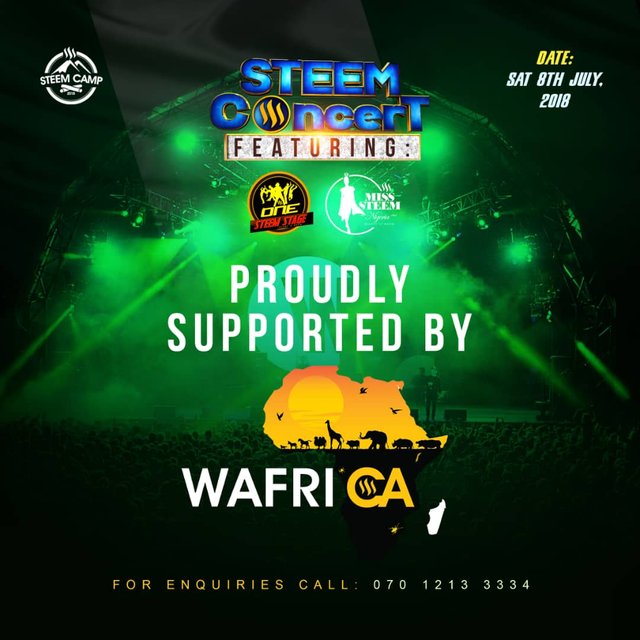 @dimimp of @steemjet delegated approximately 1000sp to @michaelcj account and donated 1000steem We are happy because this will help us to support newbies and contestant from steemcamp project..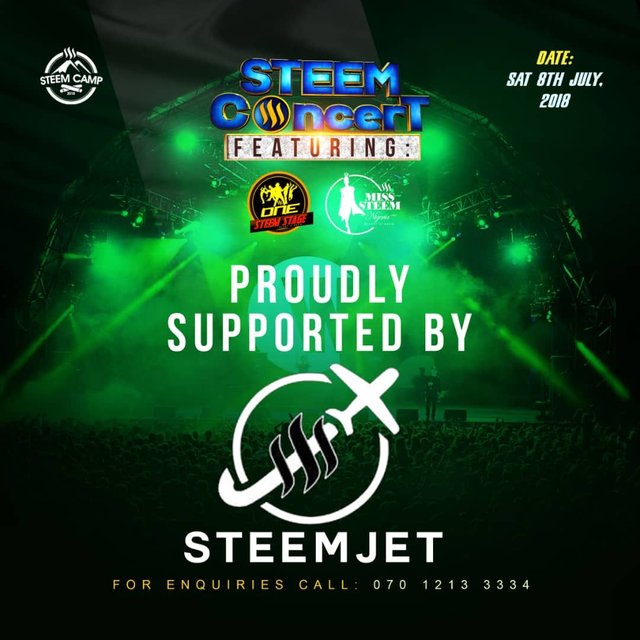 @yensesa from Ghana - 2.17steem (3sbd)
@hyperfundit has also tried to raise funds for us and still hope that more positive things will come out from thier effort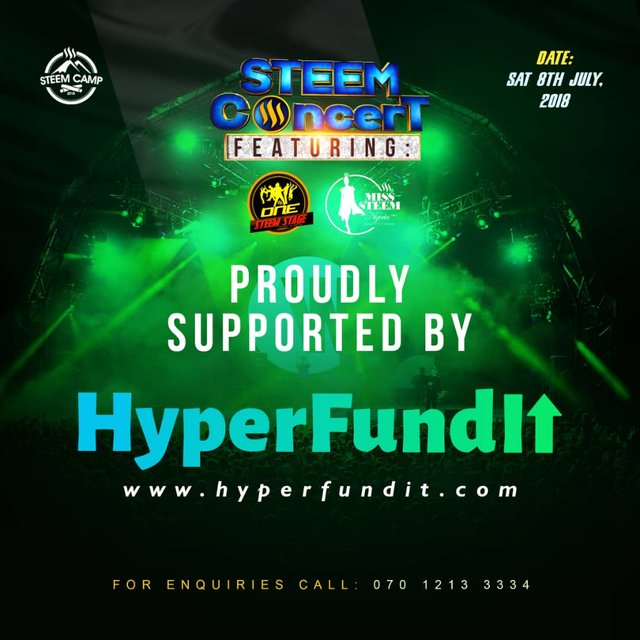 Thanks to @adsactly as they support via upvote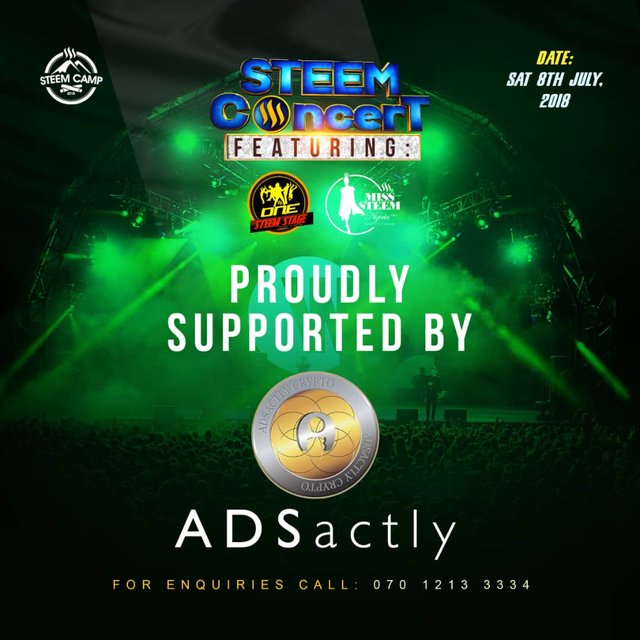 Current support needed to achieve this final project was 1897 steem which is now 2852 steem due to the current fall of Steem price.
Steemcamp is an initiative aimed to eradicate poverty and unemployment in third world countries using Entertaimment as a tool to on-board creative and talented individuals who will contribute positively to the steem blockchain network and their local offline community at large.
We need you to help us achieve this vision through your support via Upvote, donation, resteem and delegate sp to @steemcamp account if so pleased.
Donation address
Support this project on Fundition.io here
Btc
17KRKQm3ZoMMSVTtxuaPjLDXpgkdCAFJyS
Eth
0x1ac64122e135602e595af3a4f04ef86775037679
Steem : @steemcamp or @michaelcj with donation as memo
I am @michaelcj the Blockchain Entertainer and Steen Ambassador and the founder of @steemcamp project
Kindly Resteem, Upvote and Donate. Thanks