In this post below I will talk about my activity to my other social media profiles, that is Linkedin and Google plus.
INTRODUCTION
I have participated in the is Steemblast campaign from day one, in fact, I have always shared about Steem or Steemit on my Twitter and Facebook profiles because they are the ones I use often!
LINKS & IMAGES
I shared the link on Linkedin a show below.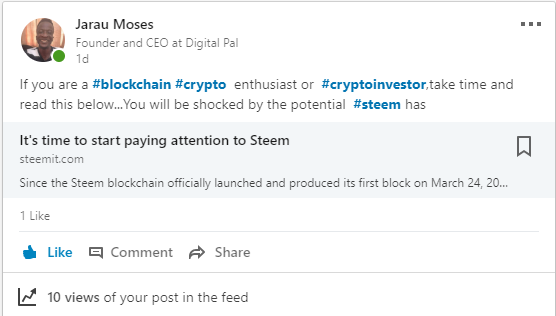 The activity on this platform is not really encouraging as most of you know Linkedin is not used by most people me inclusive!
It has only a paltry 10 views!
I also share Google plus another less used platform!
CONCLUSION & LESSONS LEARNED
There are a few people who use Linkedin and Google plus who follow me who might be interested in crypto!
I have resolved to concentrate on posting and replying on Twitter since I have got impressive views in the past!
I will also keep posting on my Facebook account and pages as they also create some engagement.
Love
Jarau Moses